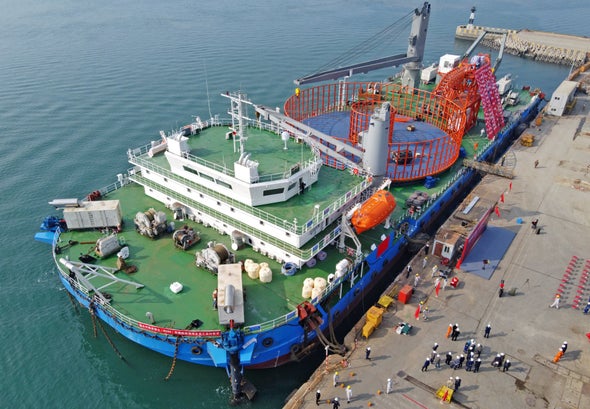 A cable laying ship being readied for departure at a construction base in Yantai, Shandong Province, China.
From Scientific American by Daniel Cusick
Thousands of miles of fiber-optic cable lining the seafloor are vulnerable to sea-level rise, storms and other climate impacts, research shows
The flow of digital information through fiber-optic cables lining the sea floor could be compromised by climate change.
That's according to
new research
published in the journal Earth-Science Reviews by scientists from the United Kingdom's National Oceanography Centre and the University of Central Florida.
They found that ocean and nearshore disturbances caused by extreme weather events have exposed "hot spots" along the transglobal cable network, increasing the risk of internet outages.
Damage from such outages could be enormous for governments, the private sector and nonprofit organizations whose operations rely on the safe and secure flow of digital information.
For example, the researchers wrote that intensifying tropical cyclones in the northern Pacific Ocean are stressing submarine cables off the coast of Taiwan, whose sovereignty is under threat as China claims territorial rights over the island.
And in strategically important polar regions, melting glacial and sea ice "are profoundly changing ocean conditions more rapidly than many other places on Earth," the researchers found.
"Our analysis clearly stresses the need to carefully plan cable routes and landing station locations factoring in a range of local hazards and how those are affected by climate change," co-author Thomas Wahl, an associate professor in UCF's Department of Civil, Environmental and Construction Engineering, said in a release.
The findings are drawn from analysis of peer-reviewed data sets on seafloor cable infrastructure and its vulnerability to climate change.
Other collaborators in the study include the U.S. Geological Survey, the University of Southampton, Victoria University of Wellington in New Zealand and the International Cable Protection Committee.
"We find that ocean conditions are highly likely to change on a global basis as a result of climate change, but the feedbacks and links between climate change, natural processes and human activities are often complicated, resulting in a high degree of geographic variability," the researchers wrote.
Such risks will be particularly compounded by sea-level rise, the authors said, as swelling oceans increase hazard severity, create new hazards and shift hazard risk to new areas.
At the same time, the
global subsea cable network
continues to expand.
Real-time information from the firm TeleGeography shows a vast network of trans-Atlantic and trans-Pacific lines from the United States to Europe and Asia.
Other continents, such as South America and Africa, are ringed by submarine cables that connect to shorelines at thousands of interconnection points.
While natural disasters that damage subsea cables are "fewer in number than those linked to human activities," such as bottom fishing or ship anchor strikes, instances of cable damage from natural hazards "can synchronously damage multiple cable systems across large areas, isolating whole regions," the authors wrote.
Nicole Starosielski, an associate professor of media, culture and communications at New York University and author of the book "The Undersea Network," has noted that today's submarine cables are built and placed with greater attention to disaster risk.
But many cable stations, where submarine cables terminate after coming ashore, "were built before climate change was a consideration in builders' minds," she wrote on the Canadian website Open Canada.

In 2021, the International Cable Protection Committee, comprising industry and government officials, issued a "best practices" document for protecting and promoting resilience of submarine telecommunications cables.
Among its recommendations was to disperse cable infrastructure to provide redundancy and backup measures during extreme events.

The committee also co-published a report in 2009 with the United Nations Environment Programme that said rising seas could worsen erosion and increase flood risk of onshore coastal cable facilities.

In hurricane and typhoon zones, severe storms "will not only attack the coast, but also influence the stability of the continental shelf seabed via the formation of eroding currents and waves," the report said.
Such action could expose cables to more abrasion or suspensions above the seabed, as well as trigger submarine landslides and greater turbidity.

Mike Clare, the study's lead author and a researcher at the National Oceanography Centre, said it's essential that scientists and engineers assess new potential disruptions that may emerge with climate change.
"Our reliance on cables that are no wider than a garden hose is a surprise to many, who regard satellites as the main means of communication," Clare said in a release.
"But satellites simply don't have the bandwidth to support modern digital systems.
The 'cloud' is not in the sky — it is under the sea."
Links :