From Digital Ship
Japanese marine power and control systems company
JRCS
has partnered with
Microsoft Japan
to test how Microsoft's HoloLens MR (mixed reality) headset and AI services on its Azure cloud platform could be applied to the creation of remote training and remote maintenance solutions, with the two companies also set to collaborate on creating a new digital platform to support self-navigating vessels.
MR combines the real and virtual worlds by overlaying holograms (3-D virtual objects) in real spaces or on physical objects in front of the viewer's eyes.
Unlike virtual reality (VR) devices, MR devices like HoloLens enable the user to view and manipulate the holograms within a visible, real-world context.
JRCS has created a new
Digital Innovation Promotion
Office to work on the new projects, which will focus on the development of three concept models.
The first is INFINITY Training, a remote training system using mixed reality and AI to train seafarers and land-based supervisors, which is expected to become available in March 2019.
JRCS has previously run specialised training for seafarers at its Shimonoseki headquarters' training centre, but the new system will allow seafarers throughout the world to participate in training through the sharing of MR spaces.
The second concept to be explored is INFINITY Assist, a remote maintenance system which will see engineers use HoloLens headsets when working on vessels, allowing maintenance procedures to be displayed and virtually overlaid on the equipment.
JRCS says it plans to commercialise a maintenance application for its high voltage switchboards by the end of 2019, and will add further content from 2020 onward.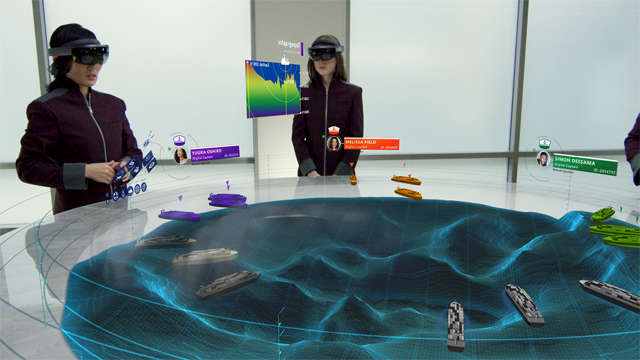 Our aim is to advocate the way that leads to the realization of autonomous navigation.
Conceptually, a captain while responsible for maneuvering the vessel keeps in mind that in the near future, as a digital captain, control of several vessels will be afforded from land.
The utilization of technology and data such as IoT and AI will improve all aspects of safety and precision and will also be labor saving and quick.
The third concept under development is INFINITY Command, a system for remote control of ships from shore, aimed at eventually supporting self-navigating vessels.
JRCS says it will work with Microsoft Japan to examine how technologies such as IoT and AI can be integrated with Big Data to enable 'digital captains' to undertake the duties of vessel masters in the future, to allow them to control multiple vessels from land.
These digital captains will use HoloLens to share 3D charts with other digital captains in remote locations, while also allowing them to check sea routes, weather, submarine topography and other information.
JRCS aims to launch a full INFINITY Command service in 2030.