Learn what it takes to make Blue Planet II aboard the Alucia Premiere – Earth Lab
From The Guardian by Rupert Neate
World's ultra-rich are buying subs for up to £30m to indulge in deep ocean exploring
Anew toy has surfaced on the must-have list of leisure options for the world's billionaire class: private submersibles they can use to explore the oceans – or even use as James Bond-style means of escape if their superyacht should come under attack.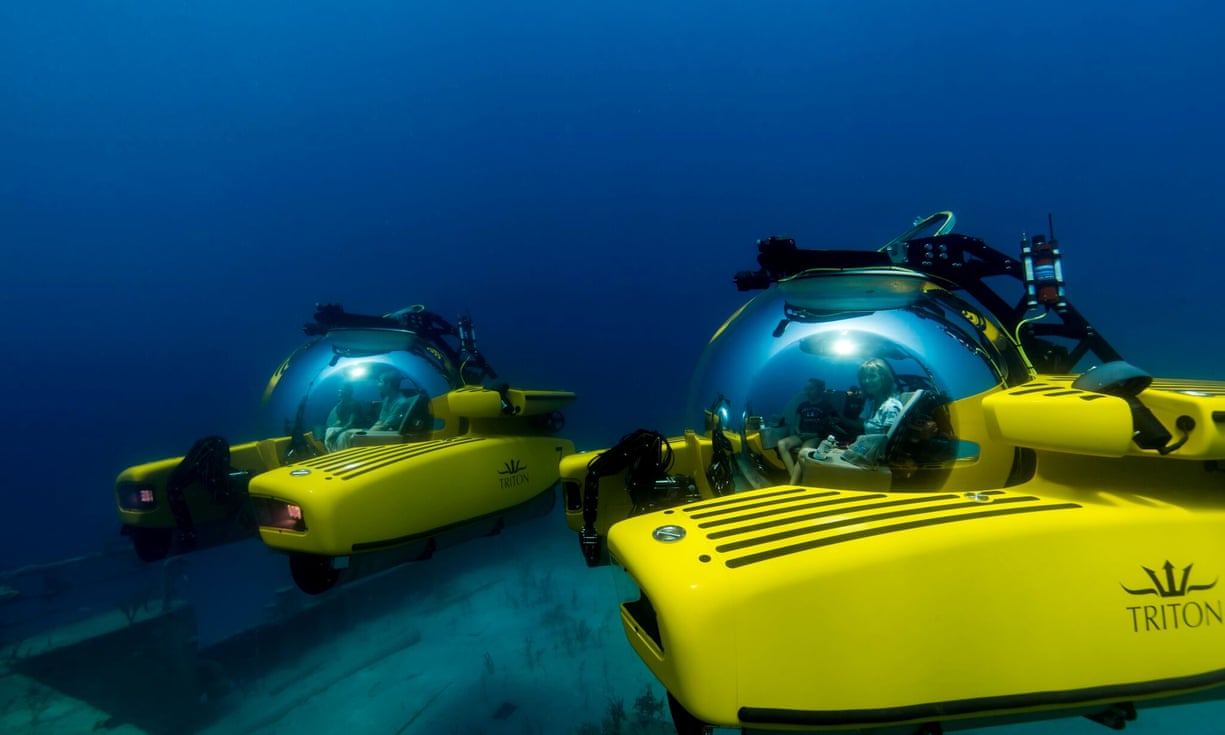 Doing a David Attenborough – Triton submersibles in deep waters off Lyford Cay, Bahamas.
Photograph: Nick Verola
The global super-rich last year bought about 30 submersibles – with price tags of up to £30m – according to manufacturer Triton.
These private submarines are known as submersibles because they are not independently powered, instead relying on batteries that have to be recharged by a support vessel.
Louise Harrison, Triton's European sales director, said in recent months the
BBC's Blue Planet series, narrated by Sir David Attenborough
, had led to a "huge spike" in demand from wealthy buyers wanting to explore the deep and get up close to coral reefs, stingrays and whales.
There is a growing number of super-rich, she said, who want more than to merely luxuriate in their good fortune.
"The super-rich aren't happy to sit on the back of their yachts with a G&T anymore.
The modern ones and the young ones want to go to Antarctica and the Galápagos Islands," she said.
"They want to see what's beneath the surface as well as what's on top.
They have seen Blue Planet, and they want to get down there and see it for themselves."
Harrison told hundreds of delegates attending the Superyacht Investor conference in London this week that submersible manufacturers had their best year in 2017, as there has been "definitive change in direction among owners to use their superyachts for new experiences".
"The industry sold 25-30 submersibles last year," she said.
"It may not sound like a lot but they are priced at a minimum of £1m and up to £30m.
It is a lot of money."
The Chelsea Football Club owner Roman Abramovich, Virgin's Sir Richard Branson, the Microsoft co-founder Paul Allen and the US hedge fund manger Ray Dalio are among billionaires who have already splashed out on underwater vessels.
Indeed, one may not be enough: Dalio said he was so "wild about ocean exploration" that he bought two submersibles, which were used in the filming of the second series of Blue Planet.
"The underwater world is much larger than the above-water world, has more unidentified species than the above-water world, is essential to our wellbeing, is incredibly interesting and valuable, and is mostly unexplored," said Dalio, the world's 90th richest person with a $14.6bn (£10.3bn) fortune.
"For those reasons, and for the thrill of it, I am wild about ocean exploration.
I explore the ocean personally while tagging along with great ocean scientists and explorers, and I financially support ocean exploration that goes on way beyond me – including sharing these thrills with the public through various media outlets and museum exhibits."
Dalio's submersibles – named Nadir and Deep Rover – are based on
his $50m expedition-focused superyacht, Alucia
.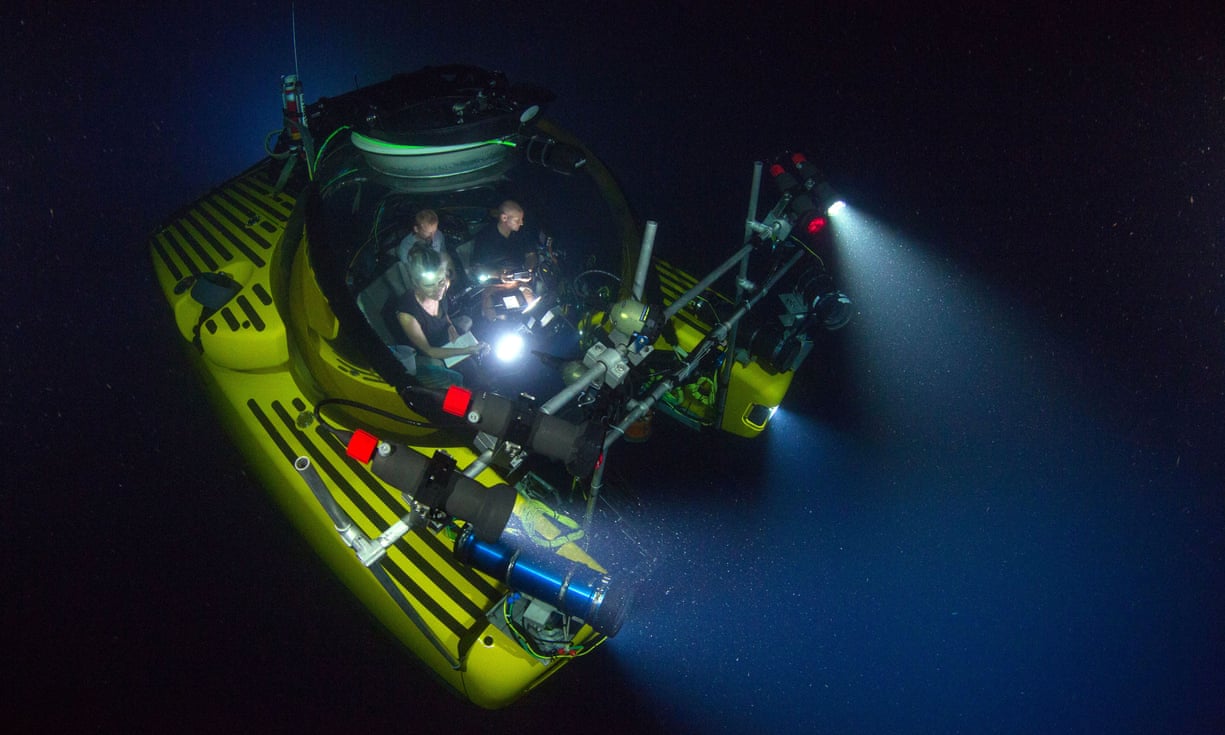 The submersible 'Nadir' used by Blue Planet II team to film the Deep episode.
It was one of many subs used to film the series.
Photograph: Luis Lamar
The Nadir is a Triton 3300/3 model capable of diving to a depth of 1,000 metres with a pilot and two passengers on board and sells for about $3m depending on fixtures and fittings.
"Yes, it's a lot of money," Harrison said.
"But do you want to go diving in a cheap submersible?"
Harrison said the growth in submersibles had been driven by a rapid improvement in acrylic technology, which means they can be fitted with large clear bubble domes, giving a 360-degree views of the ocean.
"When you're underwater the acrylic sort of disappears and you feel like you are actually in the ocean.
It's a bit dreamlike when you're down there," she said.
"The acrylic is the expensive bit, as the technology has only recently got so advanced that you can go that deep.
It is very, very expensive stuff – you don't want to scratch it."
Harrison said most customers say they are interested in buying submersibles for exploration, but some have also inquired about using them as "panic rooms or escape vessels".
M/Y Legend has recently completed a submarine expedition in Antarctica, during which the C-Explorer 3 private submarine was extensivley used to explore the deep waters of the South Pole.
Triton's biggest competitor, Holland's
U-Boat Worx
, has designed an ultra-lightweight submersible model specifically for superyachts.
Its Super Yacht Sub Three is piloted from the rear so the passengers can get the best view of the ocean from the front of the bubble dome.
The company said: "This submarine is aimed at the yacht market ...
[it] delivers both performance and luxury."
Luxury carmaker Aston Martin has joined forces with Triton Submarines to make a stylish submersible.
Triton, which is based in Florida, has partnered with British luxury car group Aston Martin to work on a new $4m three-man submersible codenamed
Project Neptune
.
The subs, which are expected to hit the market later this year, will dive to 1,650ft and have a top speed of 3.5 miles an hour.
Marek Reichman, Aston Martin's chief creative officer, said the company had decided to expand into submersibles following interest expressed by its richest customers.
"Those superyacht people, what they want to experience is changing," he said.
"It's no longer about just having a launch or having your tender.
It's about having some other way of entertaining your guests."
Links :