The inspiring true story of legendary sailor, Mike Plant, the "Saltwater Cowboy" (Sailing World) who completed three solo circumnavigations and set the American record for the fastest lap of the planet.
His adventurous spirit and colorful past make Plant "as close as yachting gets to a James Dean character" (The New York Times) with a universal story about daring to dream.
25 years after solo navigator Mike Plant's death, his life becomes a documentary, titled Coyote
Spanning the decade from Mike Plant's arrival in professional offshore sailing in the mid 80's, Coyote follows Plant's daring spirit as he challenges both Mother Nature – around the world alone on a sailboat – and French dominance in the sport.
Chronically underfunded and undermanned, Plant's thirst for adventure and fearless belief in his dreams drive him to become an American hero of the sea.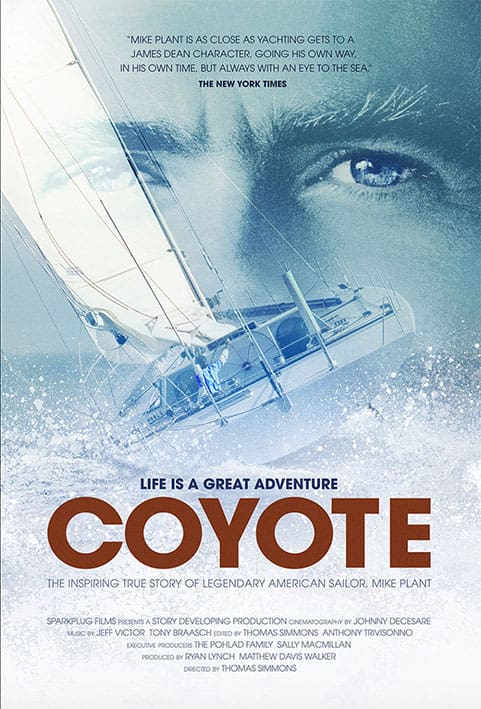 His blue eyes and boyish good looks make it hard to consider Plant's life before competitive sailing included a solo trek of South America, an escape from Greek authorities on a drug trafficking charge and time behind bars in a Portuguese prison.
Yet, these exploits and others reveal the type of restless soul willing to conquer the world's oceans alone.
Despite all that he accomplishes, Plant's heart is never satisfied.
His final creation, Coyote, a radically designed vessel built on the edge of speed and safety, symbolizes Plant's course in life: running before the wind, always with an eye to the sea.
Director Thomas Simmons says: "When I was seven years old I watched my uncle, Mike Plant, sail into Newport, Rhode Island after 157 days at sea. Family and friends gathered aboard an old tug to watch him win the 1986-87 BOC Challenge, a singlehanded sailboat race around the world. He became my hero – and a hero in the eyes of many, especially those close to the American sailing community. Today, I recognize that Mike was an ordinary person doing extraordinary things. His story proves that we can all be dreamers of the day… that it's never too late to find your calling and chase something that you believe in".
Links :