A Tongan volcano has created a substantial new island since it began erupting last month, spewing out huge volumes of rock and dense ash that has killed nearby vegetation, officials said.
Eruption between Hunga Tonga and Hunga Ha'apai island on 15 Jan,
39 miles northwest of the Tongan capital.
(New Zealand High Commission)

The volcano, about 65 kilometers (40 miles) northwest of the South Pacific nation's capital Nuku'alofa, rumbled to life on December 20 for the first time in five years, the Lands and Natural Resources Ministry said.
It said the volcano was erupting from two vents, one on the uninhabited island of
Hunga Ha'apai
and the other underwater about 100 meters (328 feet) offshore.
Map of the new island (Matangi Tonga)
position with Google Maps
This picture taken on March 19, 2009 shows an aerial photo of ash rising into the air from an undersea volcanic eruption, part of the uninbabited islet of Hunga Ha'apai
(Telusa Fotu/AFP/Getty Images)
The ministry said experts took a boat trip to view the eruption on Thursday and confirmed it had transformed the local landscape.
"The new island is more than one kilometer (0.6 mile) wide, two kilometers (1.2 miles) long and about 100 meters (328 feet) high," it said in a statement.
"During our observations the volcano was erupting about every five minutes to a height of about 400 meters (1,312 feet), accompanied by some large rocks... as the ash is very wet, most is being deposited close to the vent, building up the new island."
It said ash and acidic rain was deluging an area 10 kilometers (6.2 miles) around the volcano, adding: "Leaves on trees on Hunga Tonga and Hunga Ha'apai have died, probably caused by volcanic ash and gases."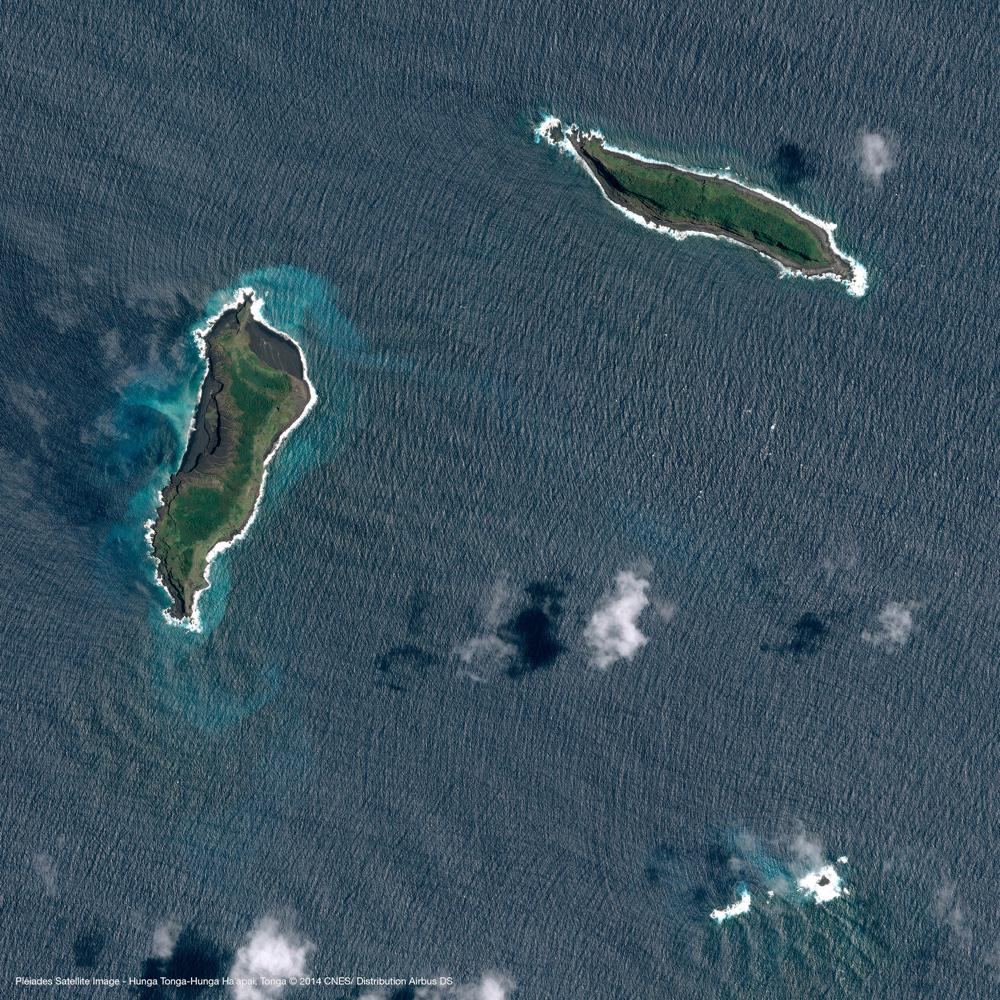 Pleiades image (July 2, 2014)
CNES/Airbus
An exceptional satellite image taken by the European Pléiades satellite from 19 January shows the new island that formed during the eruption near Hunga Ha'apai island (left in images) earlier in January month and joined it by forming a new peninsula, composed of a broad, flat ash cone with a water-filled crater.
The image also shows that activity seems to have already stopped by 19 Jan when the image was taken. Most likely, the new land addition will be eroded within months, because it seems mainly to be composed of loose materials, as opposed to more resistant solid lava flows.
A number of international flights were cancelled earlier this week amid concerns about the volcano's ash plume but they resumed, with authorities saying debris from the eruption was not being thrown high into the atmosphere.
Tonga, which is almost 2,000 kilometers (1,243 miles) northeast of New Zealand, lies on the so-called Pacific "Ring of Fire", where continental plates collide causing frequent volcanic and seismic activity.
Links :