During weeks on a research vessel drifting with an ice floe in the polar night, a photographer discovers profound beauty—and her own limitations.
Polar bear guard Trude Hohle checks for a safe path across the sea ice during a 2019 scientific expedition in the Arctic Ocean.
The icebreaker Polarstern floated on the transpolar drift stream, frozen in sea ice, for nearly a year.
On board were about a hundred scientists and crew members who were braving the polar winter to study climate change in the Arctic.
I was there too, photographing the first leg of the MOSAiC expedition—the Multidisciplinary drifting Observatory for the Study of Arctic Climate.
It was the longest and largest Arctic expedition in history and, for me, a gift from the universe.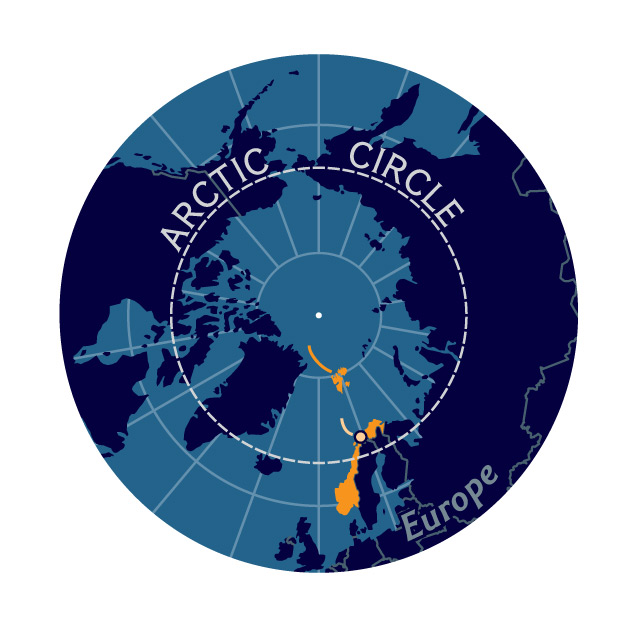 NGM maps
Four years earlier I'd fallen under the spell of the ice and cold on my first Arctic assignment.
When I returned home, I vowed to devote my photography to the fragile polar environment that had mesmerized me.
Shortly afterward I heard about MOSAiC and knew I had to go.
By the time the Polarstern set sail from Tromsø, Norway, on September 20, 2019, I'd been on nine other polar expeditions.
MOSAiC was different.
For one thing, the first few legs took place during
the long polar night
.
For another, help was very far away.
The ship, intentionally trapped in an ice floe, drifted close to the North Pole during winter, when the ice was thickest.
If anything had gone wrong, it would have taken two or three weeks for help to arrive and then two or three more weeks to return to human habitation.
We had to be prepared to handle everything ourselves—from fire to falling into frigid water to heart attacks.
(Toothaches were dealt with preemptively: I was told to have my wisdom teeth removed before the trip.)
For winter legs of the MOSAiC expedition, mandatory training prepared members for emergencies including falling into the frigid Arctic water.
A participant is hauled out of a pool after swimming through the crashing waves and howling winds of a simulated storm.

Training began long before the expedition
.
Subjected to worst-case scenarios, we were taught how to get through them.
During a simulated storm in a training pool, we jumped into rough water and swam through crashing waves to a life raft.
We couldn't see except for occasional flashes of lightning; the deafening wind and thunder prevented us from communicating with each other.
During
polar bear
safety training, we practiced shooting a rifle and a flare gun in complete darkness while people screamed around us.
Some days I was so tired I cried.
I did every training twice—once as a participant and once as a photographer.
The hardest was the firefighting.
We learned how to put out fires and rescue people—all while wearing 66 pounds of gear in a controlled-burn training room where temperatures neared 250°F.
For each exercise, participants spent about 10 minutes in the room.
When I was photographing them, I stayed there for hours, holding my heavy camera with sweat dripping down my body.
After it was over, I collapsed against a wall.
Yet I enjoyed it.
It felt important to learn how to take care of myself and my colleagues in extreme conditions—and to learn what my limits were.
I even volunteered for sea survival training, during which 14 of us were left for a few days on
Svalbard, a Norwegian archipelago
.
We had to figure out how to distribute our limited supplies (only five sleeping bags), get water, and protect ourselves from the area's 3,000 polar bears.
By the end, I was exhausted but strangely comfortable with the upcoming expedition.
I knew I was prepared.
We arrived at the ice floe that was to be our home on October 4, one of the last days the sun rose above the horizon.
Very soon the days passed in darkness.
The moon and the stars were often covered by clouds.
The only light came from the Polarstern's spotlight and the headlamps worn by the participants.
Photographing was difficult.
Wind and blowing snow made it hard to see through the camera's viewfinder, especially when I was wearing goggles.
My hands became painfully cold.
Many times I saw a beautiful moment but couldn't capture it because my hands weren't working.
Eventually I covered my camera, including the trigger, with a very thin foam tape that allowed me to operate it while wearing mittens.
Every day I had to remind myself that I wasn't on land.
Only two to three feet of unsteady ice lay between me and the ocean below.
Under the lights from the ship, the ice appeared gray; the sky was pure black.
It made me think of the famous NASA pictures taken from the moon in which you can see the lunar surface and then the universe in the background.
From the ice I could see the universe.
Those were the days I enjoyed most.
But the darkness also held terrors, which for me meant polar bears.
On my second—and last—day as a polar bear guard on the ice, I stood alone with my rifle outside a tent where two scientists were working.
There was too much wind, too much snow, and too much darkness to see anything, even an eight-foot-tall polar bear.
But I remembered that a trip wire had been installed around the science station.
If a polar bear ambled through, a signal would flare.
As I was having that thought, an orange signal shot into the air.
My next thought: The polar bear is scared, and it's running straight toward me.
I tried to take out my signal pistol to scare the bear away—our goal was to protect the bears as well as ourselves—but my hands were so frozen I couldn't do it.
One of the scientists grabbed it for me.
By the time we made it back to the ship, I was shaking.
Later the crew determined that the wind had tripped the wire.
Even so, I decided that from then on I would shoot only with my camera.
On December 13 we saw a ship on the horizon: the icebreaker Kapitan Dranitsyn, coming to drop off the next team and pick us up.
The return to Tromsø took 16 days, often through thick ice.
About a week after my return I was in Washington, D.C., for National Geographic's
Storytellers Summit
.
As I walked through the city streets one morning, I had a sudden realization: I couldn't fall through the ice into the ocean here.
I didn't have to scan the horizon for polar bears.
I was safe.
In that moment I understood how vigilant I'd become and how much fear I had felt.
And yet, I missed the darkness so much.
This story appears in the
October 2021 issue
of National Geographic magazine.