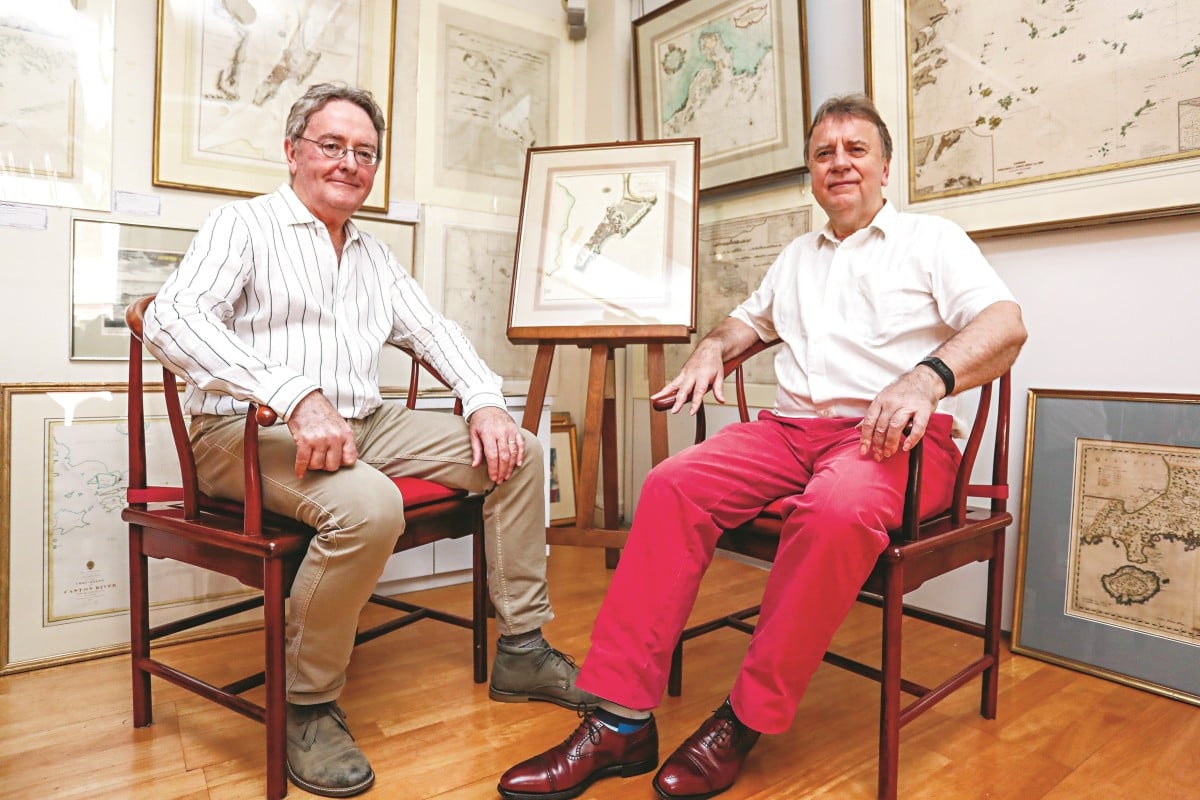 Robert Nield (left) and Jonathan Wattis with a selection of historical maritime maps
on show at Wattis Fine Art in Hong Kong's Central district.
Nield is selling much of his collection of maps and charts.
Photo: Jonathan Wong
From South China Morning Post by Annemarie Evans
Pearl River Delta depth charts, Macau street maps from Lord Macartney's embassy to post-war era, the first map showing Singapore – collection has it all
For Robert Nield, past president of the Royal Asiatic Society Hong Kong, the sale, brought on by he and his wife moving to a smaller flat, is bittersweet
The French chart follows the Pearl River estuary to the city of Canton.
Printed in 1844 as an aid to ship navigation, it's a chart made for practicality, not aesthetics – to be rolled out on a ship bridge, pored over, a forefinger tracking a route, used in tandem with a sextant – and the basis for a quick discussion with the captain and instructions given to the crew.
At the time it was made the British colony of Hong Kong was just three years old.
There's a city plan of Canton (now Guangzhou) at the top, also one of Macau, by then a Portuguese enclave for 300 years.
Up and down the line of the coast numerous numbers have been painstakingly added.
These are depths in fathoms (one fathom is 1.8 metres or 6ft), measured since the early days of seafaring by a plumb line – a rope with a lump of lead on the end that was dangled over the side of a survey ship to calculate the depth of the sea at key points for vessels tracking along the coast.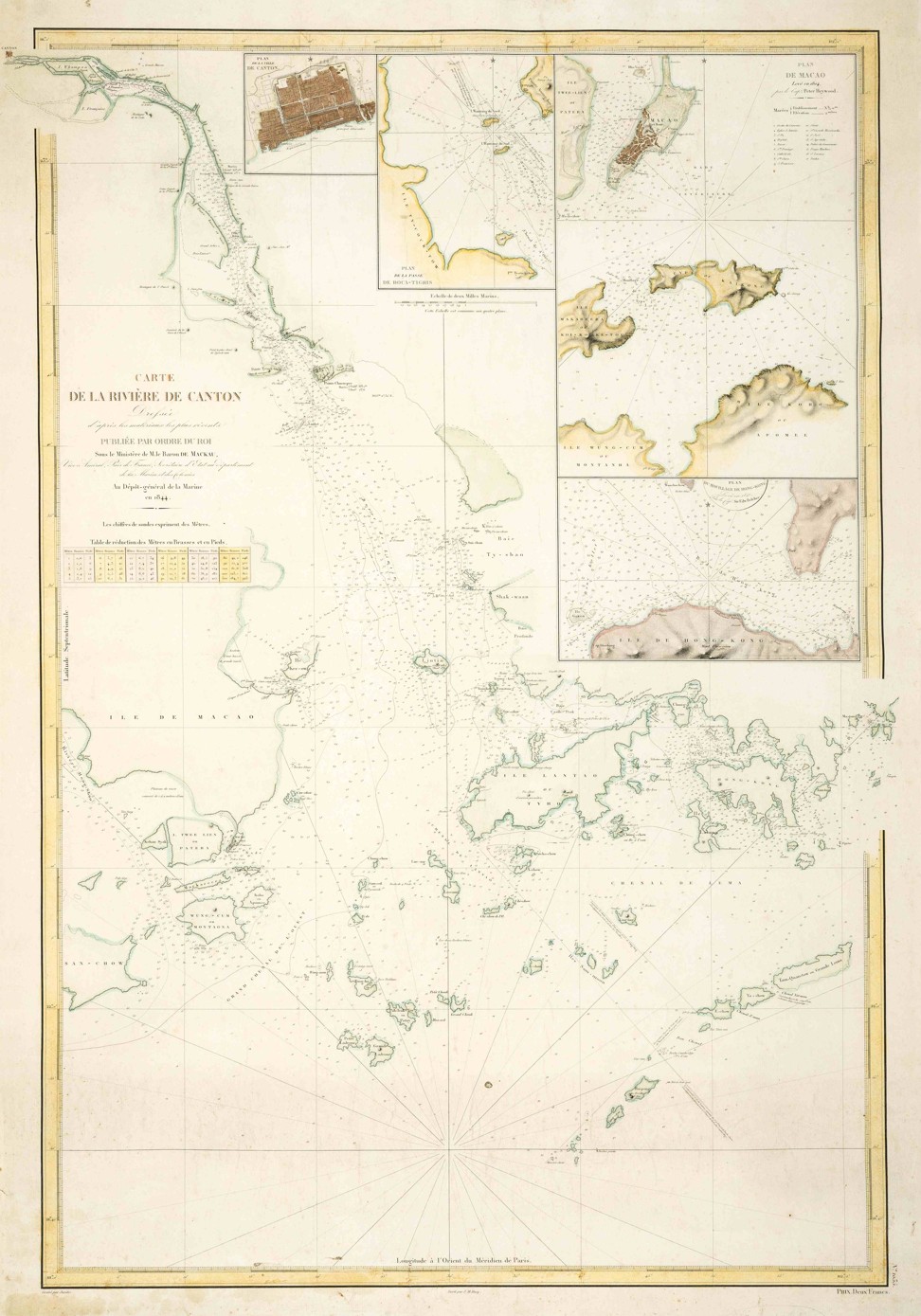 The French chart Carte de la Riviere de Canton, printed in 1844
and part of the Robert Nield collection.
Photo: Wattis Fine Art
Long before satellites and aerial photography, sailing ships would tack back and forth measuring depths, their crews' accurate but painstaking work – which sometimes took months – providing an indication of where shifting sands lay.
This has always held a fascination for Robert Nield, a past president of the Royal Asiatic Society Hong Kong and the author of two books on China's former treaty ports.
Nield spent 37 years putting together a collection of more than 50 maps and charts of Hong Kong, Macau and the surrounding region, many of which are now on sale and feature in an exhibition at Wattis Fine Art in Hong Kong's Hollywood Road.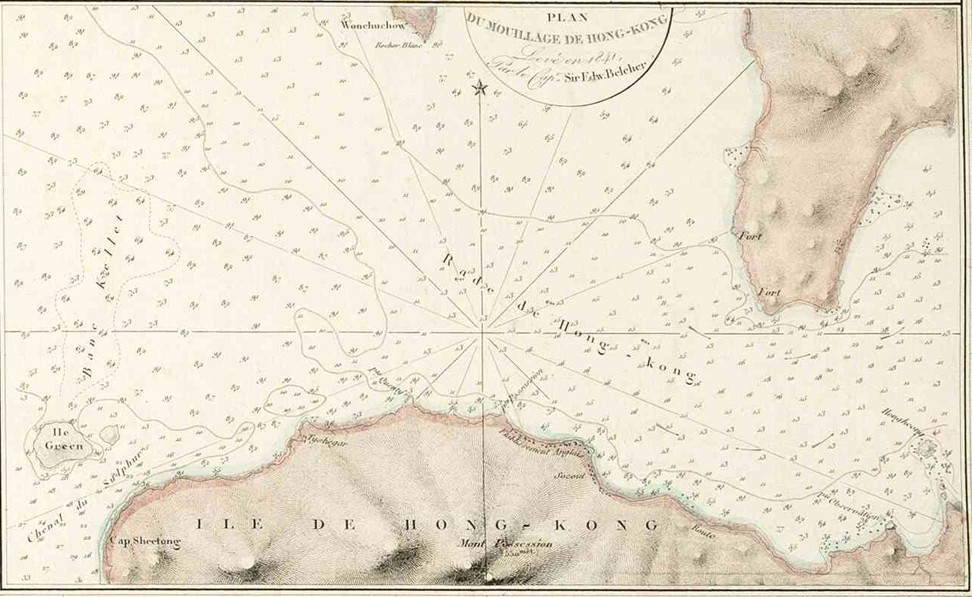 A close up-of Victoria Harbour from the 1844 Carte de la Riviere de Canton map.
Photo: Wattis Fine Art
"You can see the tracks of where the survey ship went and it dropped its plumb line over the side, and this one was 10 fathoms, this one was nine fathoms, so you can see exactly the track that the ship followed," says Nield.
"I love this precision of seeing where the ship went.
It was probably the way the wind was blowing, because they tacked this way and then they tacked that way."
The "Carte de la Rivière de Canton", published by France's Depot-general de la Marine, is one of the more practical charts in Nield's collection.
South of the mouth of the Pearl River is the "Ile de Hong Kong", surrounded by dozens of depth readings.
"These charts would be updated, and the old ones then thrown away," says antiquarian dealer Jonathan Wattis.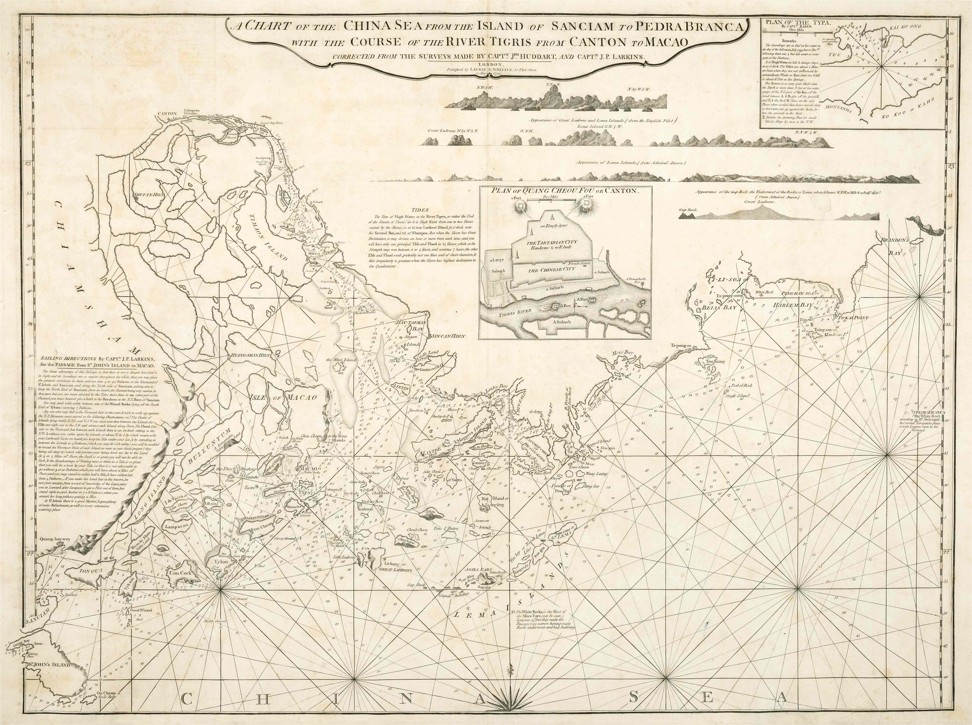 A chart of the Pearl River Delta dated 1794.
Photo: Wattis Fine Art
By the late 18th century, maps had become increasingly accurate.
Earlier ones give a fascinating insight into how this part of the world was seen.
Not all were made for navigators; some were bound into atlases and perused by the rich in their libraries.
The maps also offer a history lesson, showing which European countries were the dominant traders and colonisers in East Asia at any given time.
Holland grew rich on the trade in spices and other products, so there was plenty of money in Amsterdam by the 17th century to sponsor a thriving community of great artists and mapmakers.
The Blaeu family of Amsterdam was the pre-eminent example of this – globally regarded, says Wattis, as the best mapmakers of their time.
Nield has a beautiful example of their work.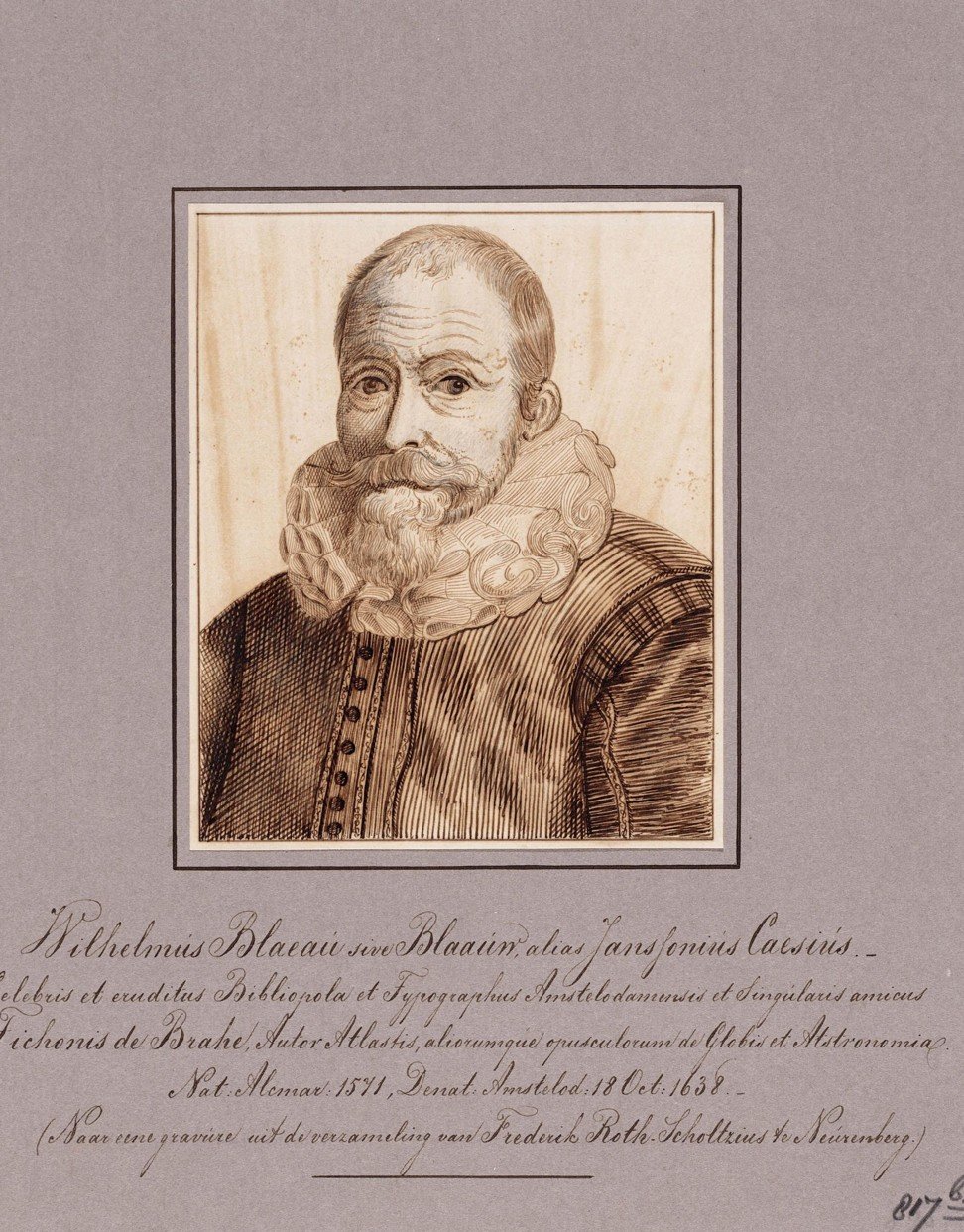 Holland's Willem Blaeu launched a dynasty of mapmakers.
Photo: Alamy
"Willem Blaeu set up a dynasty of mapmakers," Wattis explains.
"They produced arguably the most beautiful maps, engraved and beautifully hand-coloured at the time, and they became mapmakers to the Dutch East India Company, which was an extremely wealthy organisation, so they had very good patronage."
Nield's map of Guangdong is from Martino Martini's Novus Atlas Sinensis (New Atlas of China, 1655).
"The atlas of China was based on Jesuit and Chinese surveys in 1655," says Wattis.
"One of the Jesuits, called Martini, took it to Amsterdam, to the Blaeu family, so Martini was the messenger.
But there were a number of Jesuits working in different provinces and they were acquiring information as they went along, obviously from Chinese sources, but in Guangdong also from Portuguese sources."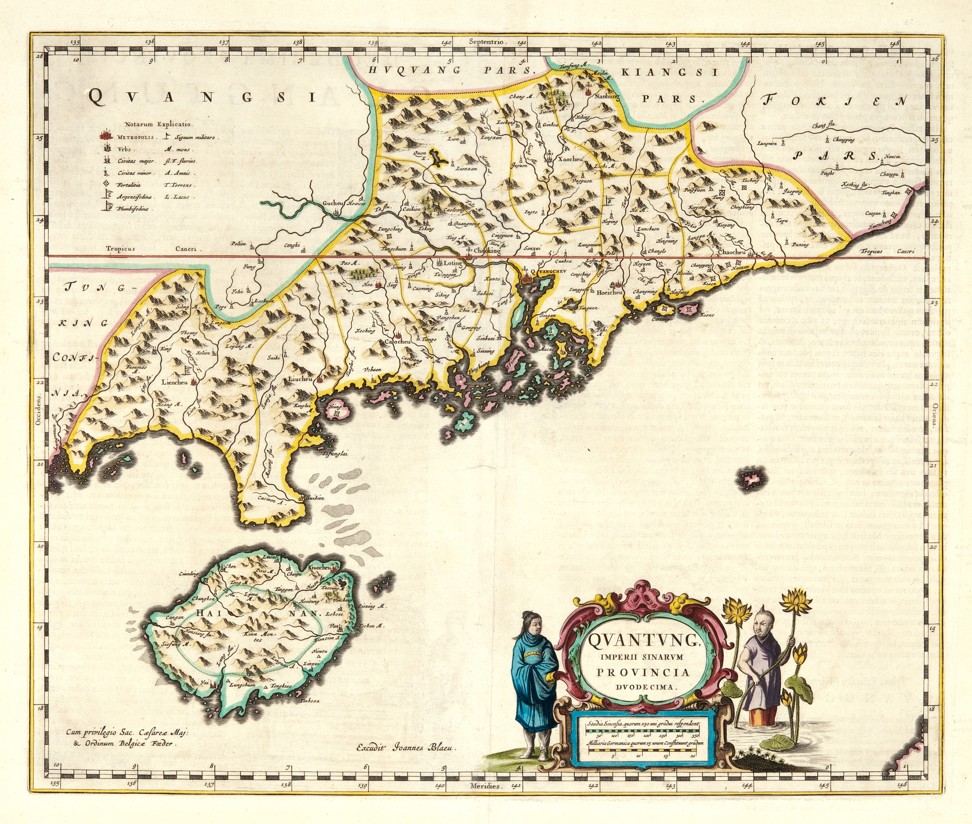 A map of Guangdong from Martino Martini's Novus Atlas Sinensis (New Atlas of China, 1655).
Photo: Wattis Fine Art
The Wattis Fine Art exhibition "Mapping of Asia" includes the Robert Nield Collection, plus other treasures.
Nield's maps and charts covered walls of his home and office in Hong Kong where he worked until he retired.
He and wife, Janet, are now relocating to a flat half the size of their current accommodation, and 400km (250 miles) from Vancouver in Canada, so he has had to make some tough decisions.
He has kept a few of his maps, and the rest are for sale.
Highlights include the first detailed Dutch chart of the Pearl River Delta, depicting Canton, Macau and the islands around Hong Kong, by Johannes van Keulen, created in Amsterdam in 1753, and rarely seen on the market.
Nield is also parting with an English chart of the Pearl River Delta from 1794, which is one of the earliest to name Hong Kong – "He-ong Kong".
"Towards the end of the 18th century, charts of the Pearl River were becoming more detailed and accurate," says Wattis, pointing out a chart of the upper part of the narrow strait in the Pearl River Delta known as the Bocca Tigris (the Tiger's Mouth) and Canton, using a survey by Captain J. Huddart and printed in 1786.
A stand-out in Nield's collection is a plan of Macau which was published in an account of an embassy sent by the British to China under Lord Macartney in 1793-5 that offers an early glimpse into Sino-British relations.
A later British cartographer and publisher, James Imray, created some of the best nautical maps of his time.
Nield has a chart of the "Channels to Hong Kong and Macao" printed in 1887, which was used by Imray.
For Nield, the sale marks a bittersweet parting.
He feels the joy of the collection was in the collecting, via friends in the art and antiquarian worlds, auction houses and through word of mouth.
While many of his framed charts were carefully positioned on his walls, some stood on the floor of a third-floor flat in the city's Mid-Levels neighbourhood some years ago.
"And it flooded," he says.
So some of the charts and maps have a tide water mark due to early 21st century Hong Kong plumbing.
Wattis persuaded Nield to include these for their historic interest and also as "starter" material for collectors.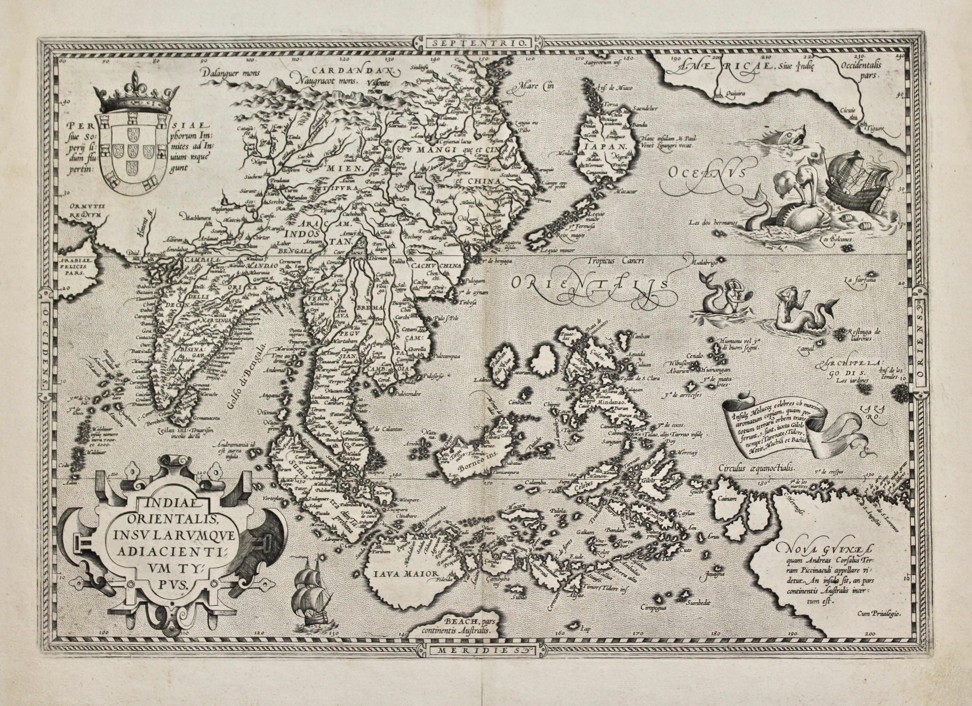 An Indiae Orientalis map dated 1587.
Photo: Wattis Fine Art
The "Mapping of Asia" exhibition includes charts and maps created between the late 16th century and 1949, among them a folding tourist map of Macau.
The cover is stamped SS Takshing, which was a post-World War II Macau-Hong Kong ferry.
The oldest item in the exhibition, and one of the most fascinating, is a beautiful engraving of Southeast Asia by Abraham Ortelius.
Titled Indiae Orientalis Insularumque Adiacientium Typus, it was printed in Antwerp, in present-day Belgium, in 1587.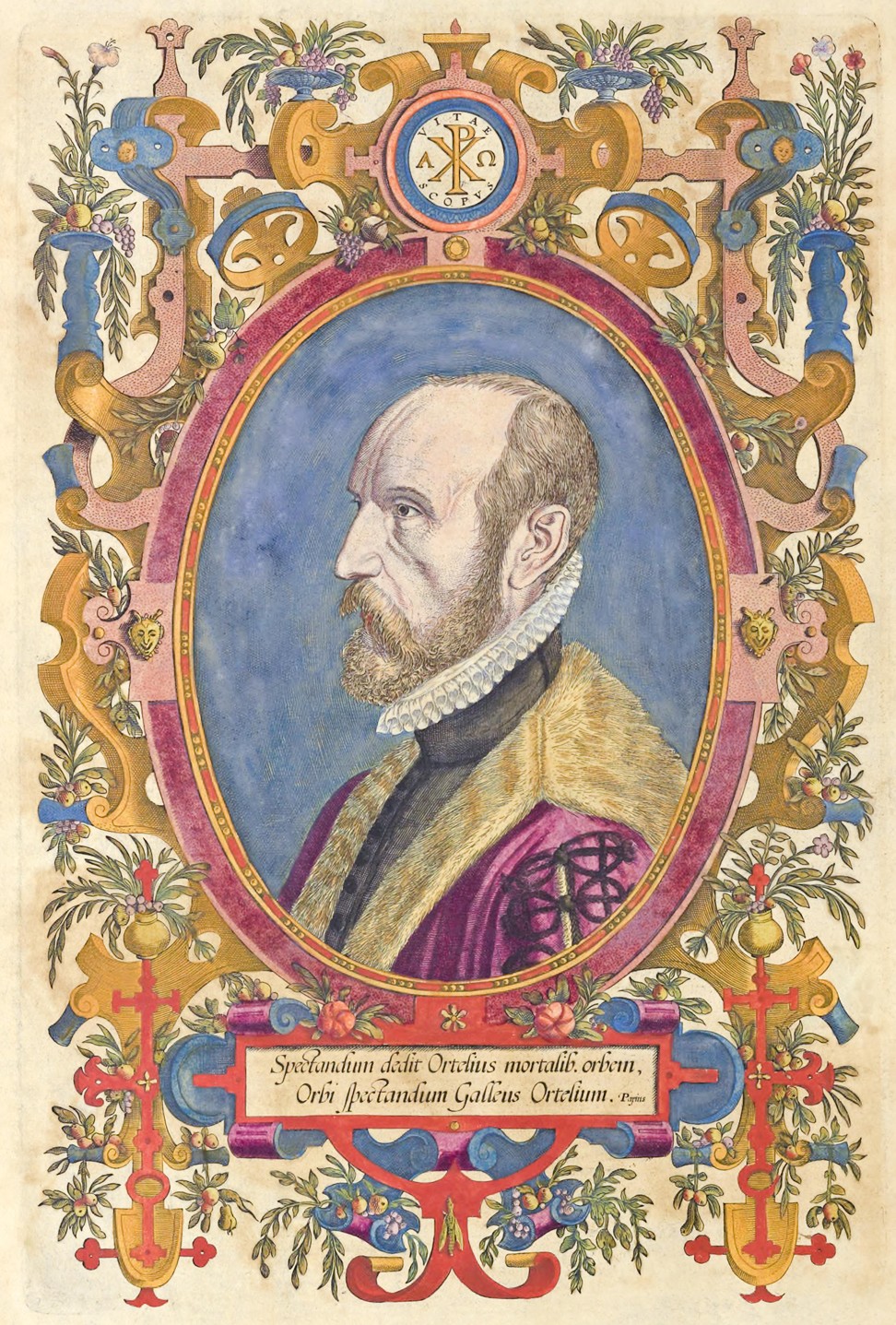 Abraham Ortelius (1527-1598), a Flemish cartographer and creator of the first modern atlas, Theatrum Orbis Terrarum (Theatre of the World).
"It includes China and India and Japan," says Wattis.
"In the top left hand corner is the Portuguese coat of arms, as a lot of the information is based on early Portuguese reports.
In the sea you have these wonderful things, including a mythical whale which seems to be attacking a galleon."
Wattis also displays the oldest recorded map of Singapore, which shows a naval battle between the Dutch and the Portuguese that took place in the Malacca Strait in 1602, and which was published by the De Bry family in Frankfurt in 1607.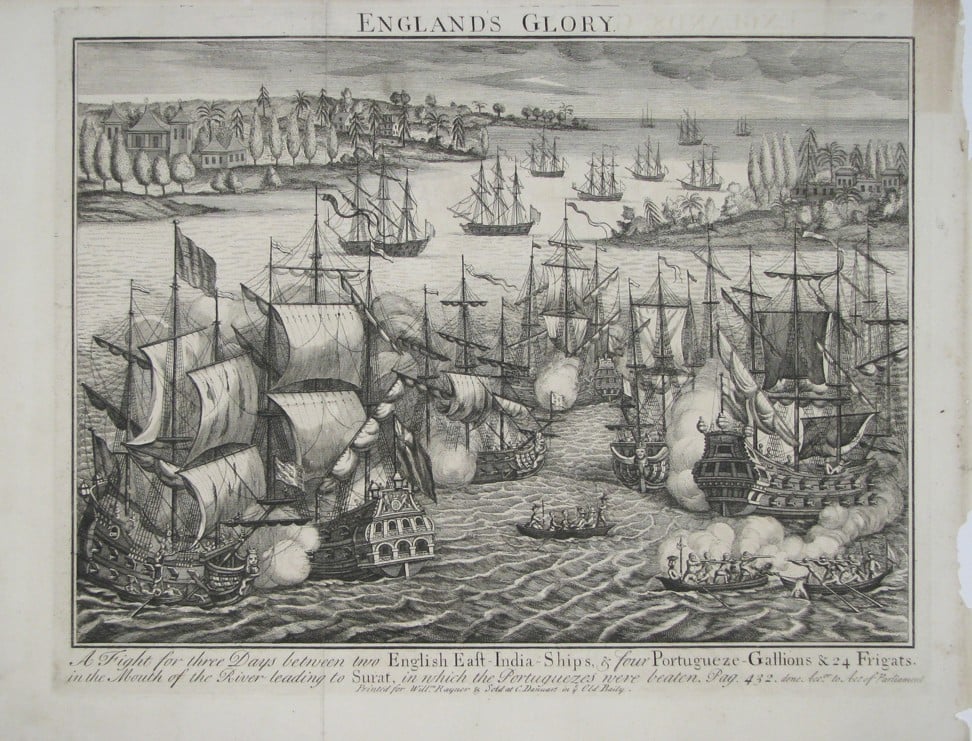 The Battle of Swally, dated 1739.
Photo: Wattis Fine Art
Plenty of battle scenes are shown in the exhibition's engravings, including another naval battle between the Dutch and the Portuguese in the early 1600s off northern Java.
It's a battle for the Spice Islands, won by the Dutch, which would change the colonial make-up of Asia at that time.
"There are so many ships at close quarters, and so many ships in the distance and you can just see the coastline of Java," says Wattis.
"The Dutch won and it became the Dutch East Indies."
The exhibition is also a testament to the navigational skills of intrepid early cartographers and mariners.
One engraving Wattis has of a ship struggling precariously in high seas is an indication of the dangers faced by the many vessels that never made it back to port.
Links :