The castle and lighthouse at Hurst Point, Hampshire.
Image courtesy of ITookSomePhotos via Wikimedia Commons


From Marine Industry News
Lymington RNLI has issued a warning to sailors, after a 'new island' emerged in the Solent.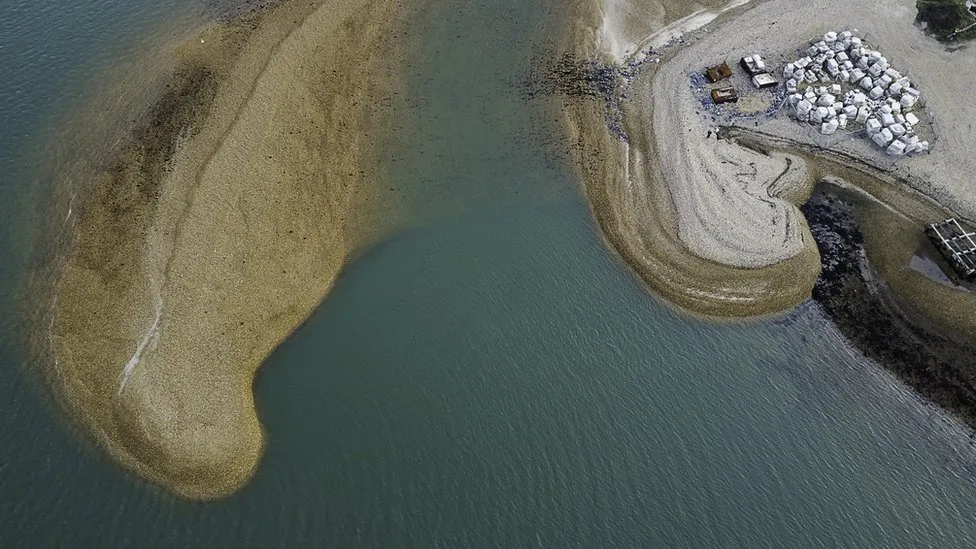 photo : Nick Boxall

The shingle bank, which measures a few hundred metres in length, emerges at low tide to the east of Hurst Spit near Lymington.
Localization with the GeoGarage platform (UKHO nautical raster chart)
Watch out for this if you're on the water near to Hurst Spit in Lymington.
The RNLI are advising that current nautical charts for this area are now inaccurate.

The half-acre shoal appears to have formed naturally after work was done to protect nearby Hurst Castle from erosion.
Tonnes of shingle were dug up during the works, and experts have suggested these excavations could have caused a shift in tidal currents, resulting in the new bank forming.

Two plucky sailors recently planted a flag on the shingle outcrop, described by some as Britain's newest isle, light-heartedly claiming the island as their own.
The sailors tell media they are hoping to draw attention to the dangers the outcrop poses for visiting sailors.
Sailors Chris Fox and Nick Ryle set sail from the Royal Lymington Yacht Club to travel five miles to the shingle bar.
Speaking to local outlet
A&T
, Ryley says: "This island, so-called by us Lentune Island, has sprung up in a short time across the route most locals use when avoiding the tide whilst coming into the
Solent
on the ebb, and exiting the Solent on the flood."
New spit at Hurst castle (Nick Boxall)

The pair chose the name Lentune Island in honour of Lymington's original name — as recorded in the Doomsday book in 1086.
Speaking to
The Times
, Fox adds: "We had been monitoring the island for a while. It started as a strange lump in the sea and just kept growing.
"Nick had the idea that we should head out there and try to see exactly how big it had become. We were very careful, we sailed over in a small fishing boat with life jackets on and took every precaution. We were surprised by how big it was in the end, about 100 metres long and 20 metres wide.
"We took a flag for a bit of fun but in all seriousness, I think it is dangerous for any visiting sailors who don't know the area very well."
"Everyone has been talking about it, and we're not really sure why it has emerged or what could be causing it," he adds.
Two yachtsmen have planted a flag on a new British "island" that formed off the south coast from freshly deposited shingle https://t.co/3mmW7lTzKX

— The Times and The Sunday Times (@thetimes) February 28, 2023
Alistair Mackay, manager of
Lymington Lifeboat Station
, told The Times that he is also trying to raise awareness to protect visiting sailors.
"It definitely will be a problem; in storm conditions, being grounded on the shingle would be disastrous," he says. "You wouldn't be able to swim to shore, and the rocks and waves battering the boat would cause real damage."
The UK Hydrographic Office says it is aware of the situation and is adding a warning onto its charts.
In a statement, English Heritage said: 'The Hurst Spit and the wider coastal environment around Hurst Castle is complex and ever-changing, facing issues such as longshore drift, rising sea levels and more frequent storms.
'Any work undertaken to care for Hurst Castle is carried out as part of the Beach Management Plan and in close discussion with those statutory bodies responsible.'
Links :