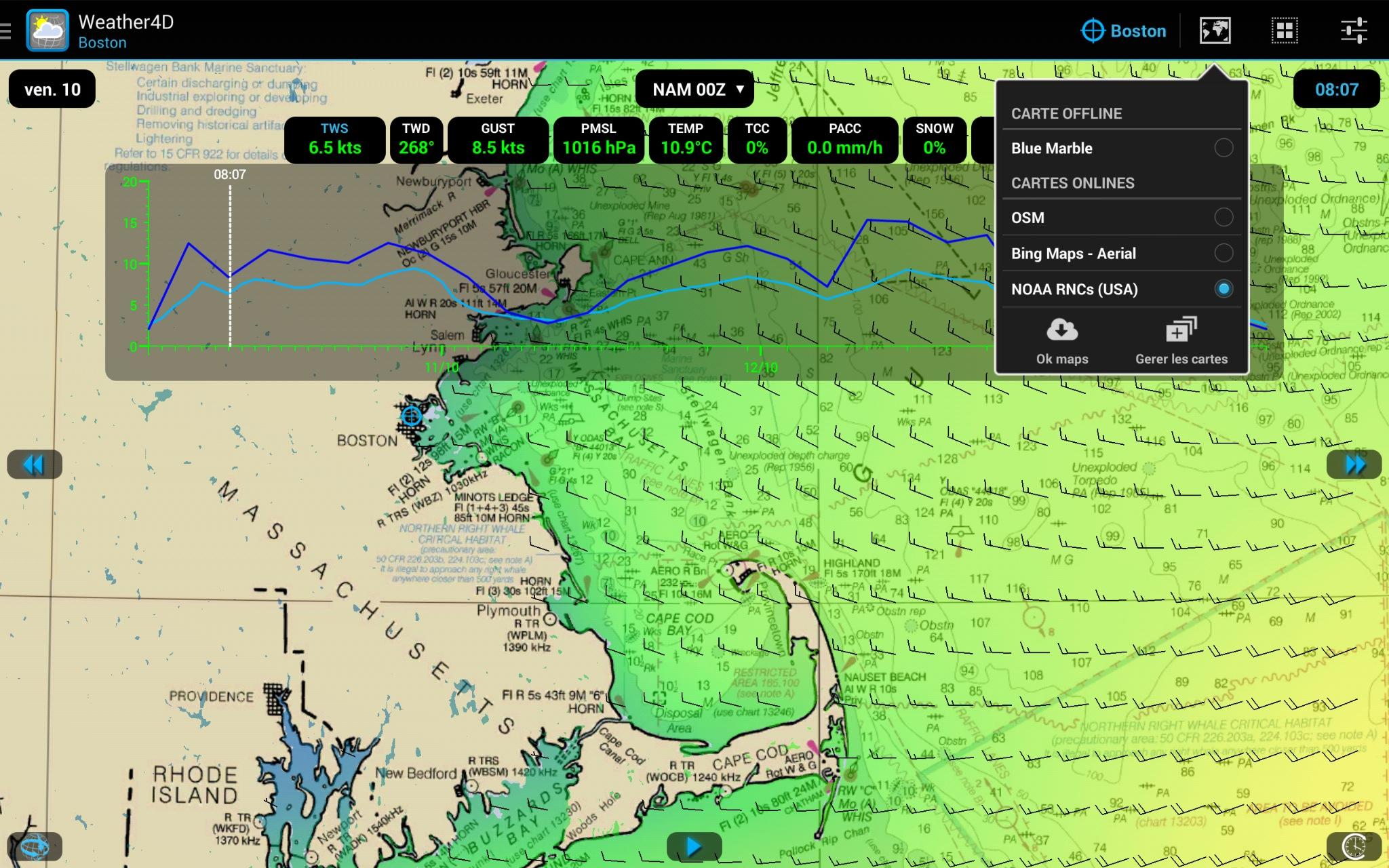 The partnership between the
Marine GeoGarage
and
Weather 4D
, developer of
Weather 4D Pro
, shown for the first time at the Paris Boat Show last month, starts adding raster nautical maps (RNCs) in this amazing weather application for sailors.
Weather4D Pro provides innovative viewing of weather plus optimized routing for sailing boats.
The app's intuitive interface makes it easy to get the latest weather for your area
and see predictions up to 8 days out.
Weather4D is the first application to animate the weather like a video.
2D or 3D display is complemented by the continuous scrolling of time which allows to perfectly visualize the evolution of weather phenomena to come.
So users of the
W4D Android app
for compatible smartphones & tablets can now benefit from
the Marine GeoGarage raster charts online platform
, with RNCs (Raster Nautical Charts) issued from official material coming from diffrent international Hydrographic Offices and regularly updated on the GeoGarage Cloud computing solution.
Optional GeoGarage online nautical charts access additionally to
Blue Marble, Open Street Map & Bing (maps & satellite)
Through some App-in purchase possibility, the user subscribes to a yearly access to one or several nautical charts layer :
USA (NOAA RNCs)
UK & miscellaneous countries which have signed bilateral agreement with UKHO for their charts distribution (Spain, Portugal, Croatia, Belgium, Iceland, Malta, Oman, South Africa)
France (SHOM RNCs)
Canada (CHS RNCs)
Australia (CHS RNCs)
New Zealand (Linz RNCs)
Brazil (DHN RNCs)
Argentina (SHN RNCs)
Netherlands (NLHO RNCs)
Germany (BSH RNCs)
Bahamas (WLP RNCs)
Nautical charts on a 3D Globe
offering continuous chart display with seamless quilting at unparalleled speed
via the pinch to zoom-in/out feature


Note
: the access to the Marine GeoGarage nautical charts layer would be available in the next months for iPhone/iPad Weather 4D users on the
AppStore


W4DAndroidNautic (French demo)