Rolls Royce announce in partnership with Finferries to have demonstrated the world's first fully remote and autonomous ferry

From VentureBeat by Paul Sawers
Rolls-Royce has publicly demonstrated what it calls the "world's first fully autonomous ferry" on a trip between Parainen and Nauvo in Finland.
The British company
entered a research partnership
with Finnish state-owned Finferries back in May, revealing plans to "optimize ship safety and efficiency" through developing and demonstrating autonomous ferry technologies.
SVAN is a demonstration of the world's first remote and autonomous ferry with a focus on improving the safety and efficiency of vessel operations and supporting the crew.
A collaboration between Rolls-Royce and Finferries; two companies with a common goal to push the boundaries of ship technology.
A ground-breaking achievement and an insight into what the near-future in maritime operations hold and the possibilities they will bring to ship-owners around the world in the era of Ship Intelligence.
The first fruits of this project — which is called SVAN (Safer Vessel with Autonomous Navigation) — have been revealed today after the team conducted around 400 hours of trials in the Turku archipelago using an adapted 53.8-meter Falco car ferry.
"Today's demonstration proves that the autonomous ship is not just a concept, but something that will transform shipping as we know it," said Rolls-Royce's president for commercial marine Mikael Makinen, in a
press release
.
Plain sailing
The ferry is loaded with myriad sensors, meshed with artificial intelligence (AI) software to help it identify and avoid objects in its immediate vicinity.
Traveling from Parainen to Nauvo, the Falco ferry operated completely autonomously, but the return journey was controlled remotely from a command center 50 kilometres away in Turku, demonstrating that the ship can be commandeered by a human if required.
Additionally, Rolls-Royce and Finferries demonstrated an "auto-docking" system that basically enables the ferry to alter its speed and course when it's coming into port.
Falco ferry
"Today marks a huge step forward in the journey toward autonomous shipping and reaffirms exactly what we have been saying for several years, that autonomous shipping will happen," Makinen added.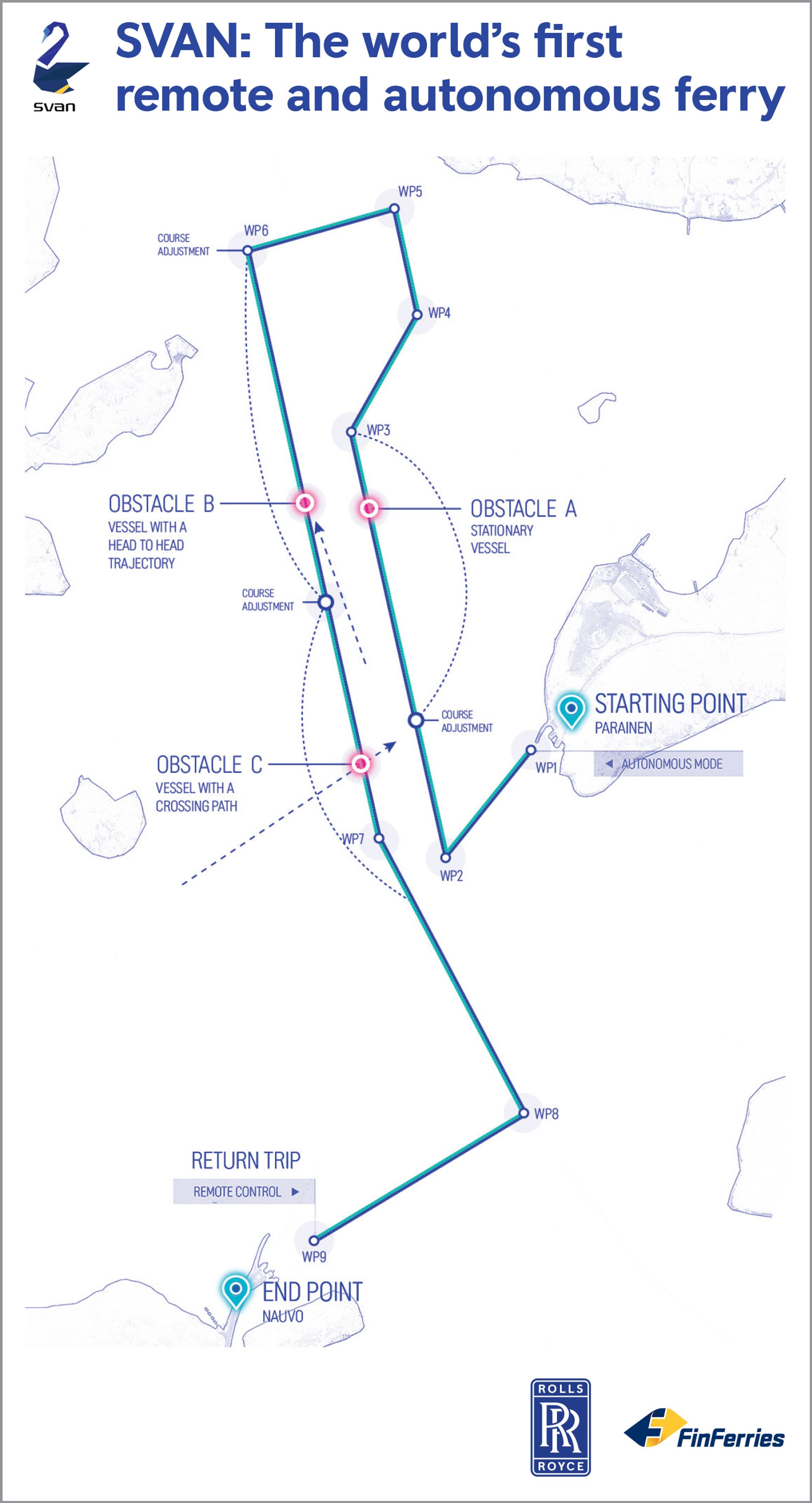 "The SVAN project has been a successful collaboration between Rolls-Royce and Finferries and an ideal opportunity to showcase to the world how ship intelligence technology can bring great benefits in the safe and efficient operation of ships."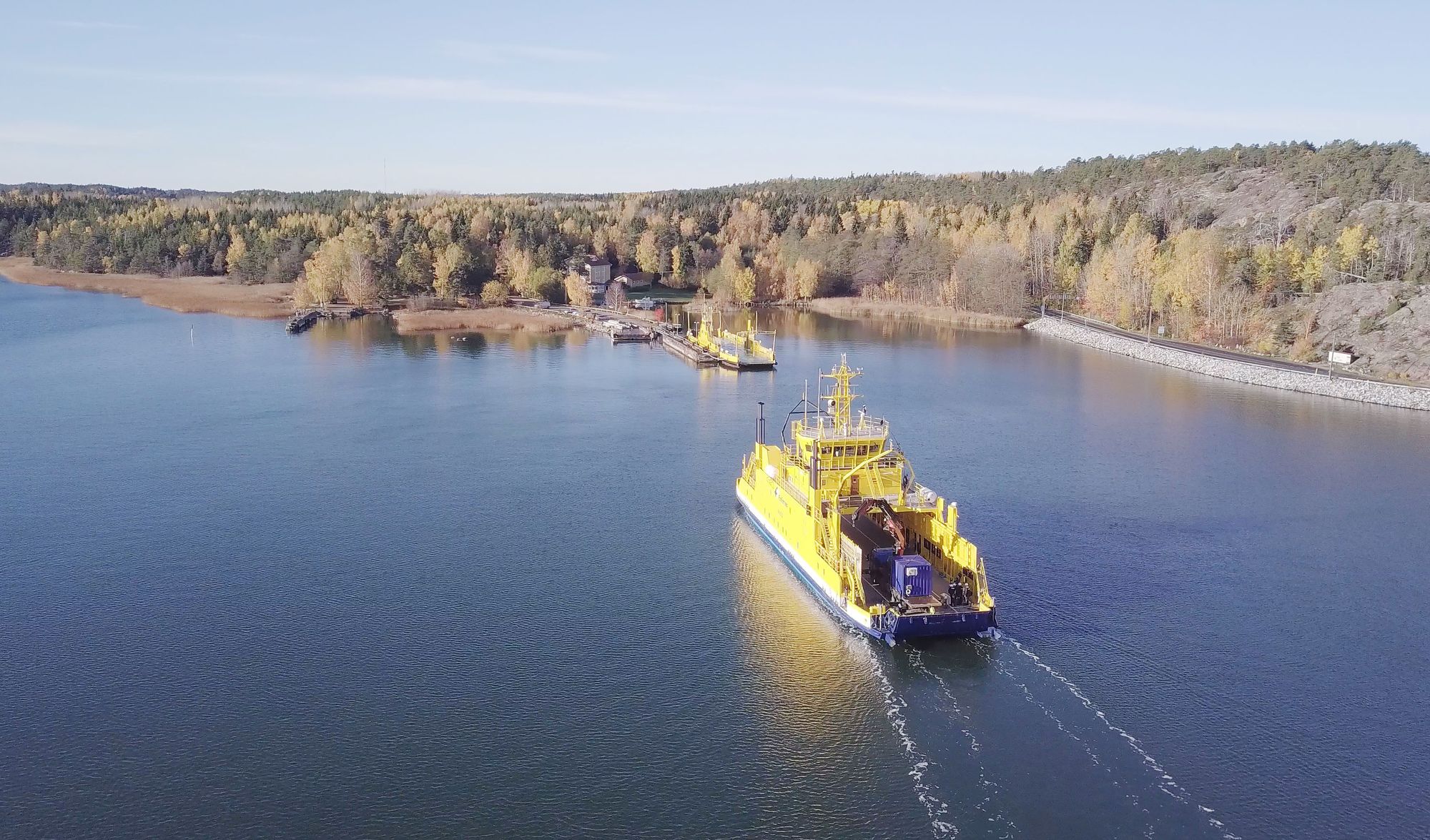 Captain Tuumas Mikkola on Falco's virtual bridge located some 30km away from the ferry in a Finferries' office in Turku.
Swimming elk the only challenge for the AI system monitoring obstacles en route.
Image: Niclas Lundqvist / Yle
Planes, trains, and autonomous ferries
While rarely a day goes by without self-driving cars making the headlines, there has been a quiet push to bring autonomy to other modes of transport,
including planes
,
trains
, and, indeed, sea-faring vessels.
Back in 2016,
news emerged
of an autonomous unmanned warship called Sea Hunter, which was developed by research agency DARPA, while the following year a new
crewless cargo ship
called the Yara Birkeland was announced out of Norway — though it isn't expected to go into full operation without a crew until 2020.
A few months back, the Norwegian University of Science and Technology (NNTU) also
carried out trials
of a tiny electric driverless passenger ferry.
Elsewhere, Rolls-Royce recently
announced a partnership with Intel
as part of a grand plan to bring self-guided cargo ships to the world's seas by 2025.
With technology and automotive giants
such as Alphabet's Waymo
and Volvo
continuing to improve and iterate
on their self-driving car smarts, we are now starting to see the early commercial implementations of all that groundwork.
Last month, for example, Volvo announced its
first commercial self-driving trucks
will be used in the mining industry, while
Waymo is gearing up to launc
h an autonomous taxi service with no human in the driver seat.
These efforts will undoubtedly continue to raise concerns about implications for human employment, but the technology and automotive companies share a core counter-argument: safety.
"As a modern ship owner, our main goal in this cooperation has been on increasing safety in marine traffic, as this is beneficial for both the environment and our passengers," added Finferries CEO Mats Rosin.
"But we are also equally excited about how this demonstration opens the door to the new possibilities of autonomous shipping and safety."
Links :