From The age
Mark Richards says he has never felt afraid in the
Sydney to Hobart
yacht race in which he has won line honours on Wild Oats XI as her skipper six times, but does he get nervous?
''Of course I do … very. It's half the fun.''
Such is the fine line between embracing the dangers of the 628-nautical-mile Bluewater Classic, or letting them get the better of you.
However, for Richards and most skippers, if not all their crews in the 94-strong fleet in this year's 69th edition, the nerves are not just triggered by rough and tumble conditions at sea.
The nerves will be rattling in the pits of their stomachs well before they sail out of Sydney Harbour and head south.
For many, the anxiety will have kicked in the night before; but if not, it will on Boxing Day morning when they realise the comfort they felt in their bed was the last they will enjoy for two to six days, depending on the type and size of their boat.
Wild Oats
photo : Daniel Forster
And there is no shortage of variety this year in the fleet that will be vying for the Tattersall's Cup for first on corrected time - or on handicap - and the J.H. Illingworth Trophy for line honours.
Included are four racing maxis - Wild Oats XI, Perpetual Loyal, Wild Thing and Ragamuffin, the fancied Botin 80 Beau Geste, two Volvo 70s in Black Jack and Giacomo, 12 Clipper Round the World Race 70 footers , a bevy of middle-range boats such as the new 60-foot Ichi Ban and performing 55-footer Wedgetail, a host of 40 and 38-footers and the two smallest yachts at 34 feet, Wilparina and Illusion.
Add to that the pressure brought on from the uncertainty of speculative forecasts that Richards and line honours rival, Perpetual Loyal owner and skipper Anthony Bell, have downplayed believing that what really matters are the conditions on the day.
Perpetual Loyal
''The weather is the weather,'' says Richards, 45, and an 11 times veteran of the Sydney to Hobart. ''You can predict it as much as you like, but when it comes to race time and the five-minute gun, you have to make sure you have the right sails up and are prepared for whatever you've got.''
Bell, 38, who has raced three Hobarts and beat Wild Oats XI for line honours in 2011 on his old boat Investec Loyal, says even the latest forecast on race day can be wrong.
Analysis 26th December 6:00 UTC (BOM)
''Go back to Big Boat Race day and we only left the dock an hour before the gun and we were told it is going to be six to eight knots and it was 26 - and that's in Sydney Harbour,'' he said.
''There is a lot of talk about the forecast and you can get weighed down in that.
''We have done a couple of studies on exactly what sails we will be carrying in the first part of the race, but that keeps changing - just so the guys can start their planning and get our playbook ready at least for the start.''
For Adrienne Cahalan, who was Wild Oats XI's long-time navigator but has not been selected this year, her 22nd Hobart race on Bill Wild's handicap honours contender Wedgetail, offers a new challenge.
''The forecast which is so uncertain is really going to put a lot of pressure on a lot of teams … how people handle that pressure and how they work out the strategy and keep calm,'' she said.
Cahalan predicts a close fight between Wild Oats XI and Perpetual Loyal for line honours, but won't rule out Syd Fischer's Ragamuffin, nor the Volvo 70s of which her reference reminds her of 2001 when a line honours victory slipped by. Cahalan crewed on the 80-foot Nicorette that took back the lead on her last day after being hit by a water spout on the first night.
But when winds abated, Nicorette became parked in Storm Bay where the Volvo 60 Assa Abloy steered out to sea after seeing Nicorette to take line honours by minutes.
''There are just enough pot-holes in this race that that could happen again,'' she said.
''That's the great thing about this race, you never know.''
Ragamuffin
Major Sydney-Hobart players and their weapons for trek south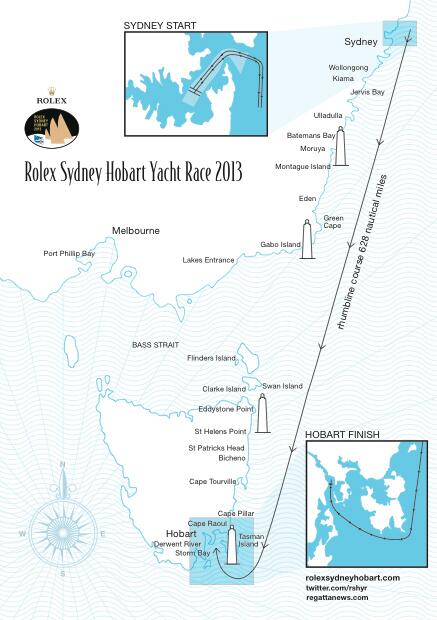 THE CONTENDERS
LINE HONOURS
Wild Oats
: Built in 2005 for immediate success and now owner of six line honours wins in this race along with two overall victories. Race record holder. History says she is the one to beat. Her crew includes the likes of skipper Mark Richards and America's Cup skipper Iain Murray.
Perpetual Loyal
: The rebuilt speed boat when named Rambler lost her keel and capsized in the 2011 Fastnet race in UK. Unproven here except in a short harbour race where she was actually ahead of Wild Oats when a sail exploded. Big and powerful and looks the boat to beat in reaching condition. Crew includes round the world sailor Jessica Watson with her skipper Anthony Bell.
Ragamuffin
: Won two years ago as Investec Loyal and under the guidance of veteran Syd Fischer. Done more racing than her rivals this year and has had water ballast installed to increase her downwind speed. A danger boat more than capable of bumping her rivals from the spotlight. Her crew includes round the world racers and well-known Sydney helmsman and 18-foot skiff skipper David Witt.
Wild Thing
: The lightest of the supermaxis and fast in running conditions. More than capable of an upset if her conditions prevail. Skipper Grant Wharington has won with her before. But the boat has a chequered past. As Skandia Wild Thing, lost her keel in the 2007 race. Last year an issue with paperwork left her high and dry just hours before the race south.
Beau Geste
Dark horse
Beau Geste
: This 80-footer is brand new and in her maiden Hobart. An almighty 20-foot shorter than her rivals in a race where waterline matters. But it is rumoured this boat, if delivered her conditions, could produce something very special. Owned by Hong Kong businessman Karl Kwok who has previously won the Sydney to Hobart overall with a smaller yacht of the same name and skippered by top New Zealander Gavin Brady
HANDICAP OVERALL

Midnight Rambler
: A Sydney yacht which has been making a big impression in the lead up to the Sydney to Hobart. Sailed by a proven team headed by Ed Psaltis. Traditionally good in the wind, a new set of sails has also made her formidable in the light.
Patrice
: The new 46-footer from experienced skipper Tony Kirby, but untested in the Sydney to Hobart. Has tasted success in numerous lead-up races to the race south this year. Has an excellent crew on-board which also includes Gail Harland, one of the most experienced female sailors in the Sydney to Hobart with 18 races under her belt.
Wild Thing
: If it's a big-boat race, this is likely to be the 100-footer to beat. Recently claimed the overall honours in a lead-up race and rates better than her fellow supermaxis. Wild Oats has twice won the race overall and Wild Thing could be the next big boat to claim the coveted overall honours.
Wild Rose
: Skipper Rogers Hickman has done more than 35 Sydney to Hobart races and is a former overall winner. This 43-footer is a former member of Bob Oatley's (owner of Wild Oats) stable and will be very well campaigned to Hobart. Regularly features on the podium in offshore racing.
Dark horse
Beau Geste
: The foreign raider. Sight unseen in Australian waters but still boasting a fearsome reputation. She will be campaigned by an excellent crew, including several America's Cup sailors from New Zealand. Brand new and boasting all the new gadgets and technology.
Links :