Britain's Jeanne Socrates arrives in Victoria Harbour, Vancouver Island after a record breaking journey that will see her name go down as the oldest person to circumnavigate the globe, unassisted and non stop. The 77 year old is greeted by a crowd of cheering supporters.
From The Times by Michael Odell
She set sail to scatter her husband's ashes — and then kept going.
She talks about the adversity she faced on her record-breaking feats
When 77-year-old Jeanne Socrates tells people what she has been doing for the past 11 months they call her "plucky", "feisty" or "brave".
She doesn't like those epithets.
She prefers "crazy".
"I do think at my age you to have to be a bit crazy," she says.
"It helps fend off the perfectly rational reasons why you shouldn't be doing certain things."
Last Saturday morning Socrates sailed into the port of Victoria in British Columbia to become the oldest person to sail non-stop, unassisted around the world.
A flotilla of 30 boats from the Royal Victoria Yacht Club blew their horns, but before the champagne could be uncorked, an official "finisher" boarded her 38ft yacht Nereida to check that her motor had not been used — one of the strict rules governing unassisted circumnavigation.
Jeanne Socrates has just completed a record-breaking voyage around the globe
Darren Stone / Times Colonist
With her record-breaking voyage certified after 340 days at sea, a local hotel invited Socrates to lunch, a welcome change after almost a year of tinned food, many onions and a surfeit of potatoes.
"I was quite ready for something other than my own onion soup," she says.
"And the welcome I got just made me think how lovely human beings are."
This short (12 minute) documentary was shot in the weeks before 76-year-old Jeanne Socrates' October 2018 departure on a non-stop, unassisted, solo circumnavigation.
Jeanne is currently (Dec 2018) the oldest woman to have completed a non-stop solo circumnavigation.
When she completes this voyage, she will be the oldest person to have completed a non-stop solo circumnavigation.
Film student and friend of Good Old Boat magazine Cavan Lyons traveled to Victoria to record Jeanne as she readied herself and her boat.
Socrates doesn't gush.
She's happy enough, but also grounded and analytical, as though still assessing whether a whale or an oil tanker might loom up on her port side and ruin her celebrations.
Her record-breaking circumnavigation was nowhere near as fast as the one in 2013, when she whizzed round in 258 days.
"But overall I suppose I am proud for the fact I am not a typical wealthy sailor," she says.
"I was in an orphanage aged five to nine. There have been some tough times. I think I've earned the chance to sail. My motto has long been 'You're alive, make the most of it'."
Socrates is not from seafaring blood.
Born to a 16-year-old mother during the Second World War, she never knew her father, an Australian airman, and ended up in an orphanage in Stepney, east London.
Eventually reunited with her mother and her new husband, Socrates got herself to university and became a maths teacher.
She only took up sailing by chance aged 48 while working at Latymer Upper School in Hammersmith, west London.
One summer in the late 1980s, in the lull after exams, she was asked to lead her pupils in a non-academic pursuit.
She chose birdwatching.
After two years someone suggested she take the pupils on a sailing course at Cowes on the Isle of Wight.
"I just absolutely loved it," she says.
"They couldn't get me off the boat."
She introduced her husband, George, a lecturer in materials science at Brunel University to the pastime.
Together they became quite proficient, although tragically it wasn't to last.
In 2001, while cruising off Grenada in the Caribbean, he complained of a bad back.
A local GP examined him and told the couple to go home.
Back in the UK, he was diagnosed with prostate cancer.
Nevertheless, the couple resumed sailing; Socrates even learnt how to inject her husband with his hormone treatment at sea.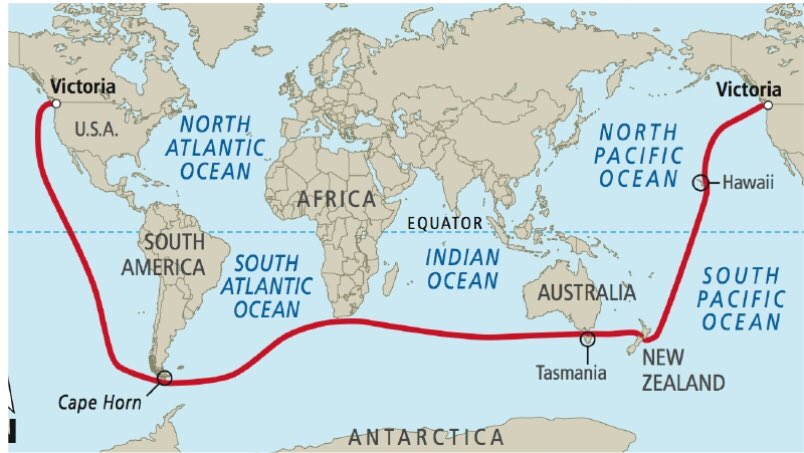 Jeanne Socrates route to sail around the world, unassisted and non-stop
By November 2002 they were sailing off the coast of Venezuela when he really began to struggle.
Within four months he was dead.
"He was only 65. He'd taken early retirement to enjoy life. I felt he had been cheated out of something he had earned," she says.
Anger and grief drove Socrates's determination.
After the funeral she sold the family home in Ealing, west London.
Then she sailed back to scatter George's ashes and captain's cap off Bonaire, an island off the coast of Venezuela near where his final voyage had ended.
After that, she just kept going.
"There is no way I would have tried to circumnavigate solo if George were alive," she says.
"We loved cruising and stopping off to visit places, but...the boat became my home and I just kept taking on bigger challenges."
She wasn't the only one to find it challenging.
When she reached Fiji locals were so shocked to see a lone woman step off a boat they insisted on trying to find her a husband.
"It didn't make me cross. They just couldn't cope with it and it was actually quite funny. The best response I felt was to invite them on board and offer them a cup of tea."
There were several attempts to circumnavigate unassisted between 2007 and 2012 that ended in frustration.
Either she was driven back by weather or her instruments failed.
In 2008 she was just 60 miles short of a 27,500-mile circumnavigation when her autopilot malfunctioned as she slept.
She woke up upside down on the beach in Acapulco.
"The surfers were very kind to me, although one of them made a hole in my boat so no one would steal it, which was distressing," she recalls.
Socrates finally circumnavigated non-stop and unassisted in 2013 and became the oldest woman to accomplish the feat.
However, an older man had done it — the Japanese sailor Minoru Saito, who had claimed the record in 2005, aged 71.
Annoyingly, Socrates was only two months younger than him.
She's a mathematician.
Surely she hadn't miscalculated?
"Not exactly. I knew about Minoru and I shrugged — you can't delay your trip because there's an optimum window and I wanted to do it anyway. But after I got back a few boater friends suggested I should've gone a year later and claimed both records. That left me with the feeling... I'm not getting any younger, could I do it again?"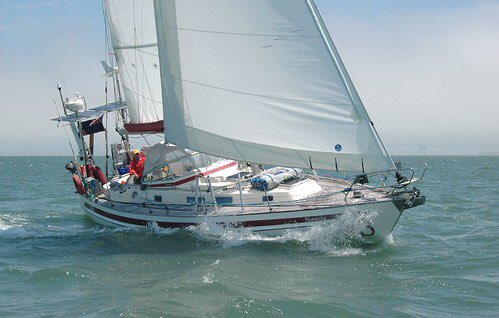 South West News Service
Socrates says that she is not spiritual or superstitious.
When she sees an albatross in the Southern Ocean she doesn't get the jitters.
Given what happened next, it's probably good that she's not easily shaken by bad omens.
She decided to go for the record in 2016 (by then she was 74), but had to turn back after a 60-knot storm damaged her boat.
She tried again a few months later, but this time was foiled by problems with her "gooseneck" (the swivel joint by which the boom is attached to the mast).
Undeterred, the record attempt was rescheduled for October 2017, but, a week before her departure, Socrates fell off a ladder while hefting stores on board the Nereida, which was in dry dock.
Falling from deck height to the concrete below, she broke eight ribs, two neck vertebrae and her nose, and badly damaged her right elbow.
She was in hospital for three months.
"You deal with what is in front of you," she says.
"I admit I was certainly not in the best physical condition, but you must understand I couldn't give up. The boat is my home and she is my friend. I often say, 'We did this,' and people ask me, 'Who's we?' and I explain, 'It is the boat.' We'd be together anyway. And like I say, if you have your health, then live your life. These chances aren't there for ever."
Last October she was still limping from the accident when she finally set off from Victoria.
Use of the yacht's motor is forbidden and sails cannot be unfurled in the harbour, so a whale-watching boat towed her out to sea.
On board she had food for nine months: a lot of potatoes and onions (fresh onions are not as good as those with a dry outer skin, which keep better) and plenty of eggs (turning them daily keeps the inner membrane moist, meaning bacteria doesn't penetrate and they can stay fresh for up to four months).
Occasionally as a special lunchtime treat she would open a tin of tuna or salmon.
"There is something slightly ironic about eating tinned tuna in the middle of the Pacific," she admits.
Circumnavigating unassisted means not accepting help.
However, the rules are unclear about what happens when a squid jumps on to the deck of your boat.
"Oh yes, that happened a few times.
Strip off the black outer skin, fry in a bit of olive oil and you have the freshest calamari imaginable."
She tried twice to sail the world solo, failing both times.
Came back and completed it in 2013.
Last year during prep she broke her neck and ribs.
This year, she again sailed the world solo as the oldest person by *6 years*
Sometimes the sea's bounty was almost too generous.
One day a shoal of more than 50 flying fish dropped out of the sky.
"The ones I ate were a bit bony and soft, but quite palatable," she says coolly.
Socrates was never lonely.
There were whales and dolphins to look at, not to mention different types of albatross as well as petrels and shearwaters.
With her SSB (single-sideband radio, which can communicate over vast distances) and computer she was chatting, blogging and emailing.
Occasionally she would find time to read, including Patrick O'Brian's Master & Commander and Tracy Edwards's Maiden, an account of the British yachtswoman's 1990 Whitbread Round the World Yacht Race experience as skipper of an all-female crew.
"I'm 77 years old. For some women that means being offered a seat on the bus. But in the Southern Ocean I felt so amazing being alone — thousands of miles away from anyone — I don't think I've ever felt more alive."
Being on your own doesn't mean you can't enjoy an active social life.
When Socrates crossed the meridian, rounded one of the great capes or it was her birthday — she turned 77 while at sea last month — she threw a party.
"One can't dress up, but I might put something dry on from my vacuum pack. For music, we put on Acker Bilk or Abba and have a glass of rum punch with some olives or hummus. It's important to mark milestones and have fun when you can," she says.
We?
"Me and the boat."
After days of very rough seas Jeanne's Remote Wind indicator stops working in very bad over night weather. She is 177 miles from Cape Horn.
In May there was near-disaster off New Zealand's South Island when Socrates suffered a "knockdown" — a sailing term for when sea conditions tilt a boat so far over the mast touches the water or even becomes submerged.
The sea, she says, was "lively", meaning the wind was at 45 knots and there were 24ft waves.
Even so, she never gets seasick.
She huddled below deck and tried to write her daily blog.
"I sat on the port settee and, next thing I know, a huge wave hit the boat like a slab of concrete."
It smashed a hole in the cabin roof and washed the solar panels off the boat.
A blade from her wind generator was shorn off, the radar was damaged and the mainsail torn.
"You don't get frightened as such, you just prioritise urgent scenarios," she says.
"It would have been very difficult to contemplate abandoning the voyage. I'm pretty determined when things go wrong."
In accordance with the "unassisted" rules Socrates stopped in Timaru harbour on the South Island and, without touching land or accepting assistance, made her repairs.
"I do like a challenge," she says jauntily.
"That's what they are. Not problems. Challenges."
Her children, Ann-Zoe, 52, and Nicholas, 50, are not sailors, even though Nicholas, a pupil at Latymer when his mother taught there, went on that fateful sailing course.
Before she set sail last autumn they told her that they were worried they might never see her again.
"Of course there are risks, but I assured them that I know what I'm doing," she says briskly.
Is she often accused of conduct unbecoming of a grandma?
"Well, lots of people wrongly think I dye my hair because it hasn't gone grey," she says, chuckling.
"Generally, people are very supportive. I think older women certainly like to see proof that, in life, you have choices. There is no reason to fade away if you're fit and healthy. In America it's far more sexist. They assume any man on the boat is the captain and they allow the woman the ceremonial title admiral."
Socrates says that she won't attempt another circumnavigation — much to her children's relief, no doubt — but she is already planning her next expedition.
She would like to meet some of the friendly voices she spoke to on her radio face to face.
And she has also made contact with relatives of the father she never knew.
"I'll be heading to Australia to meet them in the new year," she says.
"But I'll be doing that in a camper van".
Links :