From Forbes by Priya Shukla
Although the world's oceans make up nearly 75% of the planet's surface and provide
97% of the its habitable area
,
not even 4%
of the ocean is protected by governmentally sanctioned marine protected areas (MPAs) *.
While the
United Nations Convention on Biological Diversity
has set a global goal of protecting 10% of coastal areas by 2020, the United Kingdom's Environment Minister, Thérèse Coffey,
recently called
for 30% of the world's oceans to be protected by the year 2030.
MPAs have been shown to
maintain biodiversity by serving as a sanctuary for endangered species as well as immature sea life not yet eligible for commercial fishing.
They can also preclude destructive human activities (
such as bottom trawling
), allowing ecosystems to recover.
Many animals are able to
safely grow and reproduce
within MPAs that forbid human activities, which can
increase the amount and size of fish caught
in fishing areas adjacent to the MPA.
It has also been suggested that
MPAs can enhance resilience
to environmental change (like pollution and warming).
Ultimately, these protections
support local communities
that rely on healthy fisheries and ecosystems for their cultural practices, economies, and livelihoods.
Nearly
15% of the global population
depends on seafood for protein, and
according to professor of marine conservation, Dr.
Callum Roberts
, "protecting more ocean boosts prospects for fisheries.
If you stop fishing an area, the fish quickly become bigger and more abundant, producing many times more offspring.
These eggs and young fish spill into fishing grounds and increase catches.
This means that by fishing less, in time it is actually possible to catch more fish, at less expense from more prolific stocks."
Under the plans, 41 new marine conservation zones around the UK's coastline will be created to safeguard marine habitats - from Devon in the South West to Berwick on the Scottish borders.
Almost 12,000 square kilometres (7,457 square miles) of coastal waters are to be protected, with two sites in Northern Irish offshore waters.
The new zones are in addition to 50 areas which have already been earmarked for conservation as part of the blue belt programme.
One challenge associated with this ambitious endeavor is the
management of high seas fisheries
.
Nearly 60% of the global oceans are considered the high seas, which are not under the jurisdiction of any one country.
These large swathes of water are often subject to overfishing and deep sea mining.
For example, the International Seabed Authority (ISA) has issued licenses to 29 contractors from 19 individual countries (including the United Kingdom) to survey these areas for mineral extraction and biotechnological purposes.
Some of the more biodiverse sites include a range of seamounts found at the
Clarion-Clipperton Fracture Zone
and a field of hydrothermal vents in the Atlantic Ocean called the
"Lost City"
.
Currently,
only 1% of the high seas is protected
from industrial operations.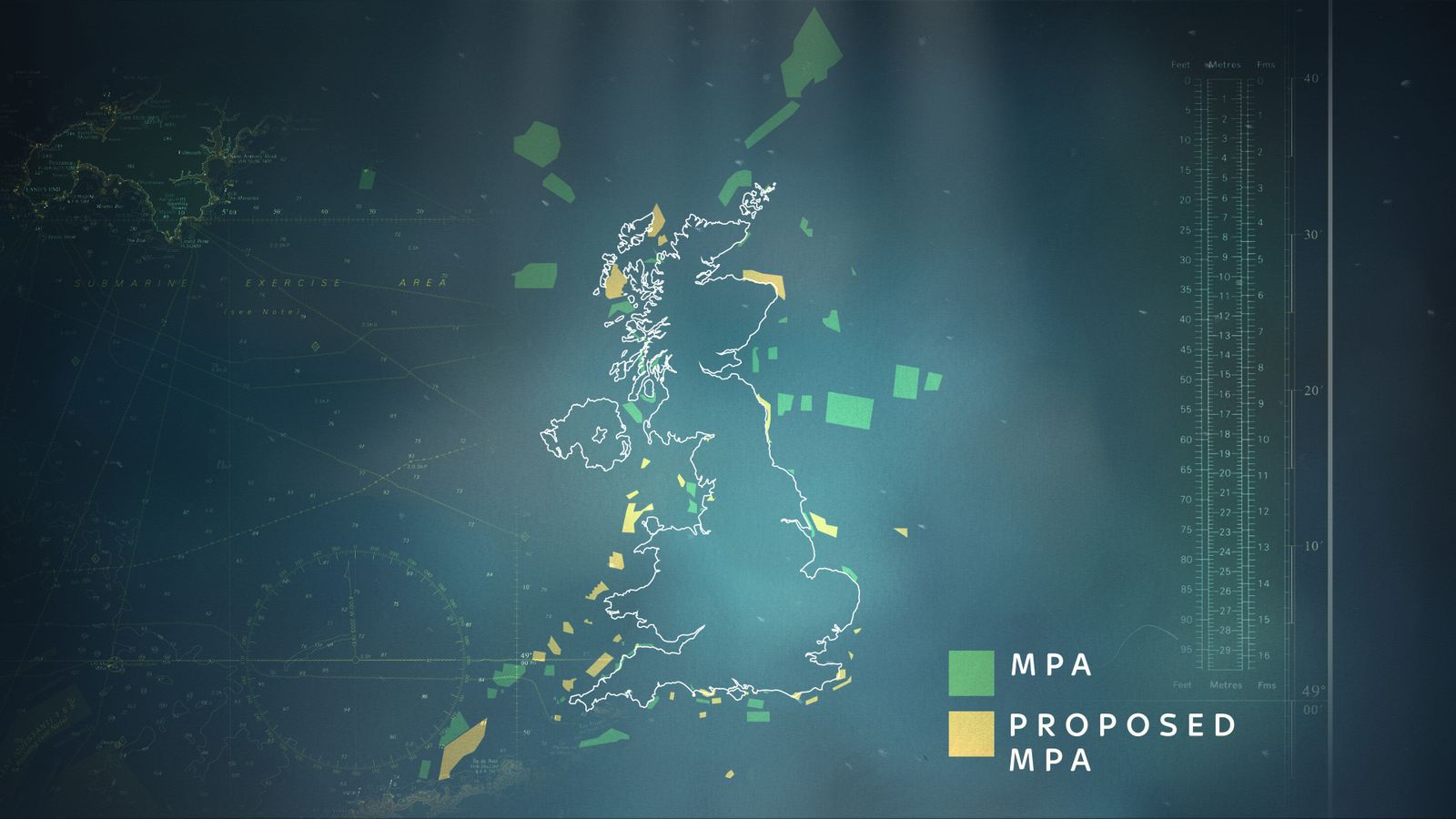 Britain itself has protected 200,000 square miles of its own coastlines and is in the middle of assessing 41 proposals to implement new Marine Conservation Areas that span more than 12,000 square kilometers and protect numerous species including the short-snouted seahorse, stalked jellyfish, and peacock's tail seaweed.
Links :