Nearly three quarters of the earth's surface is covered by ocean, but just one tenth of it is mapped
From RTE by Will Goodbod
A team of international scientists, led by the
Marine Institute
, has completed a transatlantic sea bed mapping exercise, which has revealed previously uncharted seabed features including mountains and ridges taller than Carrauntoohil.
The project is one of the first to be carried out by the Atlantic Ocean Research Alliance, set up two years ago, on foot of the signing of the Galway Statement on Atlantic Ocean Cooperation.
It aims to use the marine research resources of Europe, Canada and the US to better understand the North Atlantic Ocean and promote sustainable management of its resources, particularly in the face of climate change.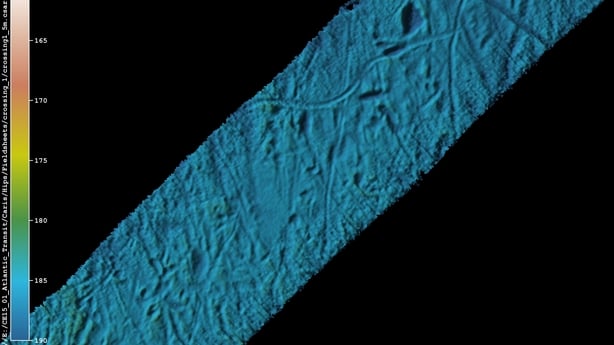 Ocean life provides half of the world's oxygen and there is rising concern about the impact that sea warming and acidification will have on the marine ecosystem.
The Marine Institute vessel, the MV Celtic Explorer, departed Newfoundland in Canada bound for Galway on 1 June.
During the seven-day crossing it deployed its recently fitted multi-beam sonar, which is capable of mapping the seabed to a width of six times the water's depth.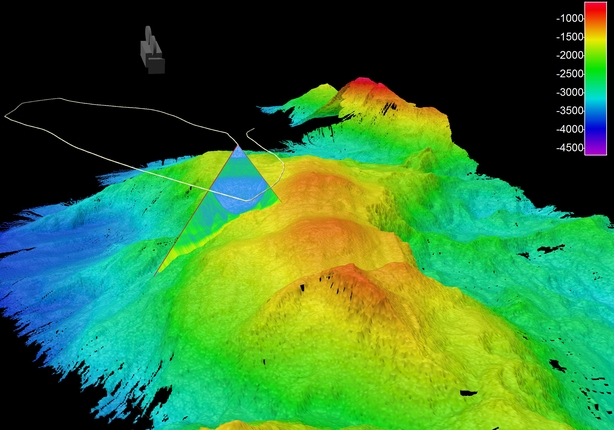 Image of a 3D animation of a 3.7km high underwater mountain, which is more than 140km long, on the Charlie-Gibbs Fracture Zone on the Mid-Atlantic Ridge.
Photograph: Marine Institute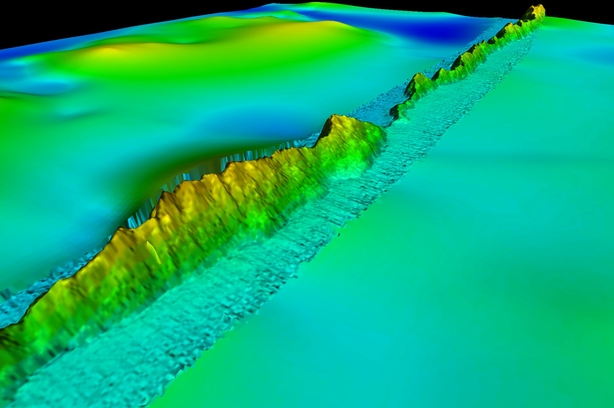 Among the features uncovered by the team of scientists on board was a 235 square kilometre area of seabed that had been scarred by icebergs.
They also found ancient glacial moraines and buried channels of sediment on the Newfoundland and Labrador shelf.
The survey also uncovered a 15km long down-slope channel, most likely formed by melt water coming from a grounded ice cap during the ice age 20,000 years ago.
The team of international researchers were surprised to discover a 140km long asymmetric ridge, which peaked at 1,108m high, taller than Ireland's highest mountain, Carrauntoohil.
They also charted in 3D a 3.7km high underwater mountain on the Mid-Atlantic Ridge at the Charlie-Gibbs Fracture Zone.
An area of cold water coral and sponges was also imaged, as well as the OSPAR designated Marine Protected Area.
The area where the first transatlantic telecoms cable, which was laid in 1857, was also targeted.
The project will now move on to map other areas of the Atlantic, with vessels from the US and Norway due to assist over the coming years.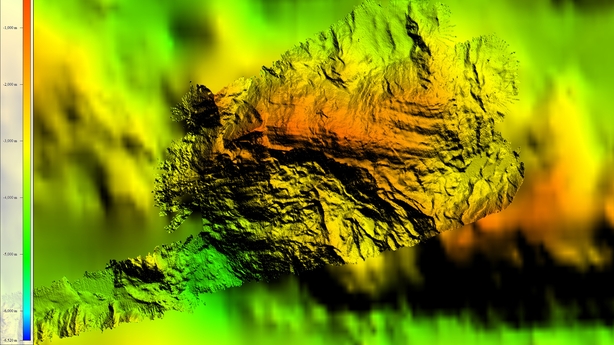 peaking on RTÉ's Morning Ireland earlier, Peter Heffernan, CEO of the Marine Institute, said every time we breathe, one half of the oxygen we consume has been produced by microscopic plants in the ocean and if we want to help this life support system and address the risk of acidification from climate change, then we must map, observe and generate a fit for purpose ability to predict change that are occurring here.
He said this expedition is an incredibly important first start in this process.