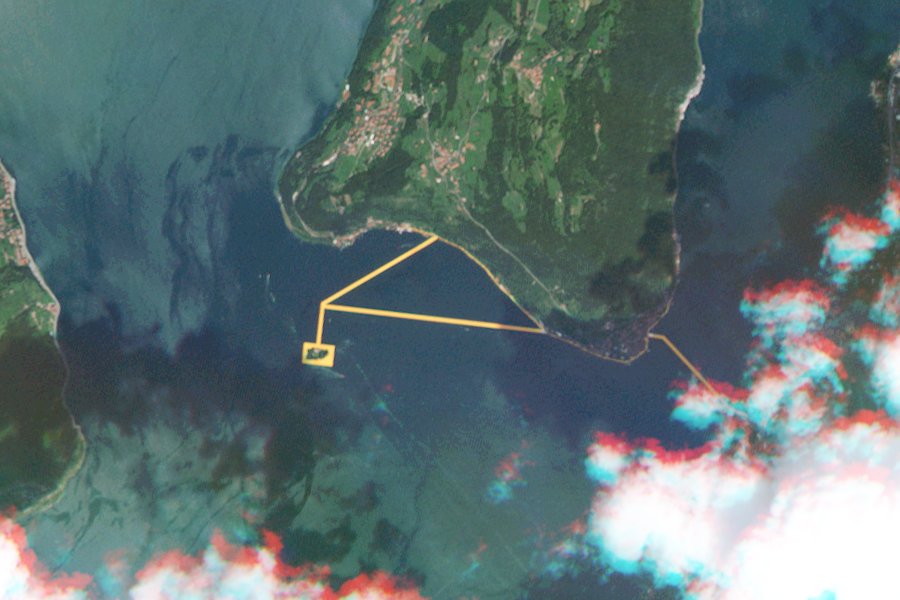 from a RapidEye satellite June 17, 2016
For sixteen days – June 18 through July 3, 2016 (weather permitting) – Italy's Lake Iseo is being reimagined. 100,000 square meters of shimmering yellow fabric, carried by a modular floating dock system of 220,000 high-density polyethylene cubes, undulate with the movement of the waves as The Floating Piers rise just above the surface of the water.

Visitors can experience this work of art by walking on it from Sulzano to Monte Isola and to the island of San Paolo, which is framed by The Floating Piers.
The mountains surrounding the lake offer a bird's-eye view of The Floating Piers, exposing unnoticed angles and altering perspectives.
Lake Iseo is located 100 kilometers east of Milan and 200 kilometers west of Venice.

"Like all of our projects, The Floating Piers is absolutely free and accessible 24 hours a day, weather permitting," said Christo.
"There are no tickets, no openings, no reservations and no owners. The Floating Piers are an extension of the street and belong to everyone."

A 3-kilometer-long walkway was created as The Floating Piers extend across the water of Lake Iseo.
The piers are 16 meters wide and approximately 35 centimeters high with sloping sides.
The fabric continues along 2.5 kilometers of pedestrian streets in Sulzano and Peschiera Maraglio.
"Since the artwork is in the water - said Christo - we had to find a fabric changing its color.
And in the end we used a type of nylon that is very reactive to the humidity in the air.
It's like an abstract painting."
"Those who experience The Floating Piers will feel like they are walking on water – or perhaps the back of a whale," said Christo.
"The light and water will transform the bright yellow fabric to shades of red and gold throughout the sixteen days."
Iseo lake and Garde lake with the GeoGarage platform (IIM/Navimap charts)
Iseo lake (zoom on Monte Isola and Isola San Paolo)
without any Notice to Mariners info for sailing in the area ;-)