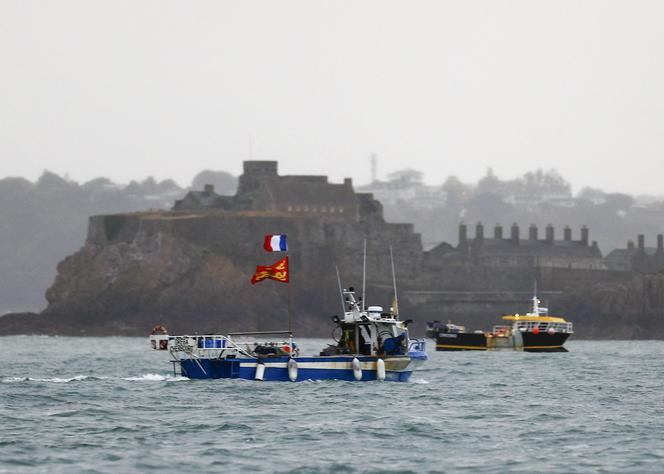 French fishing vessels demonstrate in St. Helier, the capital of the Channel Island of Jersey,
on May 6, 2021.
Sameer Al-Doumy / AFP

From The Guardian by Chris Morris
Fresh tensions have surfaced between Britain and France over post-Brexit fishing rights.
In the latest round of applications, the UK granted just 12 licences from 47 bids for smaller vessels to fish in its territorial waters.
French sea minister Annick Girardin reportedly said: "French fishing must not be taken hostage by the British for political ends."
Meanwhile,
Jersey refused licences to 75 French fishing boats
.
The UK said it would consider further evidence to support remaining bids for fishing rights.
Overall, the UK has granted 117 EU licences for its inshore territorial waters and almost 1,700 EU vessels have been licensed to fish in the larger UK exclusive economic one, which stretches 200 nautical miles from shore.
Ms Girardin, quoted in French newspaper
Le Monde
, said: "It is a new refusal of the British to apply the conditions of the Brexit accord despite all the work undertaken together.
"I have only one watchword; to obtain definitive licences for our fishermen as the accord foresees."
Fishing was one of the most contentious issues in the post-Brexit trade talks between the UK and the EU, and it continues to be a source of tension.
Both sides have substantial bargaining chips: many European boats have traditionally relied on fishing in British waters, while many British companies rely on selling their catch in European markets.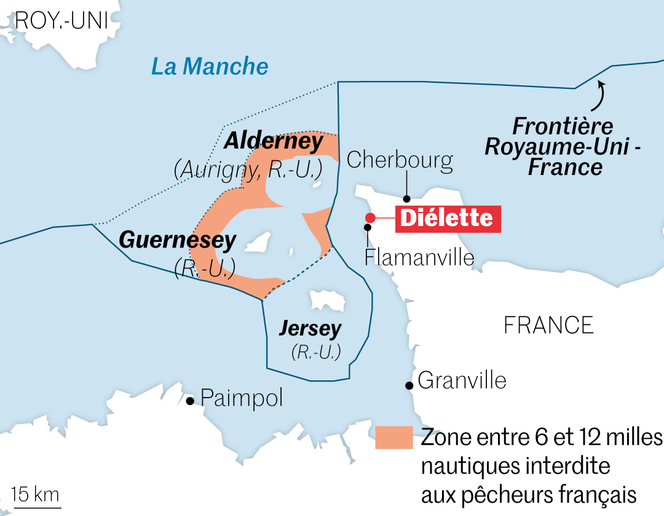 There is a particular focus on the number of French boats that will be able to fish in British waters in the English Channel, and around the Channel Islands.
The French Prime Minister Jean Castex recently sent a letter to the President of the European Commission Ursula Von Der Leyen warning that the problem was far from over - so, a local dispute could quickly become a broader European issue.
After protests by French vessels in the waters around Jersey in May, the deadline for foreign boats to submit evidence that they have fished near Jersey in the past (which helps determine future access) was extended until the end of this month.
"Le Dolmen", a trawler based in Lorient, fishing in the North Sea on 7 December 2020.

But it's safe to say that France won't be impressed by the rejection of 75 boats.
Sporadic squabbling about how the new UK-EU trade agreement should be implemented looks set to rumble on for years, placing a nagging strain on what should be a close relationship.
A spokesman for the Department for the Environment, Food and Rural Affairs (Defra) said the UK's approach "has been reasonable and fully in line with our commitments in the Trade and Cooperation Agreement (TCA)".
The spokesman said that to get a licence for fishing in the UK territorial sea, which is between six and 12 nautical miles from the coast, EU vessels must provide evidence of a track record of working there.
It comes as Jersey said it had granted 64 licences out of 170 applications from French boats.
A further 31 boats have been given temporary licences to give them more time to show they have a track record of fishing in Jersey's waters, in line with the UK's post-Brexit trade deal with the EU.
The remaining 75 boats are being given 30 days' notice, after which they will no longer be allowed access to the island's waters.
Jersey became a flashpoint for tensions over fishing rights in May, when two Royal Navy ships were sent to patrol the area after French fishermen
staged a protest outside the port of St Helier
.
The fishermen complained about being prevented from operating in British waters because of difficulties in obtaining licences.
Under an agreement with the EU, French boat operators must show a history of fishing in the area to receive a licence for Jersey's waters.