A tag team of deep-sea underwater robots sounds a whole lot like the setup for a Hollywood blockbuster.
In fact, it's the mission statement of a new startup with the appropriately cinematic name Terradepth.
The company is building autonomous submersible robots to help map parts of the ocean that are typically difficult to monitor.
From Fossbytes by
E
xploring the depth of the mighty ocean has been a hard task for the human race.
While there are technologies that can tell us what's beneath the surface of the water, much of the earth's ocean still remains a mystery.
So, attempts are continuously being made to come up with something more efficient and capable.
Terradepth
, a startup founded by two US ex-Navy SEALs, is moving along similar lines, trying to create autonomous robots that can dive in the deep waters and map the ocean.
Based out of Austin, Texas, Terradepth's goal is to make its fleet of underwater robots called AxV (Autonomous Hybrid Vehicles) map the ocean and collect data — all while keeping the costs down and reducing the need for human interaction.
That's something current methods have struggled to achieve.
The startup will demo its ambitious robots in an open-water environment in the summer of 2020.
To fuel their project, it has received a
funding of $8 million
from the storage giant Seagate Technology.

Terradepth AxV: What it's like?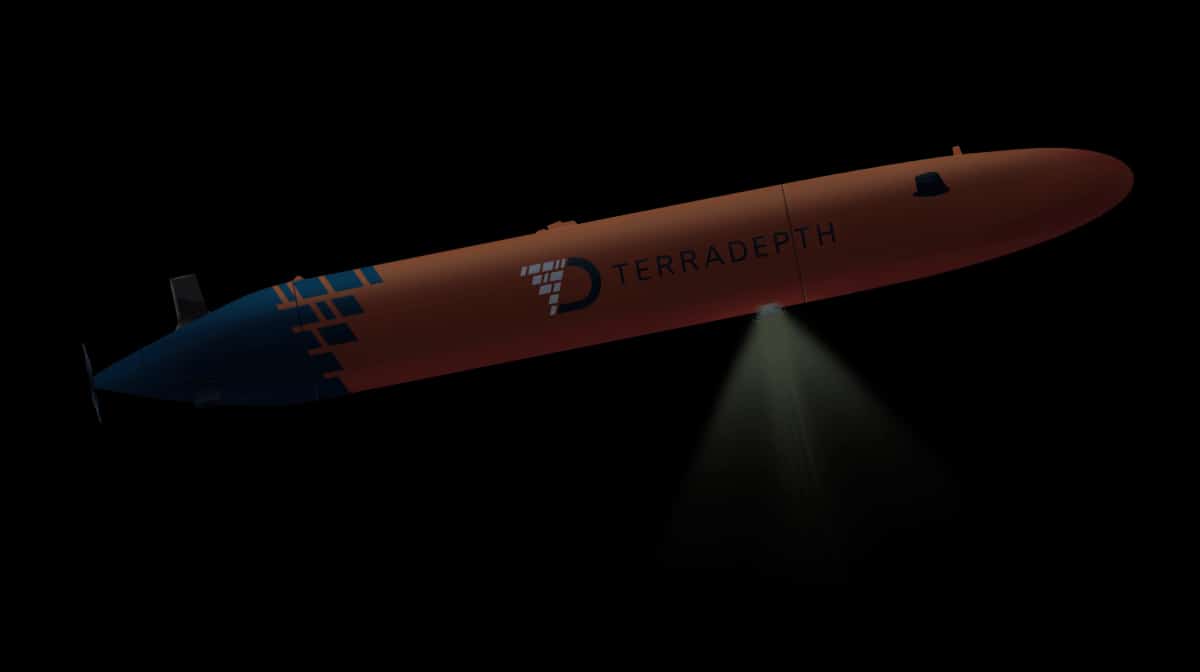 In terms of looks and feel, the Terradepth AxV is a tube-shaped vessel loaded with all the tech to collect ocean data, talk to other AxV units, and communicate with its Operations Center in Austin, Texas, via satellite.
Speaking of the specifications, the Terradepth AxV is 9.2 meters long with a diameter of 1050mm and weighs 3700 kgs. To give you an idea, it's heavier than the 2019 Ford F350 XLT pickup that weighs around 3300 Kgs.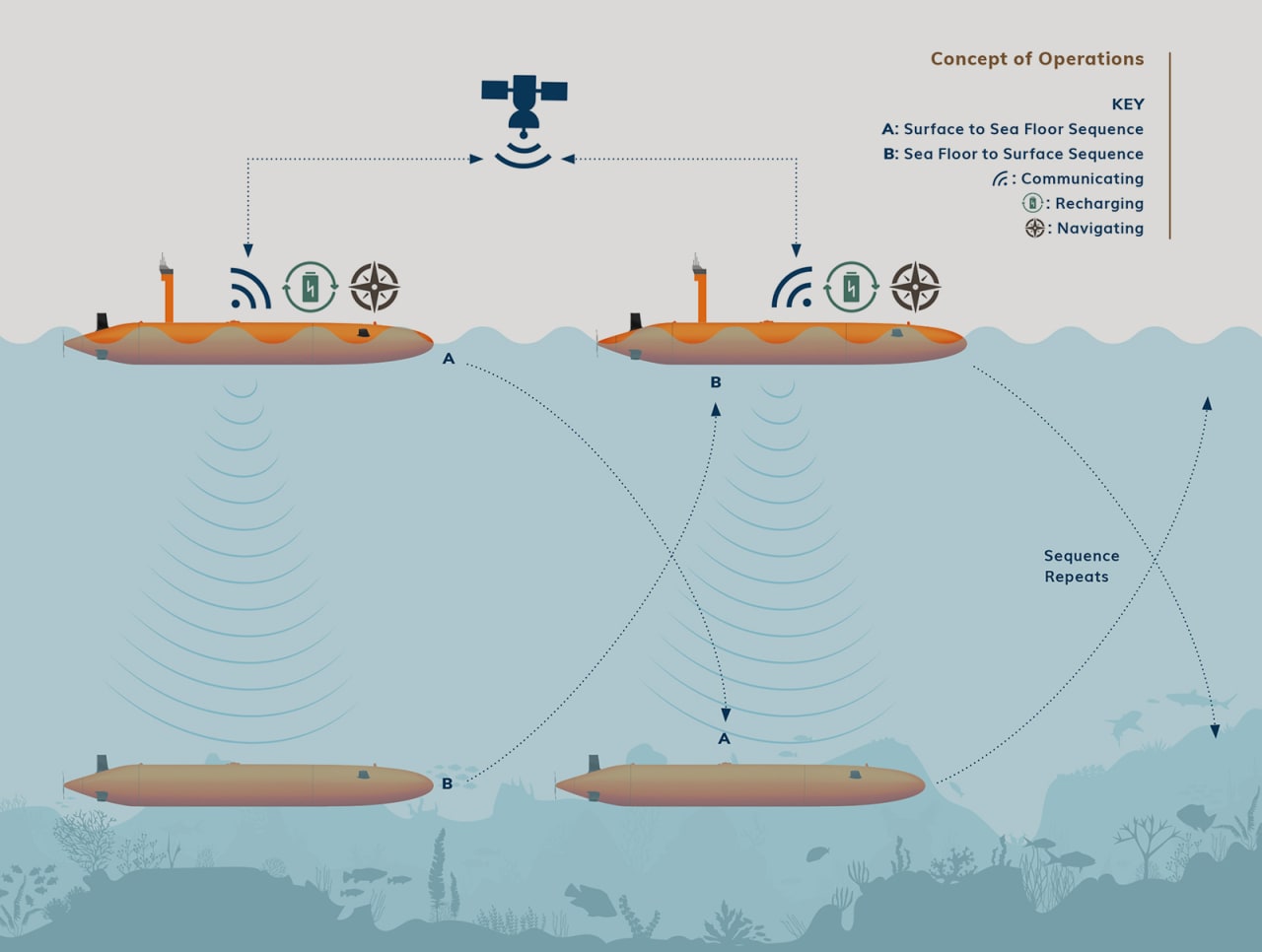 The Terradepth data collection vehicle is referred to as an AxV due to its autonomous surface and subsurface capabilities. Our vehicle system can consist of two (or more) identical vehicles: one operating semi-submerged and the other operating at depth.

It comes with a 1kW rechargeable battery system that gives a range of 1000 nautical miles per deployment.
Right now, the Terradepth AxV can dive down up to 1000 meters, but in the future, the autonomous robot vessel will be able to reach 3000 meters of depth.
Moreover, the robot vessel also offers an at-sea of up to 30 days.
On the software side, Terradepth's custom-made vehicle software uses advanced machine learning and big data concepts for onboard analysis, data transmission, and to maintain the efficiency of data collection and processing.
It will be able to offer robust support for third-party processing software and instruments connected to the AxV.
In the future when its AxV fleet comes into full flow, Terradepth's ultimate plan is to offer a data-as-a-service option for others to get access to the ocean data.
"Our highly intelligent unmanned ocean vehicle completely removes the need for humans at sea," the company notes on its website.
"The Terradepth AxV is deep-ocean rated, highly modular, and powers a large payload of sensors."
The company's mini-subs will reportedly boast an at-sea duration of 30 days, with an onboard recharging system capable of propelling them through the waves with a range of 1,000 nautical miles per deployment.
The Terradepth AxV sub is 9.2 meters in length, and tips the scale at 3,700 kilos.
(Although, of course, weight works a little bit differently underwater.)
They will initially be able to reach depths of 1,000 meters, although plans are afoot to extend this to 3,000 meters, meaning that they'll be able to journey to the bottom of many parts of the ocean.
For context, the deepest point in the ocean, the Challenger Deep, is approximately 11,000 meters down.
"During at-sea operations, the topside AxV provides sea surface data collection, communications and navigation assistance, while the submerged AxV conducts its submerged mission," the company notes.
"The two AxVs can then switch roles once the submerged vehicle's energy is expended to a predetermined level. Once surfaced, the vehicle employs a hybrid system of rechargeable lithium batteries and an air-dependent power plant capable of operating high-power, high-logistics instrument payloads."
Underwater, the plan is for the robots to be able to able to gather data using multispectral imaging and other surveillance methods.
This will be useful for both monitoring and forecasting services.
Eventually, the goal is to be able to roll out entire networked fleets of autonomous robots.
At present, Terradepth is planning on demonstrating its tech in an open-water environment in summer 2020.
Just when you thought it was safe to go back in the water, too.
Links :