Internet service in the sky?
SpaceX unveils "Starlink Maritime" which allows high-speed internet connectivity at sea around the globe.
Up to 350 Mbps speeds from some of the most remote waters in the world.
That's pretty easy these days—and fairly affordable as well. Internet service on the sea?
Starlink Maritime coverage currently covers primarily coastal waters, the Caribbean, and the Mediterranean.
In Q4, trans-oceanic coverage will be possible.
And in Q1 2023, SpaceX is promising truly global coverage.

Now satellite internet from
Starlink
, a company operated by Elon Musk's
SpaceX
, is ready to begin offering a Web connection for boat owners, but it won't come cheap.
In addition to withstanding extreme cold, heat, hail, sleet, heavy rain, and gale force winds, Starlink is rugged enough to withstand rocket landings. Here's live video captured on a SpaceX droneship at sea with and without Starlink pic.twitter.com/EKhLrjLhlq

— SpaceX (@SpaceX) July 7, 2022
Days after getting permission from the Federal Communications Commission to launch internet service to vehicles, the company has set a price of
$5,000 per month
to deliver internet to ships at sea.
That's on top of a $10,000 equipment charge.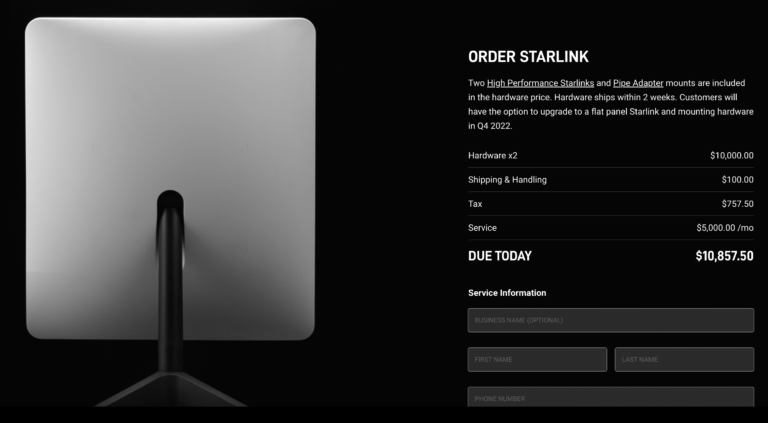 If you can afford it, you can order Starlink Maritime today. In Q4, you will then be given the option to upgrade to next generation hardware.

Customers can pause the billing cycle when they're not using the service for long periods.
It's not the gigabit speeds some people enjoy at home, but it's certainly better than the complete lack of coverage available previously.


source Starlink : case study
Residential customers who use
Starlink
pay $599 for hardware and $110 per month for service.
Shipping address ;-)
But for most mortals cruising on normal sized yachts, $5,000 a month is completely out of reach for satellite connectivity - no matter how fast it is.
The Starlink Maritime system can do 350 Mbps down and 40 Mbps up (at much lower latency too) - blowing those legacy systems out of the water at a much lower price.

Particularly when you look at the competition - the KVH V30 marine satellite system (our news story) costs $11,995, and this system is only capable of modest peak speeds of just 6 Mbps download, and 2 Mbps uploads.
The much larger and more expensive mega-yacht targeted KVH V11-HTS ($49,995 MSRP) can manage peak speeds of 20 Mbps down and 3 Mbps up, and the mid-size KVH V7-HTS ($29,995 MSRP) can do 10 Mbps down and 3 Mbps up.
In a Tweet Thursday, Elon Musk explained the differences between the Maritime antenna and a home one.
I love that Starlink Maritime is the same exact thing as residential Starlink but on a boat but is priced 50x higher. smart vertical specific pricing @elonmusk

— Whole Mars Catalog (@WholeMarsBlog) July 7, 2022
"No, it's dual, high performance terminals, which are important for maintaining the connection in choppy seas & heavy storms. Still obv premium pricing, but way cheaper & faster than alternatives. ... Also, being ruggedized for relentless salt spray & extreme winds & storms in deep ocean is not easy."
Designed for both commercial boats and ships as well as personal yachts, the Starlink service
isn't completely global
, though it does expect to expand coverage to new areas before the end of the year. Right now it works in the waters near the USA (not including Alaska), Europe (except most of Norway, Sweden, and Finland), Brazil, Chile, the southern part of Australia, and New Zealand.