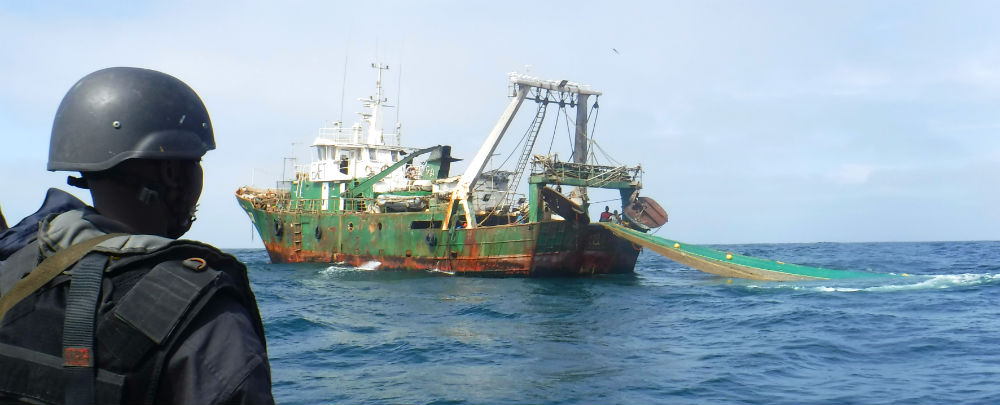 From Investigative Journal by Joseph Hammond
Busa in western Ghana is close to a tropical paradise.
The waters are warm.
Tropical fruits and what have to be some of the world's largest avocados are easily available.
Cafés and hotels that service the backpackers and surfers cluster around the picturesque beach.
Yet, below the waves, local fishermen describe an ocean that is more like a desert.
"You know I never used to question it. It isn't like it was before," says Micheal Akwasi, a Ghanian fisherman, "…some days I wonder what is the point?"
Ghana's fishermen are feeling the impact of over-fishing and illegal, unreported, and unregulated (IUU) fishing operations.
Many fishermen are seeking new livelihoods on land.
Akwasi says that some of his colleagues given up the sea entirely in order to pursue job opportunities in Accra – Ghana's capital.
Artisanal fishing vessels in Western Ghana.
Fishing provides livelihoods for roughly 10 percent of the world's population.
Last year an investigation from the Environmental Justice Foundation (EJF) uncovered how modern trawlers are illegally fishing in Ghana's waters making it difficult for artisanal fishermen traditional and their often colorful canoes.
With limited options, the fishermen often buy some fish back from the industrial trawlers a trans-shipment practice known as saiko fishing.
The practices costs the Ghanaian economy some $50 million a year and has led to a 40% decline in the salaries of Ghanaian fishermen in the past decade.
Seafood Demand Is Rising
More importantly, IUU fishing poses a serious risk to a valued part of global food security.
Yet, IUU also contributes to other problems such as terrorism and a growing number of maritime border disputes that are often rarely discussed.
IUU is a crime facilitated by harmful subsidies in countries around the world from Europe to East Asia.
Thus to understand why the fishermen's nets in Ghana are increasingly empty one must look at the industry from a global perspective.
World-wide sea food consumption has continued to climb in recent years as the unprecedented growth of a middle class around the globe has resulted in an increased demand for the salty flesh of sea creatures.
At least 3 billion people rely on farmed or wild-caught seafood as their primary source of protein, while over 4.3 billion people get at least 15% of their animal protein intake from fish and other seafoods.
Some 90% of the world's fish stocks are currently being over-fished as a result of this demand.
Rare species and endangered species also suffer due to over-fishing and in particular IUU practices.
A report released last year concluded that 90% of the Indian Ocean's dolphin had disappeared due to over-fishing.
Many sea creatures end up as unwanted "bycatch" in a fishermen's net.
Ironically "saiko fishing" was originally intended to ameliorate this problem by allowing commercial trawlers in Ghana to sell some of this "bycatch" to the locals.
A Chinese Connection
A large number of fishing trawlers involved in IUU fishing hail from China a country which since 2002, has also been the world's largest exporter of sea food.
China's rise to dominance in the sea food industry was rapid.
In less than two decades the Communist country built the largest deep-water fishing fleet in the world with some 3,000 vessels.
Yet, that number fails to show Chinese influence on the global fishing industry.
Indeed the EJF report revealed that 90% of Ghana's industrial trawl fleet is linked to Chinese owners though often locally registered under Ghanaian companies.
Chinese authorities have reluctantly admitted to having a problem.
Several new regulations have been announced including a blacklist for Chinese company executives and boat captains who engage in IUU fishing.
Furthermore, under the current Chinese policy, no vessel is supposed to fish within three miles of the exclusive economic zone of any country (EEZ).
"In the Bohai Sea, the Yellow Sea and most of the East China Sea (in waters they have clear jurisdiction over), they are taking IUU fishing very seriously because IUU fishing has a directly felt impact on domestic sustainability and food security…," says Tabitha Grace Mallory, a leading expert on Chinese fishing practice, "China's annual fishing moratorium only extends to 12*N latitude, so any fishing below that (which is where the Spratly Islands are) is pretty much a free-for-all." China provides large subsidies to fishing fleets that operate in that area."
Former U.S. Navy Admiral and NATO commander James Stavridis in a 2017 article drew attention to the fact that China was spending hundreds of millions of dollars to subsidize vessels involved in IUU fishing.
Late last year the United States government has warned that China's illegal fishing practices could start a conflict in the region.
Provocative incidents in recent weeks seem bear out that claim.
Last month the Japanese destroyer Shimakaze received a one-metre hole in its hull after colliding with a Chinese fishing vessel 650km west of the Japanese island of Yakushima.
Two fishermen aboard the Chinese vessel were reportedly injured.
That violent confrontation came weeks after a alarming incident involving the Taiwanese Coast Guard and a clash with Chinese speed boats who pelted them with debris as they attempted to enforce fishing regulations.
Farther afield the Argentine coastguard fired upon a Chinese vessel illegally fishing in Argentina's exclusive economic zone last year.
Of course, China isn't the only country using its fishermen in this way.
Vietnam and the fishing fleets of other countries have been accused of using their fishing fleets as "militia".
When Indonesia last year launched a major operation to crack down on IUU fishing it its territorial waters, it destroyed 51 foreign vessels but, only two of which were Chinese flagged.
Catching Terrorists
In Africa IUU fishing is linked to an entirely different security problem: terrorism.
IUU fishing was one of the underlying causes which led to the creation of Somali piracy as local fishermen found it impossible to make a livelihood from fishing and found another use for their boats.
Some analysts have argued the rise of Somali piracy was linked to the rise of the Al-Shabab terrorist organization, and there is no doubt both groups rose to prominence around the same time.
In West Africa, the link between IUU fishing terrorism is even easier to establish.
The U.S. Department of the Treasury's Office of Foreign Assets Control placed sanctions on six individuals and seven fishing companies across West Africa for funding the operations of the Lebanese terrorist organization Hezbollah in 2018 – including one in Ghana.
"The inclusion of fishing operations in Hezbollah's global financial support network is alarming but not surprising," Peter Hammarstedt, a director with Sea Shepherd, "Almost ten years ago, the United Nations Office on Drugs and Crime (UNODC) designated IUU fishing as a transnational organized crime–and Hezbollah-connected businesses have long been linked to other transnational organized crime including drug trafficking, weapons smuggling and arms dealing,"
Hammarstedt's NGO fights IUU fishing and other maritime environmental crimes around the globe.
He is quick to point out that IUU is not simply a Chinese problem.
"The long-distance water fishing fleet is responsible for the majority of IUU fishing incidents linked to Chinese-flagged dishing vessel – and considering that the operation of the foreign fishing fleet is only possible due to state subsidies – China needs to cut all of its fishing subsidies.
For that matter, the European Union needs to do the same with its long-distance fleet."
The Sustainable Development Goals (SDGs) call for countries to abandon fishing subsidies in the interest of food security.
The goals were approved by the United Nations General Assembly in 2015 and are meant to be achieved by 2030.
The fourteenth SDG goal "Life Below Water" calls on all nations to:
"prohibit certain forms of fisheries subsidies which contribute to overcapacity and overfishing; eliminate subsidies that contribute to illegal, unreported and unregulated fishing; and refrain from introducing new such subsidies."
Despite this pledge the European Union quietly reintroduced subsidies to help overgrow its fishing fleet.
The Corona virus has disrupted global food distribution networks and in the aftermath of "World War Virus" food security will be more critical than ever.
Unless measures are taken to end the harmful subsidies, which drive IUU, the stomachs of those who live above the water will soon feel the impact as well.
Links :