The shipping forecast is a radio broadcast - that began in 1924 and can still be heard four times a day - which provides weather forecasts and storm warnings for the seas around the British Isles.
In this video you can learn a bit about its history and also learn how to interpret the forecast - make sure your sound is turned on!
From The Telegraph by Sarah Knapton
T

he Shipping Forecast
is celebrating 150 years of continual weather predictions today, but sailors be warned, new statistics show that one in seven gales is a false alarm.
The first gale warning was issued following a violent storm in 1859 but it was not until
1867 that storm warnings at sea were issued on a regular basis and they have continued ever since.
We look at the history of the Met Office shipping forecast
When it began, the forecast predicted around 75 per cent of strong winds correctly, but could only get the direction of the gales correct around one third of the time.
Today,
The Met Office
gets the wind direction correct 80 per cent of the time, but has a false alarm rate of around 15 per cent, meaning roughly one in seven storms will not happen.
H
owever overall forecasts, which also include wave heights, visibility and weather, are 93 per cent accurate, thanks to the Met Office's new supercomputer which takes in data from all around the world.
The forecast is read on BBC Radio 4 each morning, although the
Maritime and Coastguard Agency
receive three updates throughout the day.


The Met Office have produced uninterrupted marine forecasts for 150 years.
Starting with gale warnings in 1867, these developed into the shipping forecast as we know it today.
This video gives a brief history of how marine forecasts began.

Calls for a regular shipping forecast were first made following the Royal Charter storm off the coast of North Wales in 1859 which led to the deaths of 800 people and the loss of 133 ships, double the amount of tragedies usually recorded in an entire year.
Following the disaster, Vice Admiral Robert FitzRoy persuaded the Board of Trade to allow him to start storm warnings in a bid to prevent similar occurrences and regular forecasts began eight years later.
T
he maritime storm warnings evolved into what is now today's shipping forecast and eventually led to the daily Met Office weather forecasts. Peter Dawes, Lifesaving Services Manager for the
RNLI
said: "The Met Office Shipping Forecast is an excellent source of information, and a vital tool in helping people make critical safety decisions at the coast and at sea.
"We urge everyone to check the weather before heading to the coast, in order to stay safe."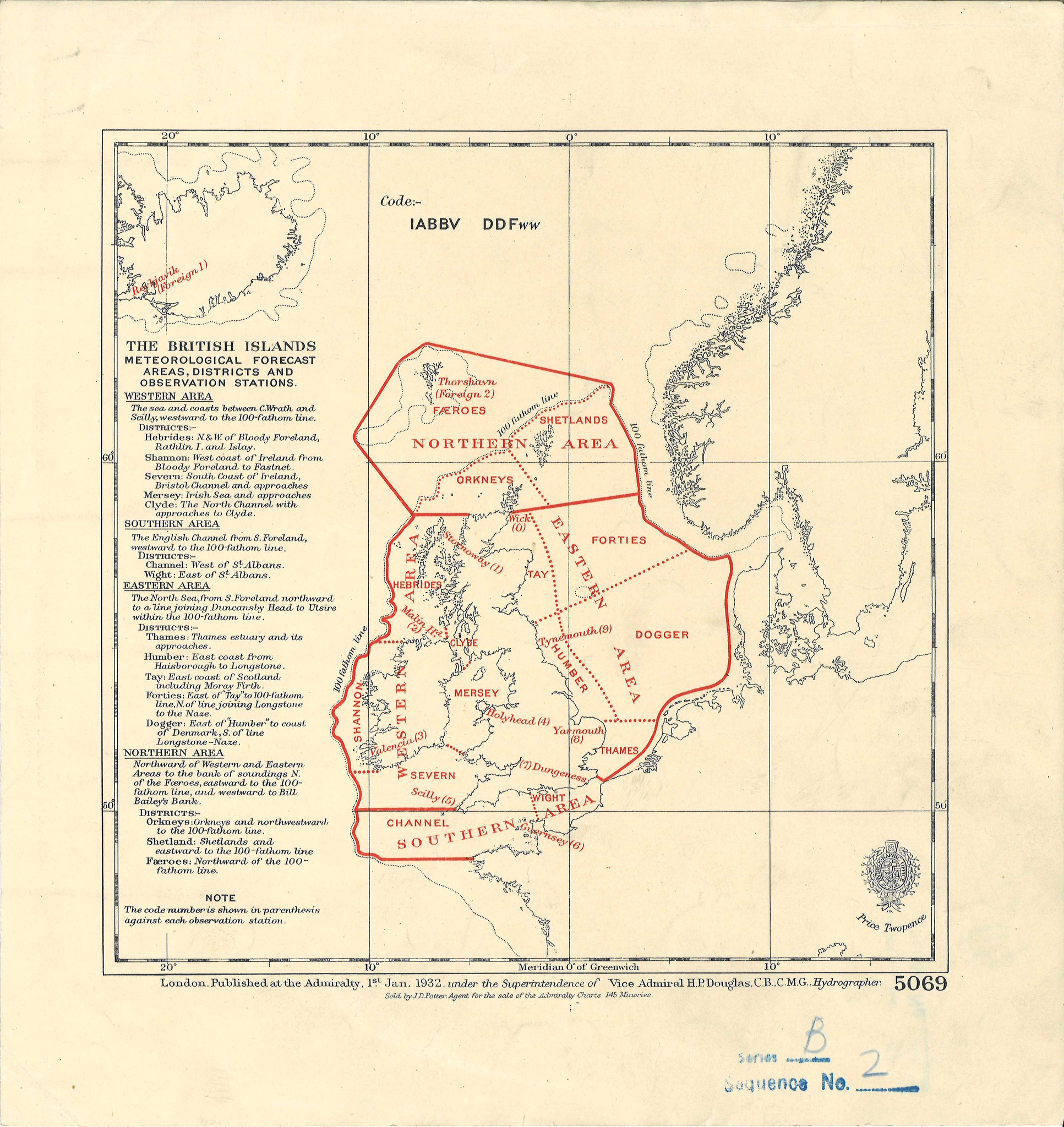 Chart outlining the shipping forecast areas in 1932
Map of the Shipping Forecast regions, including their coordinates,
and the coastal weather stations of the British Isles.
Not only have the number of forecasts we produced increased but so has our accuracy.
Met Office Advisor, Penny Tranter, said: "The Met Office is highly regarded internationally the experience we have providing severe weather warnings for over 150 years is unprecedented. We are trusted for good reason."
Links :