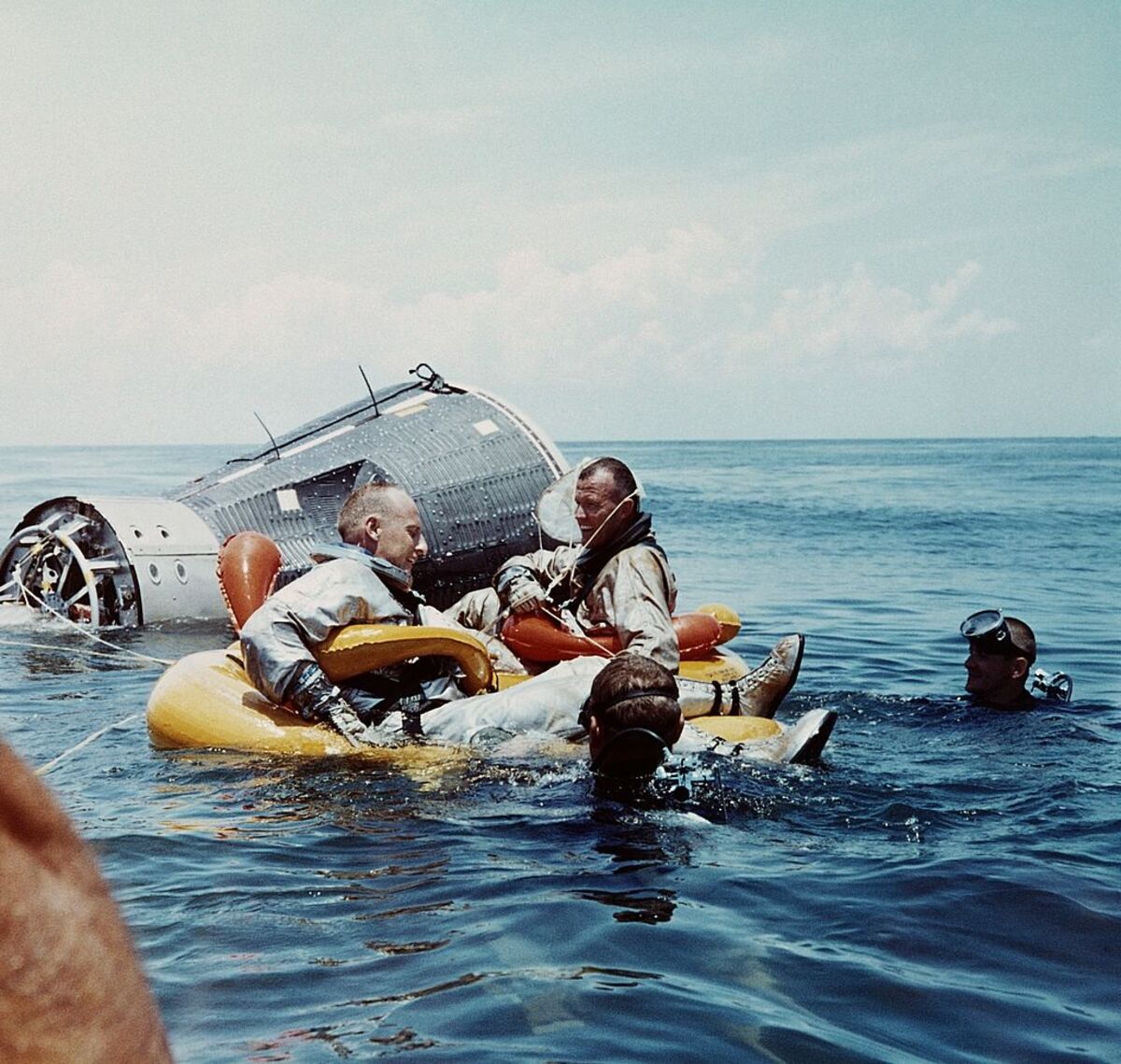 Photo : the heroic story of the Mercury Seven, the pioneer astronauts who risked their lives for America's first manned space voyages.
(Project Mercury ran from 1959 through 1963, put the first American in space, and defined NASA's manned space flights to come, from Gemini through Apollo.)
From Bloomberg by Leila Abboud
Satellite operator Inmarsat was founded 40 years ago to let ships communicate with land so rescuers could aid sailors.
The maritime business, which still provides half of sales and operating profit, set it apart from rivals who were focused on broadcasting and broadband.
As a result, the British company had lower margins than peers but was insulated from the competition and macro-economic storms that buffeted others.
Now, amid the tumult of a capacity glut in the sector, even Inmarsat is getting dragged under water.
Advances in high-throughput satellites are bringing more bandwidth online than ever.
This oversupply, which might triple capacity by 2020, will pressurize sales and margins for all the big satellite players.
Since Eutelsat issued a profit warning in May, investors have punished the sector.
25th anniversary of our flagship maritime safety service, Inmarsat C – the only GMDSS-approved satellite system which, in 2015 alone, broadcast more than 600 distress alerts from vessels in urgent need.
That even Inmarsat, with its one-time maritime fortress, is getting hit shows how far the contagion has spread.
It also highlights a less understood change in the satellite business: how the capacity boom obliterates the once clear distinctions between the different satellite companies and the markets in which they operate.
Before, there was clear separation between fixed satellite service providers and mobile.
Inmarsat dominated the latter while SES, Eutelsat and Intelsat ruled in fixed.
Now, in the scramble to sell new capacity, the different players all encroach on each other's turf.
Plus the traditional satellite broadcasting business is under pressure from fiber and cable networks that carry TV signals quite well.
Blurred Lines
With its maritime focus, Inmarsat differs from other satellite companies, but differences between them are blurring
Avanti figures reflect FYE 2015 recurring revenue, excluding the sale of spectrum.
Put it together, and you've got unprecedented change in a once dull sector.
Barclays' analysts predict a 2-3 percent drag on industry revenues for the next five years
Inmarsat's experience is instructive.
In addition to maritime, it serves governments and the military and supplies emergency cockpit communications.
But it faces competition in those areas from mobile upstarts such as Iridium as well as fixed satellite rivals Viasat and Intelsat.
The squeeze is on from both sides.
Inmarsat needs to offer faster broadband speeds to ships and planes, not the dial-up slow stuff it used to do.
That's why it committed to a series of new satellites called Global Express, which are entering service this year.
Inmarsat wants to use them to expand into new markets such as passenger jet Wi-Fi.
But it means higher capex, while revenues are less certain.
Of course, Inmarsat's competitors are suffering too.
Its growth outlook to 2018 is ahead of the pack.
The top five operators -- who control about 60 percent of sector revenue -- are all revisiting their business models.

Choppy Waters

Inmarsat's traditional leadership in linking ships with satellite communications no longer insulates it from competition as much as it once did
And there may be a positive side to all this new capacity if the traditional suppliers have the imagination to use it to break into new markets, such as aircraft Wi-Fi, or use cheaper prices to expand in consumer broadband.
Yet it's all pretty murky predicting how this will shake out for a sector that's been used to relative stability, generous dividends and monster profit margins.
Inmarsat will have to get used to much choppier waters.
Links :