Introducing SEA-KIT™ the world's first truly Long-range, Long Endurance, Ocean Capable Autonomous Surface Vessel.
SEA-KIT and its submersible work in tandem to map the sea floor
From BBC by Johnathan Amos
One of the big favourites to win the ocean-mapping XPRIZE has formally confirmed its presence in the final.
The
GEBCO-Nippon Foundation Alumni Team
has just completed 24-hour trials of its technology and is ready for the competition's ultimate challenge.
This requires a mapping system inside a day to survey a section of seabed that is 500-sq-km in area and 4,000m-deep.
GEBCO-NF will use a state-of-the-art underwater vehicle launched from the back of a robotic boat.
The uncrewed surface vessel, known as
SEA-KIT
, will be of particular interest to British readers.
It has been designed by
Hushcraft of Essex,
which believes its 12m-long XPRIZE concept is the forerunner for a new class of autonomous, ocean-going boats.
The location of the final, due to take place in the next three months, is currently being kept a secret, but GEBCO-NF team lead Yulia Zarayskaya says her group will be well prepared wherever it is sent.
"We're pretty much there," she told BBC News.
"We still have some things to work out in terms of how best to operate our system in 24 hours and to manage the data and data processing.
Obviously, we've had some ups and down, but at this stage I'd say we know now how to bring it all together."
Ocean Discovery XPRIZE rules for final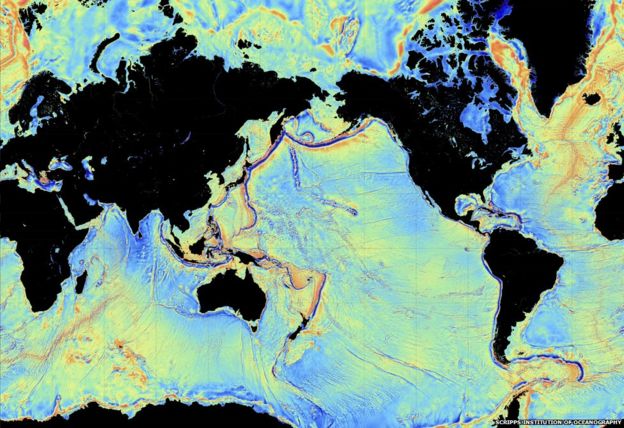 Image copyright Scripps Institution of Oceanography
Image caption Most of what we know is the result of low-resolution satellite mapping
Map an area of 500 sq km at 4,000m depth
Time limit of 24hrs from entering map zone
Teams must map at least 50% of this area
Resolution: 5.0m horizontal, 0.5m vertical
Image 10 features, eg archaeological/geological
Top prize of $5m; $1m for second place
Today's maps of the ocean floor are woeful.
Less than 15% of its bathymetry (depth) has been measured in a meaningfully accurate way.
Most of what we know about the shape of the global seabed comes from gravity observations made by satellite and this method cannot see anything smaller than a kilometre in size.
The
$7m Shell Ocean Discovery XPRIZE
was launched to find new technologies and new strategies to try to close the knowledge gap.
Eight teams from around the world are expected to take on the year's-end challenge.
They will be using all manner of robotic systems that operate above, on and below the water's surface.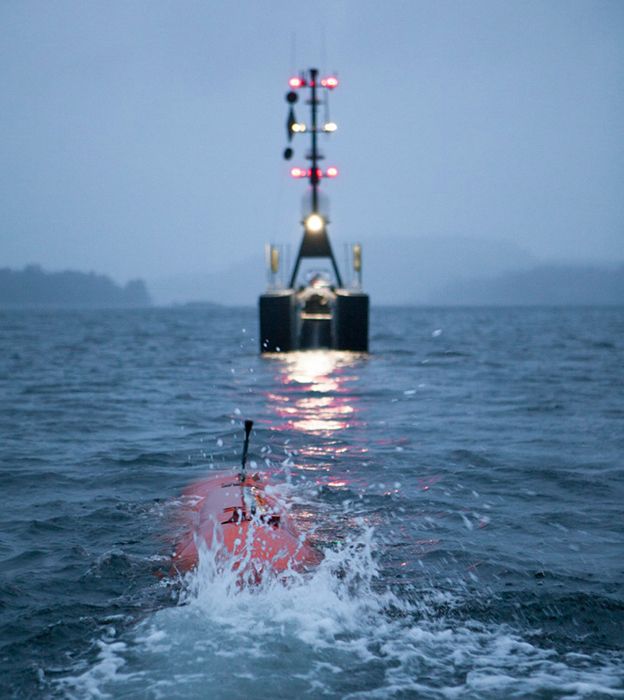 Image copyright GEBCO-NF/HUSHCRAFT
Image caption The SEA-KIT boat lines up ready to retrieve the Kongsberg Hugin AUV
GEBCO-NF is a natural candidate.
GEBCO stands for General Bathymetric Chart of the Oceans - it is the official keeper, if you like, for maps of the sea-floor.
And many of its XPRIZE team-members have gone through the organisation's postgraduate training course at the Center for Coastal and Ocean Mapping at the University of New Hampshire, US.
In the group's solution, a top-of-the-range autonomous underwater vehicle (AUV) from the Norwegian Kongsberg Maritime company will make the sea-floor map using an echosounder.
The submersible will be deployed and recovered by SEA-KIT.
The rules of the competition demand that team-members cannot themselves be in the survey zone at the time and so that means the surface vessel also requires very efficient remote control and/or autonomy to get itself into the right place to release the Kongsberg sub - and get it back again after the mapping exercise.
Key to this, says Hushcraft's Ben Simpson, is a communications and control system called Global Situational Awareness via Internet, or G-SAVI.
"We are now not only able to view CCTV, thermal imaging and radar, but remotely control these from anywhere in the world," he explained.
"Other features include listening live to things going on onboard and repeat VHF to speak to other vessels in the vicinity of SEA-KIT - all from a remote office anywhere you have internet.
"It's a great step towards safely operating a vessel over the horizon anywhere in the world."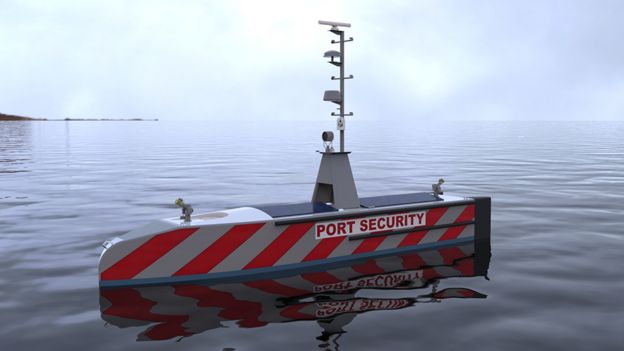 SEA-KIT Uncrewed Surface Vessel (USV)
Image copyright SEA-KIT INTERNATIONAL/Hushcraft
Future concepts: Many different applications are being considered for the boat
Dimensions: 11.75m long and 2.2m wide
Propulsion: Hybrid diesel-electric system
Range & speed: Up to 22,000km at 4 knots
Can fit inside a shipping container
But scalable. Larger versions being considered
The 12-tonne, aluminium-hulled SEA-KIT uses a conveyor belt mechanism in its aft section to launch the AUV.
An acoustic connection ensures the pair always know each other's position.
When the time comes for recovery, SEA-KIT manoeuvres itself in front of the sub, which then drives on to the rising ramp.
Hushcraft envisions multiple roles for the uncrewed boat.
Its remote-controlled and autonomous capabilities mean it could be sent into dangerous situations, for example to spread dispersants on an oil spill or to take scientific measurements in front of an ice shelf.
The present design can carry a payload of up 2.5 tonnes.
"The key driver for me is it's universal platform," said Mr Simpson.
"You don't have to keep tweaking the design. SEA-KIT is agnostic with regards to the equipment you want to put on it. It's got lots of bolting on points."
The ocean community - scientific and industrial - has set itself a target to map the entire ocean floor to a reasonable standard by 2030.
That will require higher investment, but likely also a few of the new approaches to be demonstrated in the XPRIZE final, says GEBCO-NF project coordinator Rochelle Wigley.
"It can be done; it's possible, although it might cost the same as a Mars mission," she told BBC News.
"That funding is not immediately available. Ocean science hasn't been seen as sexy.
That's changing and I think projects like XRPIZE and 2030 are raising awareness, and that's got to be good."
The XPRIZE Foundation will announce the location of the mapping zone in the next few weeks.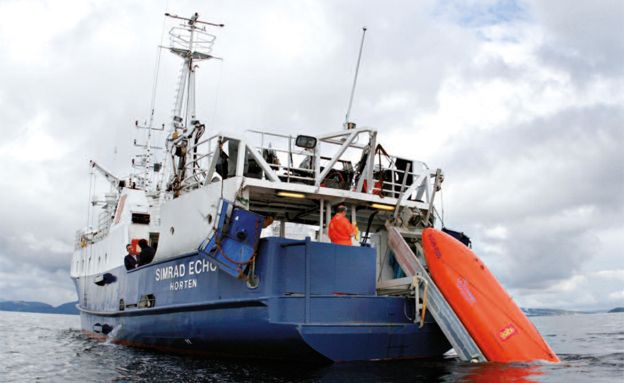 Image copyright Kongsberg Maritime
Image caption Using large, crewed vessels is expensive.
Employing remotely operated or autonomous boats instead could significantly lower costs
Links :