From Forbes
After some 246 days since beginning, the sixth edition of the Volvo Ocean Race, held every three years, has a winner.
What is certain is that oceans are becoming clogged with plastics, which impact maritime health and seafood.
24 June, interview, Pascal Bidégorry/Charles Caudrelier, Dongfeng
Dongfeng race team navigator correctly predicted that "after more than 45,000 miles of racing, this is going to come down to the last 45 miles".
After some 246 days since beginning, the sixth edition of the Volvo Ocean Race, held every three years, has a winner.
The victor is the Chinese entrant Dongfeng Race Team, led by French Skipper Charles Caudrelier.
The finish was the closest ever in race history.
photo : Ainhoa Sanchez
"In the ocean you can sail fast and never stop. There is maximum strong wind. It's an amazing feeling. You can see nature, beauty. Everyone makes mistakes. We learn, we improve. And we win."
These prophetic words came five months ago in Hong Kong from Chinese sailor Chen Jinhao, or 'Horace,' of the Dongfeng race crew.
Today, their race team was victorious in securing the winning trophy for the 2017—2018 race.
"The difficulty of this race is to last.
The 'war of attrition'—that's the Volvo Ocean Race," said Skipper Caudrelier when we last spoke.
His key to success?
Motivate the crew, trust them, allocate responsibility and make everyone feel important.
Obviously, that strategy paid off.
"We had so much frustration in the last nine months, we never won a leg. But we trusted our navigation and we had a clear idea before the start of where we wanted to pass."
With 24 hours before the finish, the race situation was unusually unique.
Three teams—Dongfeng Race Team (China), MAPFRE (Spain) and Team Brunel (Netherlands)—were virtually tied for points before the final sprint between Gothenburg in Sweden (home of Volvo) and The Hague in the Netherlands.
This winner takes all/capture the flag scenario ensured an aggressive media spotlight on the final leg of this around the world race, which has already become a media darling.
On Saturday night, June 23rd, boats chose separate lanes moving southward toward The Hague.
Some race teams—including Dongfeng, Turn the Tide on Plastic and Sun Hung Kai/Scallywag—chose to cling close to the eastern shoreline where winds were stronger but which required more vigilant navigation near sandbanks.
Others—MAPFRE, AkzoNobel, Brunel and Vestas 11th Hour Racing—stayed in more open water to the west, risking less velocity from lower winds but reducing potential navigation complexities.
With only hours until the finish, the western team, led by Brunel, turned east and aimed straight for The Hague while the eastern team, led by Dongfeng, headed directly south to that same location, but having almost one and a half times the distance to cover than the western team.
At about 1.30 p.m. on June 24th, Twitter feeds erupted saying that computers predicted Dongfeng catching up, and surpassing the others—while detractors on those same feeds called this nonsense.
At about 2.15 p.m. (three days since departing from Gothenburg) MAPFRE continued east at a speed of 8.2 knots (compared to Dongfeng's 10.9 knots southward).
By 3.30 pm MAPFRE's speed had increased to 9.2 knots, and Dongfeng's had dropped to 10.1.
But whereas Dongfeng was on a clean trajectory forward, those who chose the western route chased a feebler wind.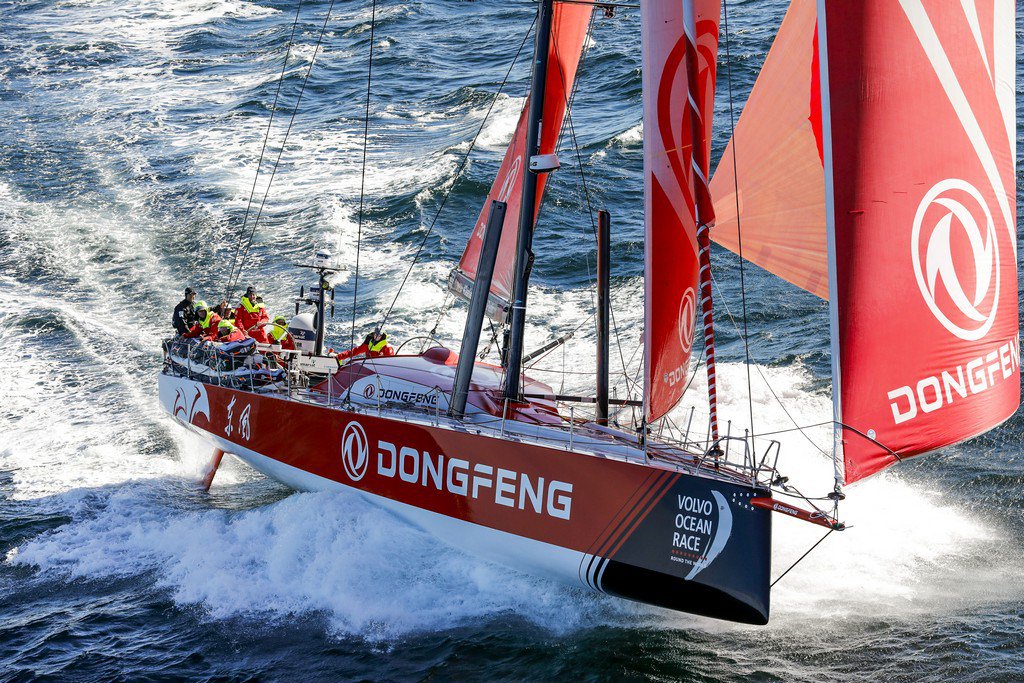 With a minute to the end, Dongfeng was clearly in front, cruising at close to 14 knots.
In second place came Team AkzoNobel, followed by MAPFRE.
The seven entrants to this nautical scrimmage each raced identical 72.6 foot (22.1 meter) long Volvo Ocean Class 65 boats, created by a design/build consortium of separate companies based in the U.S., U.K., France, Italy and Switzerland.
These boats define the cutting edge of long distance maritime race technology.
This global circumnavigation race covered a total of some 45,000 nautical miles and included 11 legs between a dozen cities: Alicante, Lisbon, Cape Town, Melbourne, Hong Kong, Guangzhou, Auckland, Itajaí, Newport, Cardiff, Gothenburg and The Hague.
The competition is so keen that roughly mid-way through the race at Hong Kong, after covering 22,500 nautical miles, there was only a seven and a half minute time difference between the first two boats.
Race positions and news have been available online via slick graphics, on-board reporting (including videos from race boat launched drones) and constantly updated statistics.
Such technology delivered this salt-smacked tale of competitive gumption into living rooms and online spaces of followers and families throughout the world.
Teams were accorded points, based not only on race times, but also on overall positions during each leg.
Begun in 1973 and originally known as the Whitbread Round The World Yacht Race, the event was transferred to Volvo in 2001.
Today the race attracts a huge, global audience.
A crowd of forty thousand assembled to watch the boats pull into Gothenburg before their final leg, while 1.3 million have checked out the progress of race teams on Facebook.
A million spectators, including 100,000 corporate guests, have visited this race—the longest edition since its inception.
The economic impact alone can be gargantuan.
When the race began in Alicante, Spain, in October of 2017, the 10 days of opening events are estimated to have generated an impact of a 100 million Euros ($117 million) for that city.

23 June, helicopter: off coast of Denmark
As technology improved over decades, the character of this race changed.
Images of capped, spry skippers with debonair confidence on elegant wooden boats were replaced by videos of race teams lined on carbon fiber craft.
As speeds increased, so did the proximity of competitors as they played out a match on undefined tracks across the planet.
Minutes and seconds sometimes separate prevailing teams on each leg.
This most recent edition of this protracted and punishing race has included fatalities, de-masting, and constant leapfrogging of leaders.
This is what sailors anticipate.
At the end of the day there is no hot shower, steak dinner or family banter, but spoonfuls of freeze dried goulash, huddling in a damp cramped space to check out weather reports and snoozing fitfully in salt sprayed clothes for perhaps 3.5 hours a night.
Physiologically, the race is brutal.
Chris Nicholson, Australian Watch Captain for Team AkzoNobel, said "We try to have 5,000 to 7,000 calories a day, but we often don't because we're too tired.
I lose 6 to 8 kilograms (13 to 18 pounds) each leg."
Although sleeping bags are excellent and include three separate layers that can be zipped on or off, the four-hour on/four-hour off schedule gets tiring.
"They are the best sleeps of your life," Nicholson said.
"They're just not very long."
He mentioned another aspect of the race that is chilling.
"This is my sixth race. My first was in 2001. I can absolutely guarantee you that the presence of marine life is going downhill."
Specific reasons for any decline in ocean life can be debated.
What is certain is that oceans are becoming clogged with plastics, which impact maritime health and seafood.
One entrant to this race made sharing such truth a mission.
The city of Gothenburg, located in southern Sweden near an archipelago of verdant islands, was the penultimate destination for these race boats.
During their sojourn there, the race hosted a one hour long 'in port' race attended to by thousands of local residents (oblivious to rain) while air force jets screamed in formation above and a police helicopter buzzed the scene.
The ten-member team Turn The Tide on Plastic (partially sponsored by the United Nations) used this and other segments of the race as a platform to highlight the plight of oceans gummed up by plastics.
When the in-port race ended, British skipper Dee Caffari of that team communicated with me about their efforts.
This is my sixth time around the world.
The harsh reality for me is you're seeing more rubbish.
My crew doing this for the first time kept commenting on plastics.
Bottles, balloons, bags, packaging.
We carry a science experiment aboard our boat and are sampling the water through filters, counting micro plastics for an hour every day all around the world.
We go to some pretty hostile environments.
For the first time ever we've got real live raw data.
Now we know that even at Point Nemo, which is the most remote part of the Southern Ocean, there are micro plastics.
They come from us throwing rubbish in the ocean that breaks down.
The reality is it is getting worse.
Micro plastics get eaten by animals, we're eating the fish and it's coming back into our food chain.
Time is everything.
I've seen it get worse.
We have two races: the sporting event and also the race to save ocean health.
The idea was to leave a legacy in the twelve host cities we visited, and we have.
People are signing up to that pledge.
We had mayors make bold statements—such as never having plastic shopping bags again.
They're making promises to reduce plastics, and we're holding them to it.
It feels as though we are making a difference in places we go to in the race.
When you get massive decision makers making a difference, it has a knock on effect.
One such influential visitor to their race boat that day was Niclas Mårtensson, CEO of the ferry company Stena Line, which operates 40 ships and has 6,000 employees.
His specific reason for visiting was to meet the Turn the Tide on Plastic race team.
The company he leads plans to be plastic free in their retail food and beverage lines this year.
"We're now reducing all plastics, including knives and forks," he said.
"In our retail shops we don't have plastic bags anymore.
We use a bio-corn alternative that is the same weight as plastic but disappears in sixty days."
Another member of the Turn the Tide crew is Martin Strömberg, one of Sweden's best sailors, participating in his fourth Volvo race.
He echoed what Caffari said.
"You see a lot more plastics in the oceans. That's what you see. But for me the problem is what you don't see, below the surface. This boat is fantastic to join in and send that message."
To help address such concerns, an Ocean Summit was held in Gothenburg, attended by HRH Crown Princess Victoria of Sweden.
There, Minister of the Environment Karolina Skog pledged 7.8 million Euros ($9.1 million) to ocean health, including plastics pollution.
The Volvo Ocean Race is now more accessible than ever via online media.
Its scope has also grown from that of racing to that of sponsoring improved custody of the world's oceans.
Although the next edition of the race, beginning in 2021, will include new ownership, the event will carry on—likely faster and with more precise sailing than ever before.
Technologies that improve sailing and navigation may, in some form, eventually be associated with helping to clean up oceans over which these boats sail.
That would be a victory for the planet.
Links :