This animation of NOAA's GOES East satellite imagery from Sept. 2 at 7:45 a.m. EDT (1145 UTC) to Sept. 5 ending at 7:15 a.m. CDT (1115 UTC) shows Hurricane Irma move west toward the Leeward Islands and strengthen to a Category 5 storm on Sept. 5.
Credit: NASA-NOAA GOES Project
Eye of hurricane passes over Barbuda, bringing down phone lines, as heavy rain and howling winds hit neighbouring island of Antigua
The most powerful Atlantic Ocean hurricane in recorded history has made its first landfall in the islands of the north-east Caribbean, following a path predicted to then rake Puerto Rico, the
Dominican Republic
, Haiti and Cuba before possibly heading for Florida over the weekend.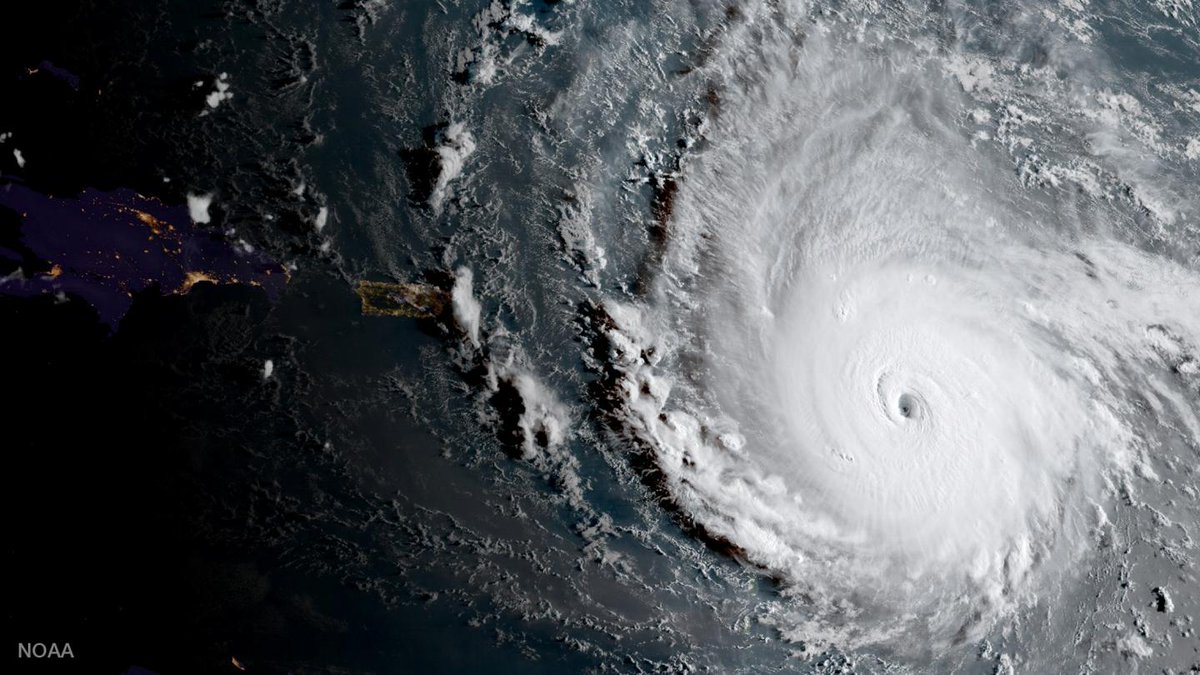 How strong is Hurricane Irma?
It's registering on earthquake-detecting seismometers
courtesy of NOAA
The eye of
Hurricane Irma
passed over Barbuda at about 1.47 am local time, the National Weather Service said.
Residents said over local radio that phone lines went down.
Heavy rain and howling winds hit the neighbouring island of Antigua, sending debris flying as people huddled in their homes or government shelters.
GOES-16 captured this infrared imagery of category 5 hurricane Irma bearing down on the Leeward Islands on September 5, 2017.
Note the gravity wave pattern emanating outward.
Irma was centered at 2 p.m. EDT on September 5, 2017, about 180 miles east of the Antigua, moving toward the west near 14 mph.
Reports from an Air Force Hurricane Hunter aircraft indicate that the maximum sustained winds have increased to near 185 mph with higher gusts.
On the forecast track, the extremely dangerous core of Irma is forecast to move over portions of the northern Leeward Islands tonight and early Wednesday.
Officials warned people to seek protection from Irma's "onslaught" in a statement that closed with: "May God protect us all."
In Barbuda, the storm ripped off the roof of the island's police station, forcing officers to seek refuge in the nearby fire station and at the community centre that served as an official shelter.
The Category 5 storm also knocked out communication between islands.
The category 5 storm had maximum sustained winds of 185mph (295kph) by early Tuesday evening, according to the US National Hurricane Center (NHC) in Miami.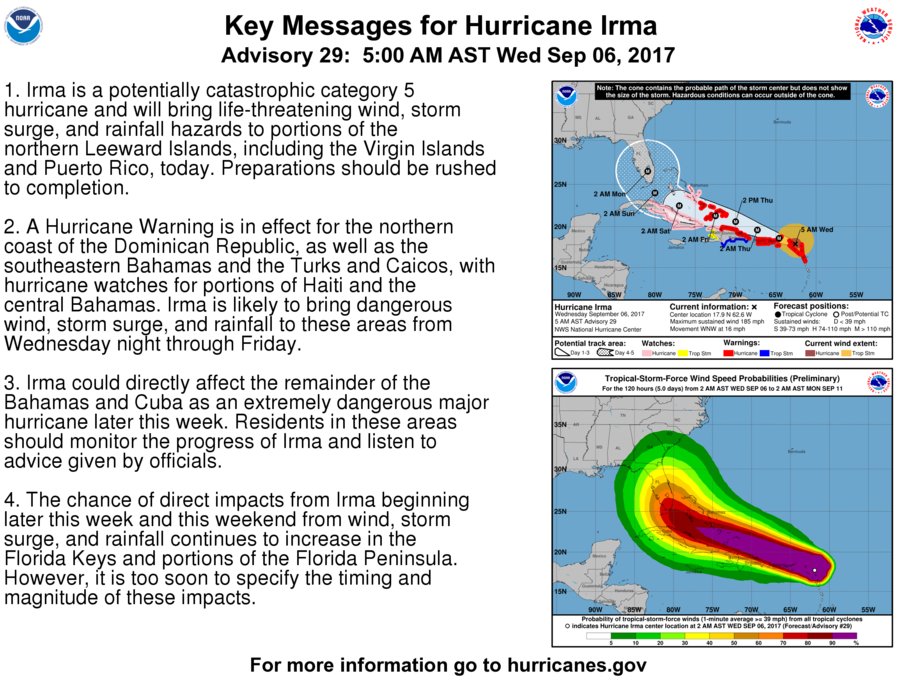 Irma strengthens into a category 5 hurricane with winds reaching up to 180 MPH and moving west at 14 MPH. It is the most powerful storm in 10 years.
Keep an eye on the forecast and hope for the best.
Category 5 hurricanes are rare and are capable of inflicting life-threatening winds, storm surges and rainfall.
Other islands in the path of the storm included the US and British Virgin Islands and Anguilla, a small, low-lying British island territory of about 15,000 people.
US president Donald Trump declared emergencies in Florida,
Puerto Rico
and the US Virgin Islands.
Warm water is fuel for hurricanes and Irma is over water that is one degree celsius (1.8F) warmer than normal.
The 26C (79F) water that hurricanes need goes about 250 feet deep (80m), said Jeff Masters, meteorology director of the private forecasting service Weather Underground.
Four other storms have had winds as strong in the overall Atlantic region but they were in the Caribbean Sea or the Gulf of Mexico, which are usually home to warmer waters that fuel cyclones. Hurricane Allen hit 190mph in 1980, while
2005's Wilma
, 1988's Gilbert and a 1935 great Florida Key storm all had 185mph winds.
The storm's eye was expected to pass about 50 miles (80km) from Puerto Rico late on Wednesday. Hurricane-force winds extended outward up to 60 miles (95km) from Irma's centre and tropical storm-force winds extended outward up to 175 miles (280km).
with tropical storm José close behind Irma
credit : Meteo France
The northern Leeward Islands were expected to see waves as high as 11 feet (3.3 metres), while the Turks and Caicos Islands and south-eastern Bahamas could see towering 20-foot (six-metre) waves later in the week, forecasters said.
Irma is expected to dump up to 18 inches (45cm) of rain in some areas when it hits land.
"These rainfall amounts may cause life-threatening flash floods and mudslides," the NHC warned, calling the storm "potentially catastrophic" and urging that "preparations should be rushed to completion" in the region.
Schools and government offices in French overseas territory Guadeloupe have been ordered shut, while hospitals are stocking up on medicines, food and drinking water.
People living on shorelines will be moved to safety, authorities said.
The popular holiday destinations of Saint Barthelemy and St Maarten – a French territory and a French-Dutch split island respectively – are expected to be especially hard hit.
The Dutch defense minister said soldiers arrived in the Dutch part of St Maarten on Monday and two vessels, including one equipped with a helicopter, were in place to help.
Officials had on Monday ordered the evacuation of 11,000 people living in affected areas on both islands, which began in many neighbourhoods on Tuesday.
"This is not an opportunity to go outside and try to have fun with a hurricane," US Virgin Islands governor Kenneth Mapp warned.
"It's not time to get on a surfboard."
The National Weather Service said Puerto Rico had not seen a hurricane of Irma's magnitude since Hurricane San Felipe in 1928, which killed a total of 2,748 people in Guadeloupe, Puerto Rico and
Florida
.
"The dangerousness of this event is like nothing we've ever seen," Puerto Rico governor Ricardo Rossello said.
"A lot of infrastructure won't be able to withstand this kind of force."
The director of the island's power company has warned that storm damage could leave some areas without electricity for about a week and others for four to six months.
The utility's infrastructure has deteriorated greatly during a
decade-long recession
, and Puerto Ricans experienced an
island-wide outage
last year.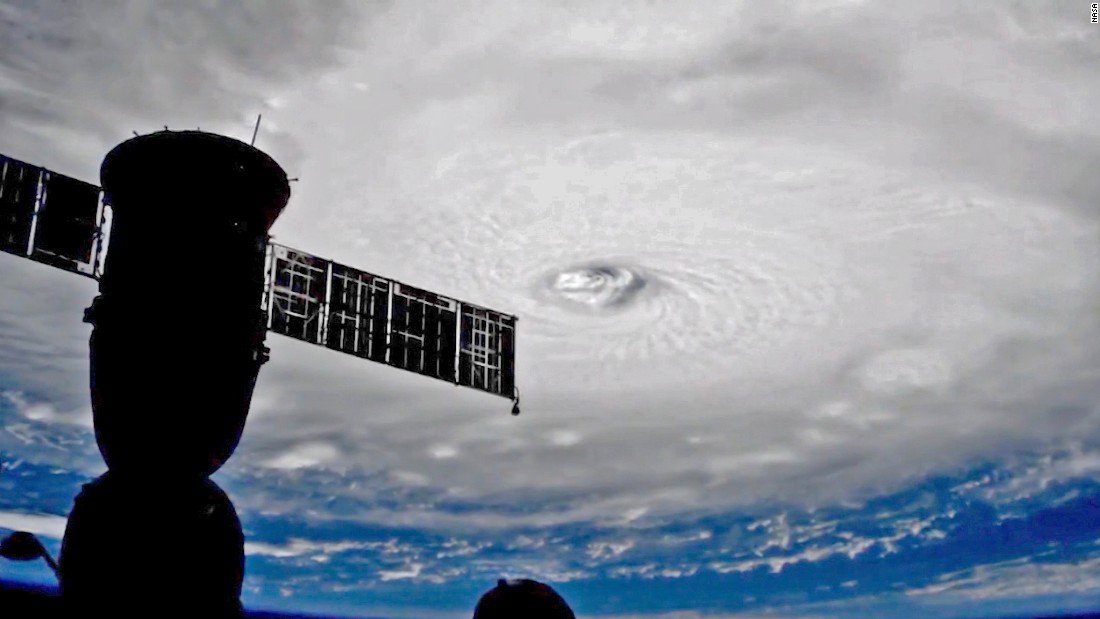 Irma view from the ISS
Government officials began evacuations and urged people to finalize all preparations as store shelves emptied out around Puerto Rico.
"The decisions that we make in the next couple of hours can make the difference between life and death," Rossello said.
"This is an extremely dangerous storm."
No directly storm-related deaths were reported by Tuesday evening but a 75-year-old man died in the central Puerto Rico mountain town of Orocovis after he fell from a ladder while preparing for the hurricane, police said.
The eye of the storm was expected to roar westward on a path taking it north of millions of people in Puerto Rico, the Dominican Republic,
Haiti
and Cuba, but meteorologists warned that it could still cause life-threatening storm surges, rains and mudslides.
The northern parts of the Dominican Republic and Haiti could see 10 inches (25cm) of rain, with as much as 20 inches in the south-east Bahamas and Turks and Caicos.
The storm seemed almost certain to hit the United States by early next week.
"You'd be hard pressed to find any model that doesn't have some impact on Florida," said University of Miami senior hurricane researcher Brian McNoldy.
In Florida, people also stocked up on drinking water and other supplies.
Governor Rick Scott activated 100 members of the Florida National Guard to be deployed across the state, and 7,000 National Guard members were to report for duty on Friday when the storm could be approaching the area.
On Monday, Scott declared a state of emergency in all of Florida's 67 counties.
Officials in the Florida Keys geared up to get tourists and residents out of Irma's path, and the mayor of Miami-Dade county said people should be prepared to evacuate Miami Beach and most of the county's coastal areas.
Mayor Carlos Giménez said the voluntary evacuations could begin as soon as Wednesday evening. He activated the emergency operation centre and urged residents to have three days' worth of food and water.
Links :