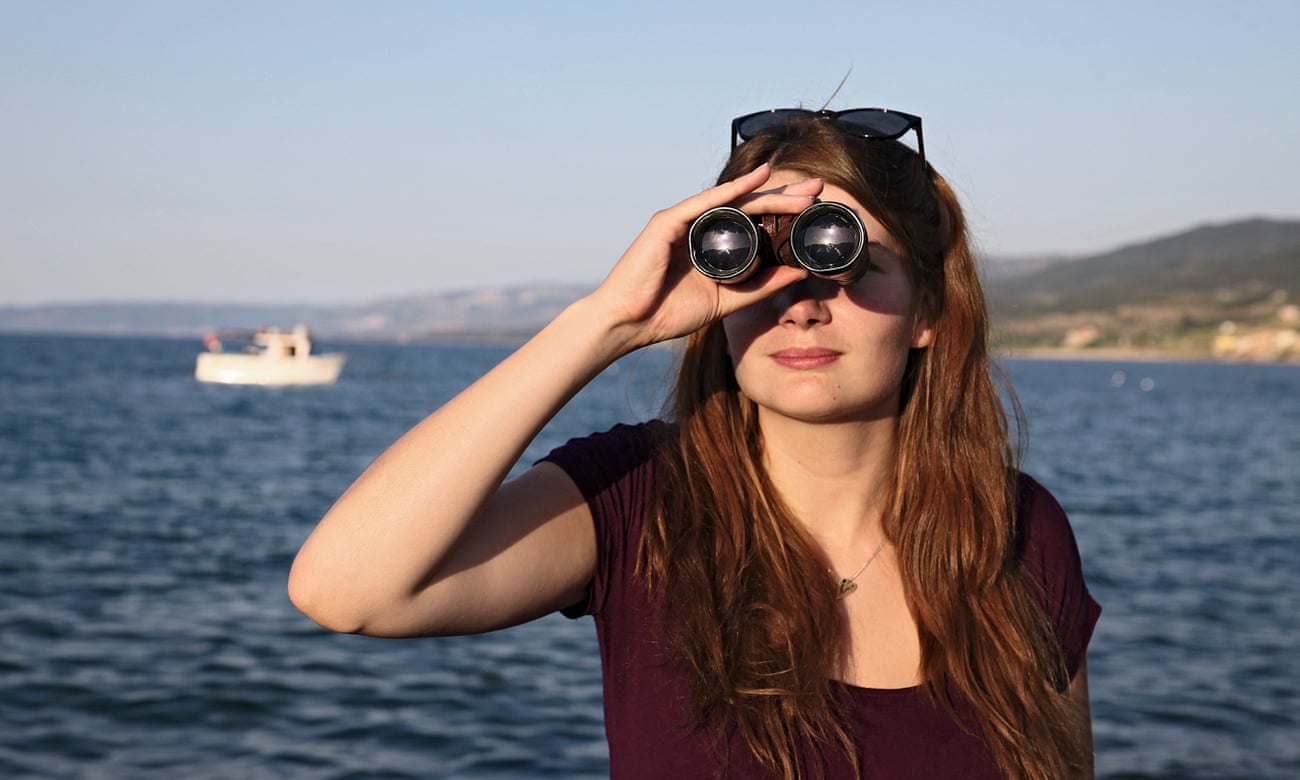 A Black Fish citizen inspector on the north coast of Sicily.
Photograph: Kukka Ranta
From The Guardian by Matthew Green

Illegal fishing controlled by organised crime is a growing menace, offering big rewards for low risk.
But the seaborne raiders have a new force to contend with.
An army of amateur sleuths are spending their holidays fighting back
On 2 August, a flotilla of white-hulled fishing boats assembled in Sant'Agata di Militello, a port in northern Sicily, in the late afternoon sun.
As a brass band played, a holiday crowd gathered along the quay.
A float bearing a statue of the Virgin Mary, crowned with a halo of gold and decorated with white flowers, was loaded onto one of the craft.
With the priest and the brass band on board, the vessel, decked out in palm fronds, puttered out into the bay.
As the Madonna was borne over the waves in the annual ritual to bless the sea's harvest, onlookers crowded onto the other boats, which began to follow in the vessel's wake, their lights winking on in the dusk.
Sant'Agata di Militello, a port in northern Sicily (
GeoGarage
/ NGA chart)
While the crowd's eyes were fixed on the Madonna, a clean-cut, compactly-built man with neat blond hair joined the melee and crossed a gangplank onto one of the boats.
As the skipper cast off, his craft now filled with revellers, the blond man slipped below deck, unseen.
The stowaway, a Dutchman named Wietse van der Werf, was a former ship's engineer and knew his way around boats.
He soon found what he was looking for: an orange nylon driftnet neatly folded under a tarpaulin.
Known as "curtains of death" for the indiscriminate destruction they visit on whales, seabirds, dolphins and sharks, such nets – which can be 20km long and the height of a 10-storey building – are subject to strict international controls.
As guests on deck watched fireworks bursting above the bay, Van der Werf filmed the driftnet on his phone.
When the fireworks above Sant'Agata faded, the flotilla returned to the harbour, illuminated by the glare of sodium lights.
Waiting until the guests had disembarked, Van der Werf casually took a picture of another driftnet piled on the aft deck, gave the captain a friendly nod, then hopped ashore.
Relieved to have escaped undetected, he drove back to the "safe house" – a nondescript apartment he had rented in a seaside village 20km down the coast – and downloaded the images onto his laptop.
With his faintly bookish air, Van der Werf would more easily pass as the founder of a disruptive online startup than an undercover detective.
Nevertheless, his clandestine trip was just the kind of amateur sleuthing he sees as key to defeating a growing threat: the lucrative illegal fishing industry supported by organized crime.
Where once crime syndicates focused on more familiar black market commodities – cocaine or heroin; arms; smuggled crude oil; trafficked women – law enforcement officials say that cartels are discovering opportunities in the more innocuous-sounding world of fisheries.
In 2013 Interpol launched
Project Scale
, an initiative to coordinate the fight against transnational fisheries crime, estimated to be worth up to $23bn a year.
The offenses vary widely – from flouting international rules designed to protect fragile stocks in the northern hemisphere, to the trawling of nominally protected but barely policed waters in some parts of the south.
It is an appealing proposition for criminal gangs: illicit catches can command enormous sums of money and there is very little risk of being caught
"Sometimes I think I'd like to make an advert of police munching doughnuts as an old lady gets robbed right in front of them," Van der Werf told me.
"That's the reality in our oceans every day: crimes are committed and the police are not doing anything."
The more endangered the species, the higher the price.
In Italy, prosecutors suspect the mafia is involved in the trade in illegally caught Atlantic bluefin tuna: magnificent, half-tonne predators fished in the Mediterranean since Roman times.
Drug-smuggling gangs have muscled in on the illicit trade in Russian caviar, eggs laid by leatherback sea turtles on Costa Rican beaches, and South Africa's harvest of abalone, a sea snail considered a delicacy in parts of south-east Asia.
In Scotland, police say eastern European gangs are using live cables to electrocute razor clams, scooping up daily catches worth £65,000.
These are sophisticated criminals.
"They have legal advice, they have accountancy advice, they've got enough money to bribe people," says Alistair McDonnell, an Interpol criminal intelligence officer who runs Project Scale.
"There are significant business models where the criminal benefits are in the hundreds of millions of dollars – you don't do that in your garden shed."
The illegal activity is piling additional pressure on oceans already suffering from rapacious but perfectly legal industrial fishing.
Last year,
the World Wildlife Fund published a report
showing that the population of fish species exploited by humans has fallen by half since 1970.
In January, another study suggested that the extent of overfishing was even worse than marine biologists had feared.
Produced jointly by more than 50 institutions around the world, the report found the global catch peaked at 130m tonnes in 1996 and has declined sharply ever since – on average by about 1.2m tonnes every year.
Disappointingly, the fall was not a result of better regulation, but a sign that fish are becoming scarcer.
The findings formed a grim backdrop to a high-level EU seminar on the deteriorating situation in the Mediterranean, held in the Sicilian city of Catania in early February.
"The more scientific knowledge we get for the state of the Mediterranean, the bleaker the picture gets," said Karmenu Vella, European commissioner for the environment, maritime affairs and fisheries.
In Italy, prosecutors suspect the mafia is involved in the trade in illegally caught Atlantic bluefin tuna
Van der Werf believes he has an answer.
After several years spent with ecowarriors pursuing Japanese whalers in the Antarctic, he returned to Amsterdam in 2010 and founded his own organisation to document illegal fishing, using startup funds that consisted of a €350 loan from his mother.
He named his new movement
the Black Fish
– after the term used for contraband catches.
The organisation, which is effectively a self-appointed maritime intelligence agency, has expanded rapidly across Europe.
These days, Van der Werf leads teams working incognito from north Africa and the Baltic to southern Italy and the estuaries of the Cumbrian coast.
The core of self‑taught investigators include a human rights lawyer, a nurse, a forensic scientist, a postman and a train driver on the London Underground.
Last summer, in Sicily, Van der Werf launched the most important and riskiest part of his strategy: deploying the vanguard of a much larger, Europe-wide army of volunteers trained to stake out beaches, fish markets and ports while posing as tourists.
The team, known as the Citizen Inspector Network, is expected to double in number this year to 150, forming what the Black Fish describes as the world's largest volunteer fisheries monitoring group.
"If we want to strengthen maritime security around illegal fishing, it actually isn't about bringing in the world's big guns and navies," Van der Werf told me.
"The reality is that it's an odd, eclectic group of people that is going to think strategically and deliver."
Though Van der Werf spent his formative years engaged in more confrontational forms of activism, he is convinced the future lies in helping to enforce the law – not in breaking it.
(Although he does not object to a little minor trespassing.)
The citizen inspectors – or "CIs", as the Black Fish call them – are positioning themselves as allies of Europe's underfunded and overstretched coastguards, hoping that their watchful presence will allow maritime authorities to go after the rule-breakers far more aggressively.
Van der Werf's volunteers are united by one goal: to gather enough evidence to identify fishermen using illegal gear, and build a detailed enough picture to put the men behind organised fisheries crime in jail.
Natalie, a 24-year-old marine biology undergraduate from Ramsgate, began her journey to Sant'Agata last April, in the greyer environs of Grimsby – a port on England's east coast.
Once home to the world's mightiest fishing fleet, the town has never recovered from
Iceland's decision
to close its rich fishing grounds to British trawlers in the 1970s.
Today Grimsby has one of the highest rates of youth unemployment in the country.
Wrapped up against the chill of a dreary Saturday afternoon, Natalie surveyed the near-deserted docks with scant enthusiasm, her gaze lingering on the hulk of a derelict ice factory, its roof gaping with holes.
It was day three of a four-day training course Van der Werf and his team were holding in a Quaker meeting house in Nottingham, and the 16-strong class had made the two-hour drive to Grimsby to conduct a mock inspection.
(To protect the identities of its volunteers, the Black Fish requested that they be identified only by their first names or the pseudonyms they use on operations.)
"What's your feeling when you drive around here?"
Van der Werf asked a pair of women volunteers as their car passed slowly along a quay.
"Well it's dead," said one.
"To be honest," another nodded.
"Very good," agreed Van der Werf, who has a way of greeting both good news and bad with the same mild yet somehow cryptic expression.
"That's the thing about observation – you see things where you least expect them."
The Grimsby trip aimed to overcome any lurking reticence about poking around uninvited in forbidding-looking ports.
In the classroom, volunteers had learned to tell the difference between demersal and pelagic fish species, and to distinguish longlines and open purse seines from gillnets and trolling lines.
They had also been taught to record observations with the Open Data Kit, an open-source app that makes it easy to collate field notes, photographs and geolocation data.
When the group reconvened in an empty car park, Natalie described how her team of young women had teased detailed information out of a fishmonger about his (legal) trade in dogfish.
"We were super playing dumb," she said, with a conspiratorial smile.
"We said that we were doing an Open University course in creative writing."
The consensus among volunteers was that a few white lies were justified by the larger goal of fighting fisheries crime.
"That's what I'm hoping for: to be able to do something," said Jan, an American volunteer and keen diver, who had travelled from the US for the course.
"I'd like there to be a few fish left when I'm teaching my grandchildren how to dive."
Van der Werf has been able to marshal such dedication, in large part, because of his own lifelong commitment to high-risk activism.
Growing up in the Netherlands, he began fighting on behalf of animals at the age of eight, when he and a school friend discovered the mangled remains of ducks decapitated by a farmer at a pond.
They returned after school and threw stones through the farmhouse windows.
As a teenager, Van der Werf joined Dutch activists taking direct action to protect woodland – chaining himself to diggers or spending days occupying a crane armed only with rations and a walkie-talkie.
He became a vegan and went on to study violin-making in Newark-on-Trent, a town in England's Midlands, while working part-time as a bus driver.
In 2008, aged 25, he worked with
Paul Watson's Sea Shepherd Conservation Society
, joining the crew of the Steve Irwin, Sea Shepherd's flagship vessel, working as a carpenter and engineer on operations to intercept Japanese whalers.
The Sea Shepherd missions were intense.
The crew used aggressive tactics against the whalers: they would hurl foul-smelling liquid to render decks unusable; attempt to entangle propellers; blast them with water cannon or recordings of Wagner's Ride of the Valkyries, and, in some cases, board the Japanese ships.
Van der Werf would toil in a maze of pipes, hissing pressure gauges and churning crank shafts to keep temperamental engines humming, before emerging, caked in oil, to grab some sleep before the next eight-hour shift.
In the ferocious, otherworldly reaches of the Southern Ocean, waves could reach 20m in height and Van der Werf once felt a wall of water throw the ship's 194-foot hull clean through the air.
His experience with Sea Shepherd showed Van der Werf how determined citizens could cooperate to enforce international laws that protected threatened species, and the early years of the Black Fish reflected something of Sea Shepherd's swashbuckling spirit.
In September, 2010, Van der Werf organised an audacious operation to free
dolphins at Taiji
in Japan.
The town is renowned for an annual hunt in which fishing boats drive dolphin pods into a cove and the sea turns red during the ensuing slaughter.
Van der Werf dispatched divers who swam through rough seas in darkness to cut through six holding pens, freeing a number of dolphins awaiting sale to theme parks.
Two years later, the Black Fish staged an equally daring night raid on a heavily protected fish farm off the coast of Croatia.
As guard dinghies slalomed under watchtowers, illuminating the surface with searchlights, divers sliced through a huge wire net to release hundreds of juvenile tuna being fattened for sale in Japan.
George Monbiot, the Guardian environment commentator, hailed the operation in a column
describing the Black Fish as "heroes"
.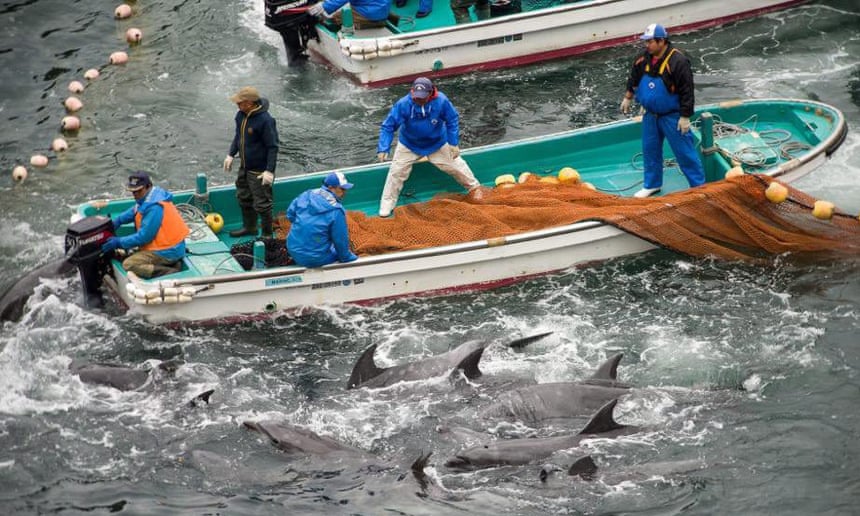 Photograph: Sea Shepherd/EPA
The idea of transforming the group from a hard core of plucky vigilantes into a much larger network of part-time citizen inspectors sprang from an unexpected source.
Visiting the
Royal Air Force Museum
at the old Hendon Aerodrome in north London in the autumn of 2013, Van der Werf learned about the work of the Royal Observer Corps, uniformed volunteers whose patient hours spent scanning the sky for German planes played a vital role in the Battle of Britain.
He envisaged a similar force fanning across the globe to spot rogue trawlers, but using the latest innovations – from selfie-sticks, perfect for snapping surreptitious photos, to cameras mounted on quadrocopter drones.
"If you really want to change things, beyond Facebook posts to like and share, it's important to get out of your comfort zone," said Van der Werf, who speaks with a soft Dutch accent.
"My generation is in a way spoilt and we've forgotten what it means to make personal sacrifices for a larger cause – but that's also where life really begins."
Last year, the Black Fish raised just over a third of its annual revenue of £91,838 from crowdfunding and community events.
Van der Werf's initiative has also attracted some major donors, including Niklas Zennström, the Swedish tech entrepreneur who founded Skype, and the late Doug Tompkins, the renowned US conservationist and cofounder of outdoor clothing companies the North Face and Esprit.
Van der Werf is confident he will soon raise enough money to launch a 75ft steel-hulled expedition sailing vessel to start maritime patrols.
In December, Project 0, a US-based fundraising group dedicated to ocean conservation, hosted a benefit concert in London, where Van der Werf met Ronnie Wood, the Rolling Stones guitarist, and the model Cara Delevingne. Michele Clarke, Project 0's founder, said she was backing the Black Fish because of Van der Werf's ability to mobilise.
"It's not a concept on a blackboard, he's actually doing it," Clarke said. "You're providing bodies on the ground."
The clarity of Van der Werf's mission seems to work as a magnet for volunteers. Young women seem particularly enthusiastic – 85% of CIs are women between the ages of 25 and 35, eager for the opportunity to participate in evidence-gathering without having to adopt the precarious lifestyle of a full-time environmental activist.
The plan is to broaden the support base even further, harnessing the energies of people who might not necessarily be exercised about the fate of the Patagonian toothfish, but who are keen to harness their expertise in novel ways.
Animators have produced films promoting the Black Fish in story form, and several retired security officials are quietly providing advice on best practice for investigations and the training curriculum for CIs.
"Will we be able to protect the oceans fully?
Van der Werf said, speaking at the Black Cat, a vegan cafe in Hackney, in December, 2014, where he was about to address a packed audience of young Londoners – one of 30 or so lectures he gives each year in Europe and the US.
"No, we won't. Will we be able to save certain species? I hope so."
Among the images he showed was a photo of a freshly caught shark, its mouth gaping in a silent scream.
"This is about ordinary people taking on organised crime."
An elegantly curved sea wall protects the harbour at Sant'Agata, where sleek catamarans, speedboats and pleasure craft shelter in a marina next to the quay, which is reserved for trawlers. Natalie would come to know this expanse of concrete well.
Having flown to Sicily on 21 July, 2015 – three months after completing the training in Nottingham – she paired up with Maya, a business executive of Canadian-Lebanese origin, to form Bravo Team, and they began patrolling the heat-rippling docks in twice-daily, three‑hour shifts.
The co-founder of The Black Fish, Wietse van der Werf, explains about the organisation's campaign to end the illegal use of driftnets in the Mediterranean Sea.
The Black Fish had not chosen Sant'Agata by chance.
In the late 1980s, Italy had one of the largest driftnet fleets in the world – some 700 boats trawling for swordfish.
Though the UN and EU have severely curtailed the use of driftnets in a series of rulings since the early 1990s, there have been numerous accounts of their continued use by Sicilian fishermen openly defying the rules or exploiting loopholes in Italian law.
The Sicily mission would be crucial for another reason.
The previous November, Van der Werf had signed an agreement with the regional coastguard commander in the Sicilian port of Messina, outlining the terms of a pilot project in which officers would consider evidence gathered by the Black Fish.
If the pilot was deemed a success, it could be replicated elsewhere in Italy – a big boost to Van der Werf's aspiration to deploy CIs across Europe and beyond.
After reconnoitring a string of Sicilian ports, volunteers had settled on Sant'Agata as the most promising target.
Serving as intelligence officer for the operation, Van der Werf choreographed the CIs from the safe house, dispatching the first teams at 3.30am to watch the docks in the pre-dawn darkness.
At first, very little seemed to happen on the quay.
But on Maya and Natalie's second afternoon, they spotted a group of men loading a large net – which looked as if it might be a banned driftnet – onto one of the boats.
Natalie's first instinct was to start filming with her phone from her vantage point 40 metres away, but unlike some of the friendlier crew the pair had met, these men shot Bravo Team hard glances.
Returning to the safe house, she and Maya gathered around the kitchen table for a debrief with Van der Werf, who was wearing a T-shirt, shorts and flip-flops and poring over a laptop.
"That would have been one thing to document," he said, his tone even as he typed.
"They were different people," Natalie protested.
"They were not friendly, and they were looking at us the whole time."
"That is the most crucial moment – that's prioritised over everything else," Van der Werf replied. "Unless you take an image of it or record it, it's something that didn't happen."
The rebuke hung in the air, but as days went by in the safe house, where CIs slept on sofa beds, shared rooms and subsisted on a vegan diet heavy on tomato, pasta and aubergine, it was notable how rarely tempers flared.
After one early morning stakeout, I chatted with Natalie at an espresso bar on the seafront in Santa'Agata.
Like the other CIs, she had fulfilled a requirement that volunteers crowdfund £350 towards their costs.
She had discovered her love of the ocean while learning to dive in Scottish lochs and was more than willing to sacrifice her holiday time if it meant she could make a contribution to collecting evidence.
"You're always striving for that absolute golden moment when you're catching something perfect – but it's a very slow process," she said. "It's not going to happen in five minutes of fame."
It took four consecutive days of inspections before two other CIs – working under the call sign Alpha Team – scored the first breakthrough.
Dave, a 36-year-old pub manager from Sheffield, and Laura, 33, a PhD candidate and freelance journalist from Finland, were making their usual afternoon sweep posing as a couple, strolling arm-in-arm past the boats.
Dave, who wore camouflage shorts and had extensive tattoos on his forearm, did not look like a natural match for the waiflike, straw-hatted Laura. Nevertheless, their dedication paid off when they spotted something suspicious: freshly cut palm leaves, stacked on the dock.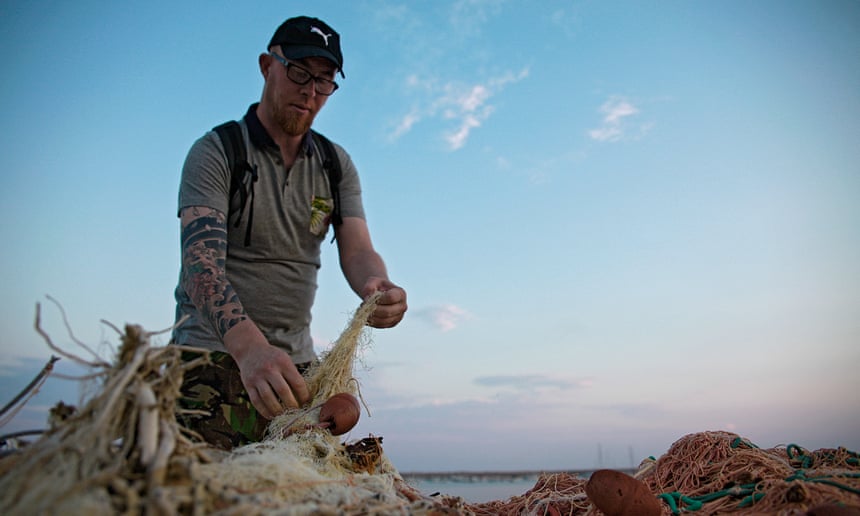 Photograph: Kukka Ranta
In Sicily, fishermen use the fronds as a lure by tying them to floats and setting them adrift.
The shadow attracts dolphinfish (sometimes known as mahi-mahi), which can then be scooped up in a purse-like net. EU regulations state that such devices must be retrieved after use, since they put seabirds and turtles at risk if allowed to drift indefinitely.
The Black Fish says that these rules are often flouted. As four men began loading the palm sprigs onto a fishing boat, Laura discreetly snapped pictures and Dave called Van der Werf at the safe house.
"We're trying to get the coastguard into action," Van der Werf told him, ensconced at the kitchen table with his laptop.
"We'll see what happens next."
Van der Werf glanced at a Sicilian colleague, a veteran environmental activist named Francesco Mirabito, who began speaking in urgent Italian on his mobile phone, then hung up with a frown.
The coastguard had told him they were unable to act immediately.
Van der Werf was unfazed.
"If we don't get them this time, it'll be next time," he said.
"These puzzle pieces we're pulling together paint a stronger picture day by day."
A few hours after Dave and Laura returned to base, Natalie and Maya delivered a triumph of their own: clear footage of a driftnet.
They had grown bolder since their first sighting and had managed to shoot an hour-long video of the gear being unloaded from a boat onto a pick-up truck.
The next morning, Mirabito visited the coastguard office overlooking Santa'Agata harbour, where staff in elegant white uniforms glided along air-conditioned corridors.
An officer listened politely as he explained what the Black Fish had seen, but informed him he could only charge fishermen if they were caught red-handed using illegal gear at sea.
The officer gave Mirabito his mobile number and told him to keep in touch.
We're really doing hard-core surveillance.
We're semi-cops; sitting in a car with a long lens, acting like tourists Maya
Van der Werf was waiting outside with several other volunteers in the shade of a sea wall.
"It's good because it's a little more clear where we stand," he told Mirabito, whose frustration was palpable.
"Good work on your part."
"Honestly, I have not that feeling," Mirabito replied.
To him, trying to work with the system felt like bashing his head against a wall.
"It's not news that we're going to have obstacles thrown in front of us," Van der Werf reassured him. "It's all about manoeuvring around them."
Despite the lack of rapid action by the authorities, the morale among CIs after a week of staking out Sant'Agata remained high.
The Black Fish submitted a dossier of evidence of the use of illegal gear to the European Commission and the National Oceanic and Atmospheric Administration, which manages certification designed to bar from the US imports of tuna caught with driftnets.
"We're really doing hard-core surveillance," Maya said, reflecting on her week as the sun set over the harbour wall.
"We're semi-cops; right there sitting in a car with a long lens, acting like tourists."
"I just really wanted this net. When I got it – it was like the Holy Grail," said Natalie, who was nursing a fierce case of sunburn sustained while pacing the quay.
"I don't feel like I can let this go."
The overlap between illegal fishing and organized crime has moved up the global agenda lately, and in October, US secretary of state John Kerry announced new initiatives to combat the problem, including using satellite technology to monitor boats in places such as Indonesia and the Philippines.
"There's a direct line between black-market fishing, black-market drugs, smuggling and human trafficking," Kerry told the
Our Ocean conference in Chile
as he unveiled the measures.
"And people need to focus in on that intently."
While the Black Fish operation in Sicily was focused on documenting illegal gear, the CIs have grounds to wonder whether what they saw might be a small part of a greater criminal enterprise.
Though long-standing links between mafia clans and the fishing industry are difficult to prove, a series of official investigations has yielded glimpses of the scale of organised fisheries crime.
In July, 2000, Italy's financial police, the Guardia di Finanza, seized three of Sicily's biggest fish distribution companies on the grounds that they were serving as front companies for the Catania-based Laudani mafia clan.
Prosecutors investigating violations of Italy's quota for endangered bluefin tuna suspect various mafia organisations are implicated in sophisticated operations to smuggle illicit catches, which can fetch €500 per kilo.
In 2011, the coastguard shed light on the sheer scale of the underground trade when it announced that a year-long investigation in Sardinia had identified a network of 70 suspected traffickers working in outwardly legitimate fish wholesale and distribution companies.
The following year, authorities at Civitavecchia, a port north-west of Rome, seized a record haul of 40 tonnes of bluefin caught illegally in Sicily and packed for export in three trucks.
Despite these successes, the battle against illegal fishing faces serious challenges.
Although Italy's coastguard has made some progress in the comparatively straightforward task of confiscating driftnets, the campaigning group
MedReAct
says there is still a degree of official ambivalence towards the use of illegal gear.
Judges have tended to view infractions as "victimless" compliance issues rather than serious crimes, while coastguards from fishing communities may risk being ostracised or worse if they go after their neighbours.
In recent years, officers have also faced a far more pressing task than protecting fish: saving hundreds of thousands of refugees and migrants casting off from Libya.
In a single day last August, the Italian coastguard coordinated the rescue of some 4,400 people.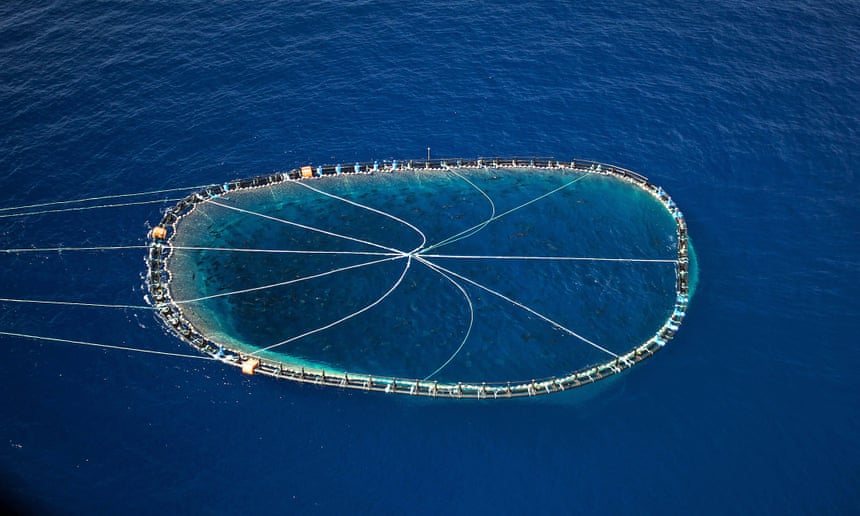 A bluefin tuna cage being towed by an Italian fishing boat in the Mediterranean.
Photograph: Gavin Parson/AFP/Getty Images
Some experts see a further dilemma, arguing that the only way to make a meaningful impact on overfishing would be to reduce the size of the Italian fishing fleet, which has the biggest capacity in the Mediterranean.
The EU aims to put Mediterranean fisheries – 90% of which are over-exploited – on a sustainable footing by 2020, suggesting that Italy and other countries may have to agree to catch less in the short term.
This would be a bitter pill for Sicilian fishermen, already struggling to hang on to family businesses in the face of increasingly onerous and unpredictable rules.
The pain faced by the fishermen has led some to suggest that an enforcement-led approach will be expensive and self-defeating.
Time and money might be better spent helping fishing communities find alternative employment in Sicily, where the eurozone crisis has struck hard and unemployment is at 20%.
For now, however, these more radical solutions are not on the table, and there is widespread political support across Europe for greater scrutiny of fishing grounds.
With his next scheme, Van der Werf's hopes to take advantage of this political impetus – by launching citizen inspectors into the skies.
It was only just starting to get light when Van der Werf, clad in a navy blue flight suit, and Dan Beeden, a similarly attired 35-year-old private pilot, arrived at a silent hangar on the outskirts of the city of Blackpool in north-west England in late August.
The corrugated iron shed was crammed with a menagerie of aircraft wedged together like pieces of a jigsaw.
The pair pushed a single-engine Cessna 172 onto the runway, donned headsets, then took off into a greyish dawn.
Buzzing south, past Liverpool to the Dee estuary at 1,500-2,000 feet, Van der Werf scoured the mudflats below through a camera lens.
Not content with deploying CIs in cars or on foot, Van der Werf had teamed up with Beeden to cofound a sister organisation to the Black Fish, called the
Wildlife Air Service
, launched in 2014.
Their plan is to harness spare flying hours among former fighter pilots, airline captains and wealthy hobbyists from the private aviation community to allow CIs to hunt suspicious vessels from the skies.
"We're just going to over-fly at low tide," Van der Werf said through the intercom.
"It's about photographing evidence – quad bikes, tractors, big groups."
The shellfish issue keeps returning.
This is a form of organised crime, it's destroying our coastal habitats Wietse van der Werf
Since decamping from Sicily earlier in August, the Black Fish had relocated to a Youth Hostel by the Yorkshire Dales.
For several days, a fresh group of CIs endured the same early starts and long hours as Alpha and Bravo teams – only with less sunshine.
Their observations would be used to guide the flight path of the four-seater Cessna, borrowed from Beeden's flying club, in a combined air-land operation mounted in defence the world's least-acknowledged victim of organised crime: the humble cockle.
While the plight of this crinkly shelled mollusc might not ignite much public passion, industrial-scale poaching has devastated cockle beds – a vital link in the coastal food chain – in parts of England and Wales.
There is also a human cost: in 2004, 23 Chinese cockle pickers were swept to their deaths at Morecambe Bay in the north-west of England.
It emerged they had been smuggled into Britain illegally and put to work by an unlicensed gangmaster.
On a blustery morning at the nearby Duddon estuary in Cumbria, a trio of CIs squelched across boot-sucking sand, armed with cameras and binoculars.
Jan, the American volunteer I'd met in Grimsby, spotted two men digging with a fork.
Drawing closer, she felt a twinge of disappointment on discovering they were anglers gathering lugworms for bait.
For Van der Werf, no inspection is wasted – even a blank jigsaw piece is still part of the puzzle.
Though their week-long pursuit of poachers did not yield the kind of evidence clinched in Sant'Agata, the CIs are learning patience.
"The shellfish issue keeps returning in different parts of the country," Van der Werf said, speaking in the cockpit of the Cessna as the engine cooled.
"This is a form of organized crime, it's destroying our coastal habitats, and it's something we shouldn't stand for."
Van der Werf's plans seem to grow bolder every year.
In January, he sought respite from his busy schedule of surveillance missions, celebrity fundraisers and lecture tours by retreating to a snow-bound cottage in Finland, north of the Arctic circle.
There he received an email with the subject line "Good news": Future for Nature, a Dutch environmental organization, had given him a €50,000 award in recognition of his work.
The prize money could help bring one step closer the next phase of his vision: establishing a 24-hour Ocean Hub to coordinate sea, land and air patrols across Europe.
The criminals reaping the greatest profits from illicit fishing may not yet have heard of the Black Fish, but one day they might.
As Van der Werf is fond of saying: "It's all possible."