French skipper Francis Joyon smashed the record for the fastest sail around the world by more than four days when he won the Jules Verne Trophy today.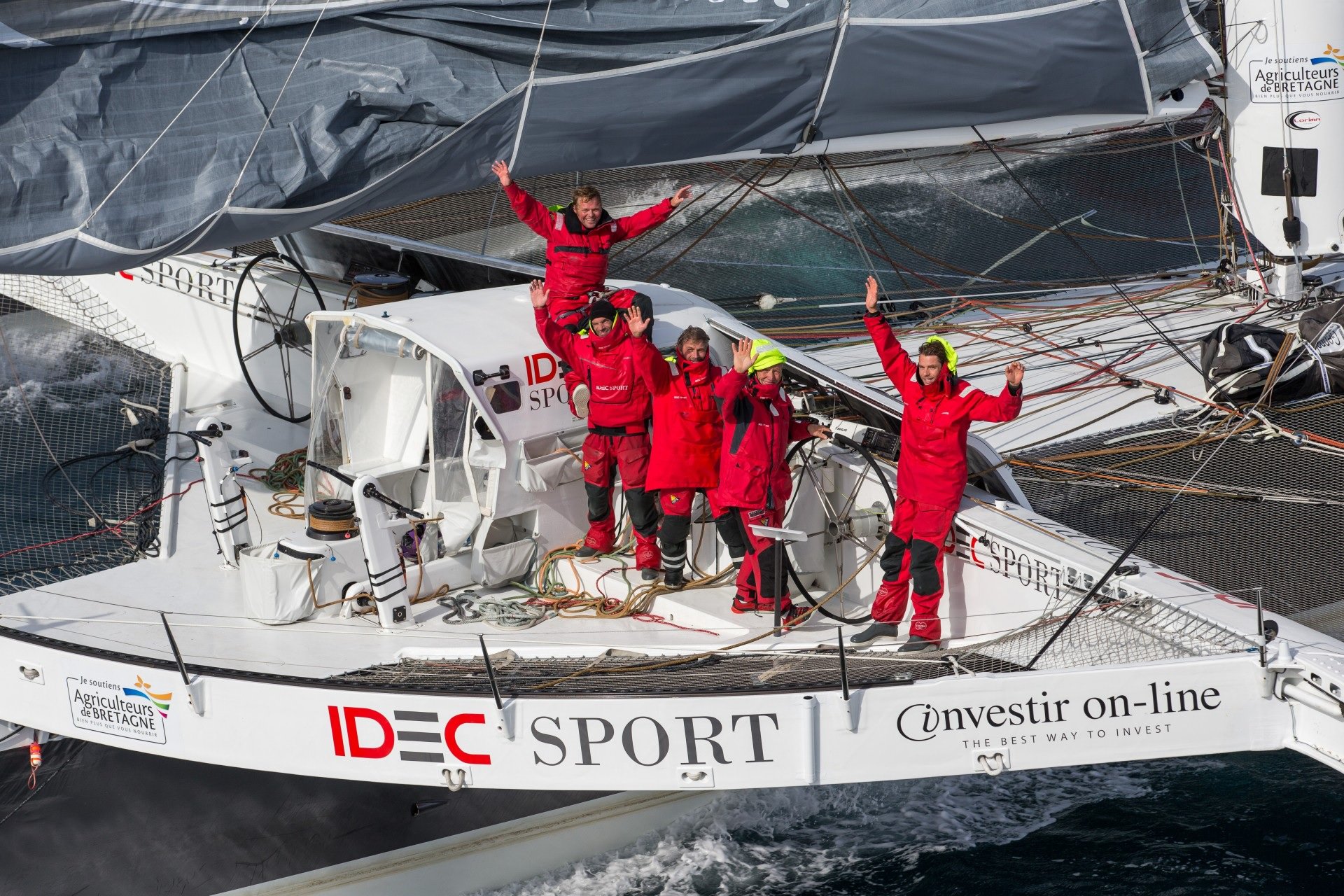 Joyon and teammates Clement Surtel, Alex Pella, Bernard Stamm, Gwenole Gahinet, and Sebastien Audigane (including shore navigator &

5

times Volvo Ocean Racer Marcel van Triest) crossed the finish line off the French island of Ouessant just before 9 a.m. local time, in their maxi trimaran Idec Sport.
They took 40 days, 23 hours, 30 minutes, 30 seconds.
IDEC Sport training
The veteran navigator beat by more than four days the record set in January 2012 by fellow Frenchman Loick Peyron.
With a crew of 13, Peyron set a time of 45 days, 13 hours, 42 minutes and 53 seconds when they won the Jules Verne Trophy on a 40 metres craft.
Joyon averaged 26.85 knots, the equivalent of almost 50 kph, over 26,412 miles.
Relief was his first thought at the finish.
He said in a radio message they spent the final night in rough sea conditions.
"It's the result of long years of work," Joyon said.
"The sea was very tough, the boat was being banged around, we could not rest at all. The night was very hectic."
Sailing at 40 knots on the 1st of January
The Jules Verne Trophy, which is named after the writer's famous novel, Around the World in Eighty Days, is open to any type of boats without restriction and takes skippers around the Cape of Good Hope, Cape Leeuwin and Cape Horn.
Joyon's record is the third round-the-world record to topple in as little as a month.
French sailor Thomas Coville pulverised the solo circumnavigation record on December 25 in 49 days 03 hours and 7 minutes, eight days faster than the previous record.
That record had previously been held by British sailor Ellen MacArthur, but the mark beaten by Coville had been Joyon's for over eight years.
In a spirit of rivalry Joyon was swift to point out at the time that Colville's craft was more advanced than either his or MacArthur's had been and had more sail volume.
Armel Le Cléac'h won the epic solo, non-stop Vendee Globe in a record time for a monohull, setting a mark of 74 days 3 hours 35 mins a week ago.
Links :