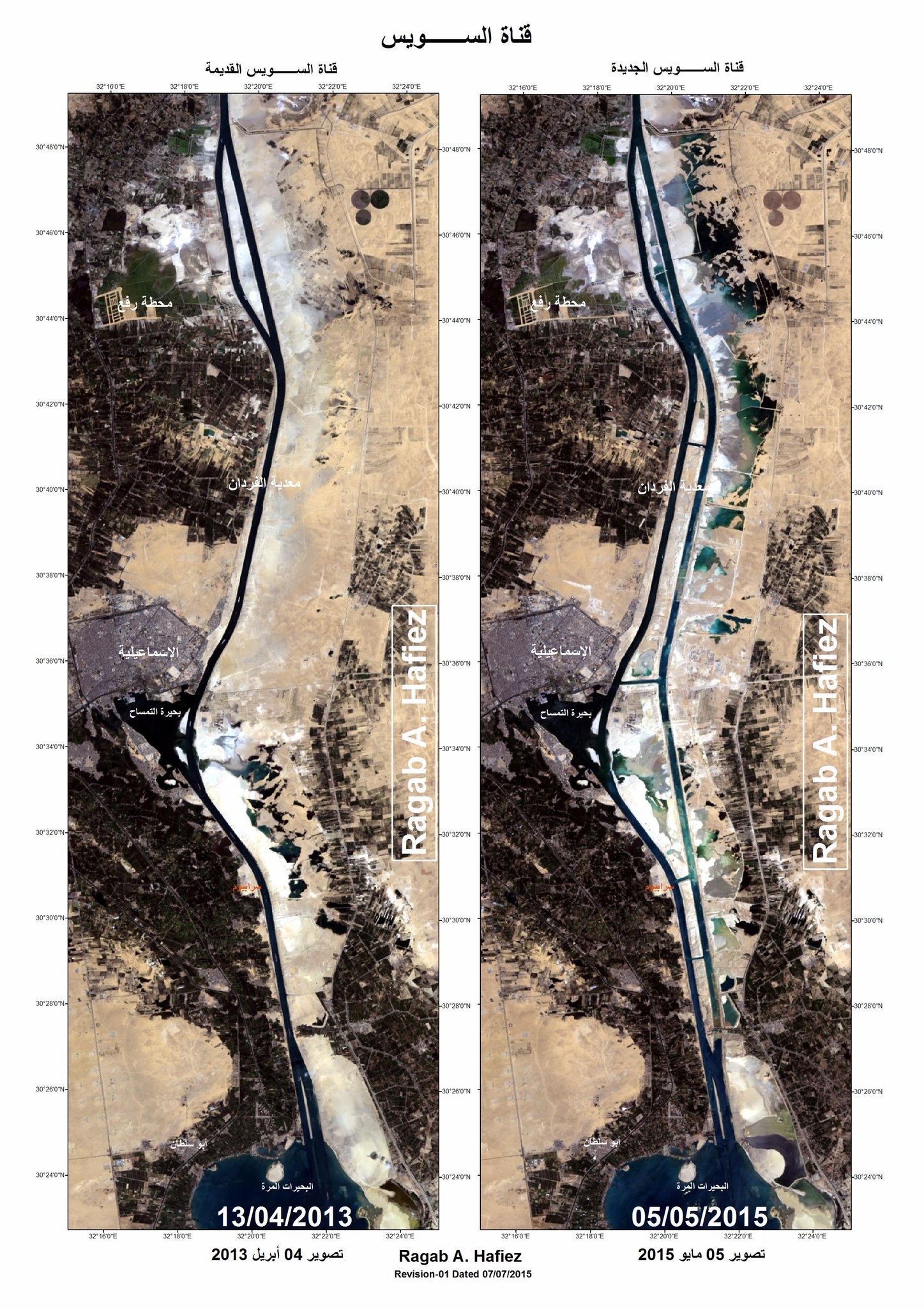 Map of the New Suez Canal compared with the Old Canal
It will save time for ships & Yachts in transit through Suez canal up to 10 hours in addition will allow ships with 66 feet draft to transit and up to 97 ships per day transit from both ways Suez and port said the total Suez canal length is 193 KM , the main entrance of Suez canal from Mediterranean sea is port said and from Red sea is port tawfik in the city of Suez .
From Bloomberg by Ahmed Feteha
The Suez Canal took 10 years to build and cost thousands of workers their lives.
When planners suggested three years for a second one, Egypt's president balked.
"Not three years, just one," he ordered.
Twelve months later, Abdel-Fattah El-Sisi is hosting a party to celebrate the biggest expansion of the canal since it first opened in 1869.
For the former army chief seeking to bolster his rule, the symbolism is impossible to miss.
Less clear are the economic benefits of what billboards in Cairo and New York's Times Square dub "Egypt's gift to the world," which will raise capacity and shorten the time it takes to sail the 193-kilometer (120-mile) link between the Red Sea and the Mediterranean.
Thursday's ceremony, to be attended by dignitaries from French President Francois Hollande to North Korea's deputy leader Kim Yong Nam, comes amid sluggish global trade growth to which the canal's fortunes are linked.
"From a shipping industry point of view, this initiative to expand the Suez canal was a bit of a surprise," said Ralph Leszczynski, Singapore-based head of research at Genoese shipbroker Banchero Costa & Co.
"There was no pressing need or requests for this as far as I'm aware."
Suez has yet to fully recover since the global financial crisis caused shipping to plummet in 2009. Though total tonnage has increased, the number of vessels using the canal remains 20 percent below its 2008 level and just 2 percent higher than a decade ago, data compiled by Bloomberg show.
Rather than a bottleneck, analysts say those statistics reflect slower global trade growth, which the International Monetary Fund
expects
to average 3.4 percent in the period 2007-2016, compared with 7 percent over the previous decade.
The Baltic Dry Index, which measures rates for shipping iron ore, coal and grain and is viewed as a bellwether for the global economy, slumped to a record low 509 points in February.
It remains about 90 percent below its all-time high of 11,793 reached in 2008.
The iconic project in Egypt is almost coming to an end.
On Saturday, the very first three vessels sailed through the new Suez Canal.
In the first week of August the new canal will be officially inaugurated.
A total of 200 million m³ was dredged in less than one year, which makes this iconic work the largest cutter project eve.
Lacking Details
"At the moment, speed is not a key factor for container shipping, the shipping sector which most utilizes the canal," said Michelle Berman, the head of operational risk at BMI Research, a unit of Fitch Group.
A bigger issue is a "surplus of ships" relative to demand, with ever-larger vessels built for the Asia-Europe route compounding the problem, she said.
The government hasn't made public viability studies to show how it will gain a return on its 64 billion Egyptian pound ($8.2 billion) investment.
The expansion will meet future demand, with traffic expected to double to 97 vessels a day by 2023, said Mohab Mameesh, head of the Suez Canal Authority.
"By creating a second lane of the canal we are able to reduce waiting times, which reduces fuel expenditures and costs, with no increase in our toll fees," he said in an e-mailed response to questions.
Global trade volume would need to rise by around 9 percent a year for Suez to reach its traffic goal, Capital Economics said in a report on Monday, describing the target as "unlikely to say the least."
New Suez Canal had a trial run today.
Vessels sailing the new canal are nicely visible on MarineTraffic.
Note: Google Maps imagery (last update 22/09/2014)
and nautical charts (UKHO) need to be updated
as this is already done in OpenStreetMap
http://www.openstreetmap.org/#map=11/30.5779/32.3204
Canal Distraction
That hasn't stopped El-Sisi and his government from talking up the new canal amid political challenges to its rule.
Hundreds of Egyptians, most of them supporters of the deposed Muslim Brotherhood, have been killed and thousands imprisoned since El-Sisi, as army chief, pushed his Islamist predecessor from office in 2013 after mass protests.
El-Sisi was elected president last year.
The political turmoil has polarized Egyptians
El-Sisi supporters say it saved the country from the deadly strife affecting much of the Middle East, while opponents criticize the government's human rights record and what they regard as brutality used to restore stability.
A 1921 map of the Suez Canal, running South from Port Saïd on the Mediterranean, through Ismailia and the Great Bitter Lake, to the Gulf of Suez on the Red Sea
Suez Canal 1:250,000 Series 3753, Great Britain War Office, 1941 (Lib. Univ. Texas)
French Connection
Thursday's party, with an estimated price tag of $30 million, is a chance for the government to send a more positive message by harking back to the events marking the canal's 1869 completion.
French empress Eugenie attended -- her husband Napoleon III was deposed a year later -- and a performance of Giuseppe Verdi's 'Rigoletto' opened Cairo's new opera house.
The canal has since transformed global trade.
About 8 percent of the world's cargo now passes through the canal, according to the Suez Canal Authority. Traveling from Singapore to New York through Suez reduces the distance by 19 percent compared with the route via the Pacific and the Panama Canal.
From the Persian Gulf to Rotterdam, Suez saves 42 percent by removing the detour around the Cape of Good Hope.
"Even without any improvements, the canal would always be attractive," said Neil Atkinson, head of analysis at Lloyd's List Intelligence.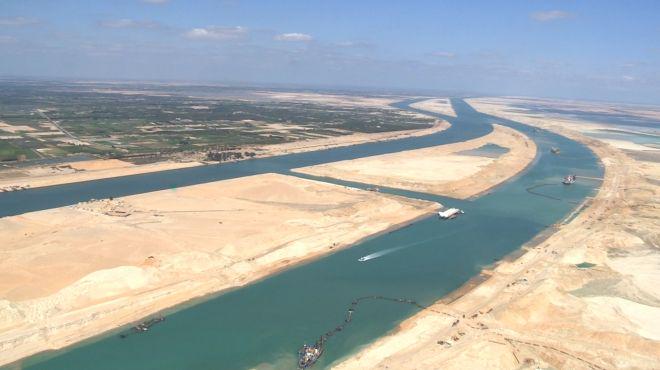 The finish of the Suez Canal project is in sight.
The dredging of more than a million cubic meters of sand a day is unprecedented.
And this assignment has also pushed back the boundaries in terms of speed, and the deployment of equipment and manpower.
Wider, Deeper
The second canal -- actually a new 35-kilometer channel and 37 kilometers of widening and deepening of the
original
-- allows two-way traffic and reduces transit time to 11 hours from 18, according to the canal operator.
The expansion won't allow larger vessels to use the route.
New ports and logistical services are expected to follow, and the project includes six tunnels under the canal.
The authority expects revenue to grow to more than $13 billion by 2023, up from $5.5 billion in 2014.
"'Build it and they will come' is not enough," said Simon Kitchen, a strategist with Cairo-Based investment bank EFG-Hermes, adding that companies will require incentives to build factories and other facilities.
"The government needs to give ships a reason to sail through the canal," he said.
Others are more positive.
Egypt's economy grew at over four percent in the nine months to March for the first time since 2010, mainly due to infrastructure spending related to the canal upgrade, according to investment bank Pharos Holding for Financial Investments.


SC2, Suez Canal, (Edition 1, dated 15th July 2015)
Following the establishment of the New Suez Canal, the Suez Canal Authority along with Egyptian Navy Hydrographic Department have produced two charts to help mariners sail safely in the New Suez Canal.
Accordingly, sailing in the Suez Canal and vessel inspection will be performed only through charts SC1 and SC2 and no vessel will pass Suez Canal without the above charts being on board starting 06 August 2015.
Saving Money
A shorter transit may save up to 4 percent of journey costs depending on the length, the Napoli-based economic research center SRM estimates.
Shipping times : Northeast passage vs Suez Canal
Arctic shipping routes unlikely to be 'Suez of the north'
The North Sea route has become free of ice, but the navigation season is still just two-four months
The project "was a necessity to maintain the attractiveness of the Suez Canal," said Michael Storgaard, a spokesman for Maersk Line, the world's biggest container shipping company.
Even so, it's too early to say whether Maersk will route more vessels through Suez, he said.
Still, any future economic payoff is trumped by the political implications for the government from building confidence in El-Sisi's leadership, according to Amr Adly, a scholar with the Carnegie Middle East Center in Beirut.
"El-Sisi is trying to gain legitimacy through his government's achievements," Adly said.
His thinking is that Suez "shows the government can deliver, it can commit to something and get it done," he said.
Links :