From Safety4Sea
The average lifespan of a ship is 25-30 years.
After this span, the ship may become too expensive to operate, but most importantly, to become unseaworthy putting human safety at risk.
So, have you ever wondered what happens to a ship when it is too old to sail?
A great deal of discussions surrounds the adverse consequences of shipbreaking in Southeast Asian yards, that has been strongly criticized by global NGOs and environmental organizations for many years, with marine pollution, hazardous waste dumping and unsafe working conditions, as well as the illegal exploitation of child workers, being among the key areas of concern.
However, we are sure you understand that this is not how things are supposed to be for old ships, but it constitutes a common industry malpractice for financial gains.
So, let us explore all the possible scenarios for the fate of an old ship!
Five most common scenarios
Environmentally friendly ship recycling
Ship recycling
(also seen as ship demolition, ship dismantling or ship breaking) is by far the most environmentally friendly and economically sound way of getting rid of old ships, as it allows the materials from the ship, especially steel, iron, aluminum and plastics, to be recycled and made into new products.
Among others, this lowers the demand for mined iron ore and reduces energy use in the steelmaking process.
Meanwhile, all types of household items, like furniture, washing machines, sanitary fittings, etc., are sold at a premium after removal from ships.
Why is this the best practice?
This tactic practically means that about 90% of the ship and its components are reused or, at least, properly treated to prevent any pollution, hardly leaving any waste behind.
Unfortunately, however, only a fraction of end-of-life ships is handled in this safe and clean manner.
End-of-life ships can contain various amounts of toxic materials in their structure, which need to be properly identified and removed, so lack of standardization can make ship dismantling a very risky task.
Dangerous shipbreaking (mostly in the form of beaching) is a heavy industry that exposes both workers and the environment to great risks.
Currently, about 70% of the end-of-life ships end up in three main shipbreaking yards of Southeast Asia, where they are broken under rudimentary conditions:
Alang ship recycling yard
The common practice in these yards is lack of proper waste reception facilities and poor training of workers, who are often exploited migrants.
This leads to significant human and environmental costs, felt by many.
These negative consequences are better summarized in the following statement by the NGO Shipbreaking Platform:
On the one hand, workers lose their lives and suffer injuries and occupational diseases due to unsafe working conditions and exposure to toxic substances.
On the other hand, coastal ecosystems and the local communities depending on them are devastated by toxic spills and other types of pollution.
The problem in numbers
To put the issue into perspective, approximately 50,000 ships sail the world's oceans at any given time.
About 1,000 ocean-going commercial vessels reach end of service life each year.
Around 70% of these end up in beaches of India, Bangladesh and Pakistan.
674 ocean-going commercial ships and offshore units
were sold to scrap yards in 2019
, latest data from NGO Shipbreaking Platform showed.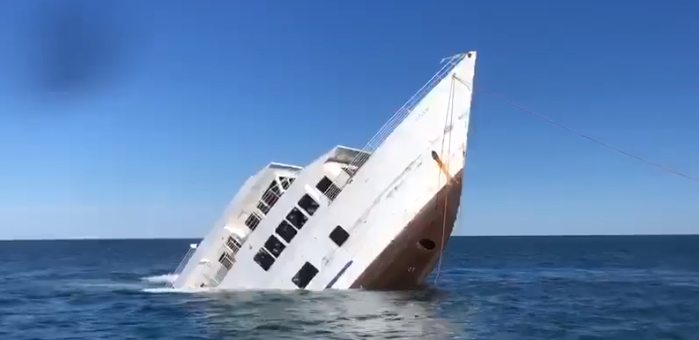 Credit: Coleen Marine Inc

Becoming home for marine habitats
As an alternative to ship recycling, ships
may be sunk to create artificial reefs
after removal of hazardous materials, in order to promote marine life or support recreational diving.
See the sinking of 'Twin Capes' ferry for this purpose here:
Sometimes, ships sink accidentally "in the right place".
For instance, the passenger ship Bianca C sank off Grand Anse in Granada back in 1961, accounting for one of the world's best dive wrecks until today.
In some cases, luxury cruise ships pass to a less-luxurious cruise line within the same company towards the end of their lives.
For example, in 2017, the passenger ship 'Dawn Princess' owned by Princess Cruises was sold to sister company P&O Cruises Australia, sustained a makeover and was renamed to Pacific Explorer.
Sometimes old ships are sold on the second-hand market to budget cruise lines that don't want to invest in new tonnage.
We have also seen ships being refitted to become floating hotels, convention centres, restaurants or anything else.
For example, Queen Mary retired in 1967 and is still docked off California serving as a movie set.
The vessel 'Rotterdam' is today moored in Rotterdam serving as a hotel and restaurant venue.
Vessel Rotterdam

It is also common that wrecked ships just stay lying on site, constituting a tourist attraction.
For example, the cruise vessel World Discoverer struck a reef off Solomon Islands in 2000 and remains on site as locals have opposed to salvage operations.

Another example is the famous shipwreck of Olympia off Amorgos Island, Greece, that grounded in 1980 but today constitutes a popular diving spot and tourist attraction.

Despite being a tourist attraction, shipwrecks can pose a navigation hazard and are typically considered adverse for the environment.

Regulatory framework at a glance
Adopted in Kenya in 2007, the
Nairobi International Convention on the Removal of Wrecks
provides the legal basis for States to remove, or have removed, shipwrecks that may have the potential to affect adversely the safety of lives, goods and property at sea, as well as the marine environment.
It entered into force in 2015.
Adopted in Hong Kong in 2009, the
Hong Kong Convention
aims at ensuring that ships, when being recycled after reaching the end of their operational lives, do not pose any unnecessary risk to human health and safety or to the environment.
The Convention
will enter into force 24 months after ratification by 15 States
.
Adopted in 1989, the
Basel Convention
was introduced to regulate, and to some extent discourage, the transboundary movement of hazardous wastes, by subjecting each such movement to the prior informed consent of the competent regulators in the state of export of the waste, the intended state of import and any transit states.
Being into force since 31 December 2018, the
EU Ship recycling regulation
mandates the recycling of all large sea-going vessels sailing under an EU flag can only take place in yards included in the European List of ship recycling facilities.
Links :