Center for Strategic and International Studies, via Digital Globe
From NYTimes by David E. Sanger & Rick Gladstone
The clusters of Chinese vessels busily dredge white sand and pump it onto partly submerged coral, aptly named Mischief Reef, transforming it into an island.
Over a matter of weeks, satellite photographs show the island growing bigger, its few shacks on stilts replaced by buildings.
What appears to be an amphibious warship, capable of holding 500 to 800 troops, patrols the reef's southern opening.
China
has long asserted ownership of the archipelago in the South China Sea known as the Spratly Islands, also claimed by at least three other countries, including the Philippines, an American ally. But the series of detailed photographs taken of Mischief Reef shows the remarkable speed, scale and ambition of
China
's effort to literally gain ground in the dispute.
The photographs show that since January, China has been dredging enormous amounts of sand from around the reef and using it to build up land mass — what military analysts at the Pentagon are calling "facts on the water" — hundreds of miles from the Chinese mainland.
The Chinese have clearly concluded that it is unlikely anyone will challenge them in an area believed rich in
oil
and gas and, perhaps more important, strategically vital.
Last week Adm. Harry Harris, the commander of the United States Pacific fleet, accused China of undertaking an enormous and unprecedented artificial land creation operation.
"China is creating
a great wall of sand
with dredges and bulldozers," Admiral Harris said in a speech in Canberra, Australia.
ENC China charts
Defense Secretary Ashton B. Carter, on his first trip to Asia, put the American concerns in more diplomatic language, but the message was the same.
In an interview to coincide with his visit, published Wednesday in the Yomiuri Shimbun, one of Japan's largest dailies, Mr. Carter said China's actions "seriously increase tensions and reduce prospects for diplomatic solutions" in territory claimed by the Philippines and Vietnam, and indirectly by Taiwan.
He urged Beijing to "limit its activities and exercise restraint to improve regional trust."
That is the same diplomatic message the Obama administration has been giving to China since Hillary Rodham Clinton, then the secretary of state, and her Chinese counterpart faced off over the issue at an Asian summit meeting in 2010.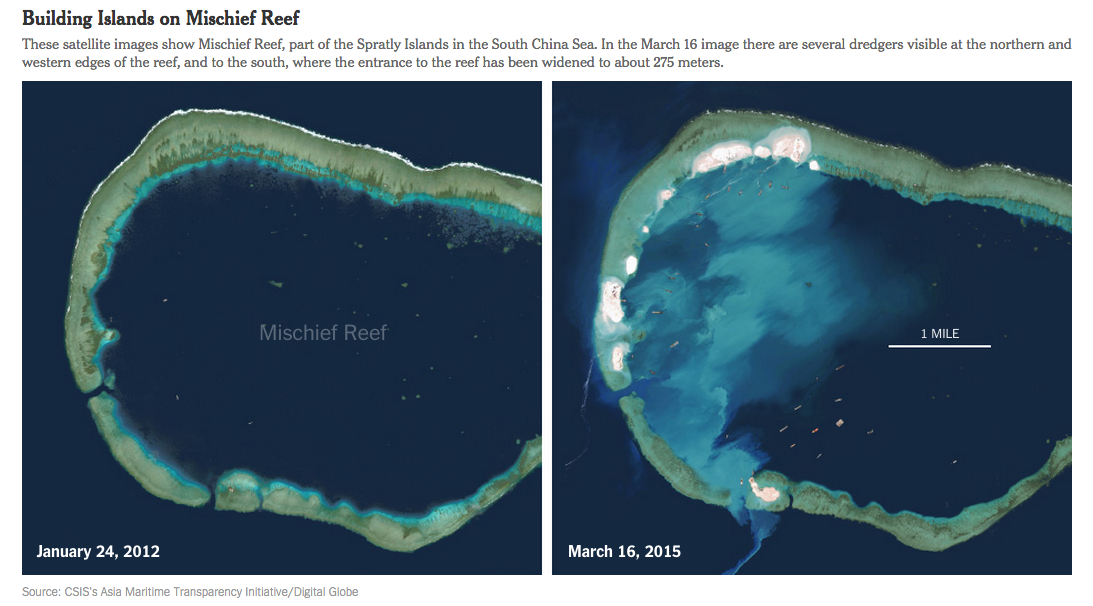 While other countries in Southeast Asia, like Malaysia and Vietnam, have used similar techniques to extend or enlarge territory, none have China's dredging and construction power.
"China's building activities at Mischief Reef are the latest evidence that Beijing's land reclamation is widespread and systematic," said Mira Rapp-Hooper, director of the center's Asia Maritime Transparency Initiative, a website devoted to monitoring activity on the disputed territory.
A Chinese facility on Hughes Reef in the South China Sea.
(William Colson/CSIS)
The transformation of Mischief Reef, which the Chinese call Meiji Reef, she said, is within territory claimed by the Philippines and is one of seven small outposts the Chinese have sought to establish in the South China Sea.
"These will allow Beijing to conduct regular, sustained patrols of the airspace and water, and to attempt to press its far-flung maritime claims as many as 1,000 miles from its shores," she said.
Although these outposts are too vulnerable for China to use in wartime, she said, "they could certainly allow it to exert significant pressure on other South China Sea claimants, such as the Philippines and Vietnam."
The issue poses a problem for the Obama administration, not simply because the Philippines is a treaty ally.
China is working so quickly that its assertion of sovereignty could become a fait accompli before anything can be done to stop it.
Mischief (march 16, 2015)
The southern platform has been further expanded using sand recovered from the reef's southern entrance.
The entrance itself has been expanded to a width of approximately 275 m.
The United States has long insisted that the territorial disputes be resolved peacefully, and that no claimant should interfere with international navigation or take steps that impede a diplomatic resolution of the issue.
But to the Chinese — already flexing muscle in other territorial disputes and with the creation of an
Asian infrastructure bank
to challenge the Western-created World Bank — this is not a matter for negotiation.
When Mrs. Clinton raised the issue in Hanoi five years ago at the Asian Regional Forum, her Chinese counterpart, Yang Jiechi, responded with a 25-minute speech, exclaiming: "China is a big country. Bigger than any other countries here."
It seemed to be a reminder that its military could make sure no one would dare challenge its building spree on disputed territory — and so far, no one has, other than with diplomatic protests.
Since then, China has made no secret of its territorial designs on the Spratlys, creating at least three new islands that could serve as bases for Chinese surveillance and as resupply stations for navy vessels, according to IHS Jane's.
Satellite imagery of the Spratlys
publicized by IHS Jane's in November
showed how the Chinese had created an island about 9,850 feet long and 985 feet wide on Fiery Cross Reef, about 200 miles west of Mischief Reef, with a harbor capable of docking warships.
IHS Jane's said the new island could support a runway for military aircraft.
The United States is about to conduct a joint military exercise with the Philippines, part of an emerging Obama administration strategy to keep American ships traversing the area regularly, a way of pushing back on Chinese claims of exclusive rights.
The administration did the same when China declared an air defense zone in the region more than a year ago.
The Chinese have said they consider most of the South China Sea to be rightfully theirs — a claim others make as well.
China and Japan have a separate territorial dispute over islands that Japan calls the Senkaku and China calls the Diaoyutai.
Those tensions have eased slightly in recent times.
Last year, China and Vietnam became entangled in an angry exchange after China towed a $1 billion
oil
drilling rig to an area 150 miles off Vietnam's coast.
On Tuesday China's
official Xinhua news agency reported
that the leaders of both countries wanted to soothe their differences and "control their disputes to ensure that the bilateral relationship will develop in a right track."
Links :