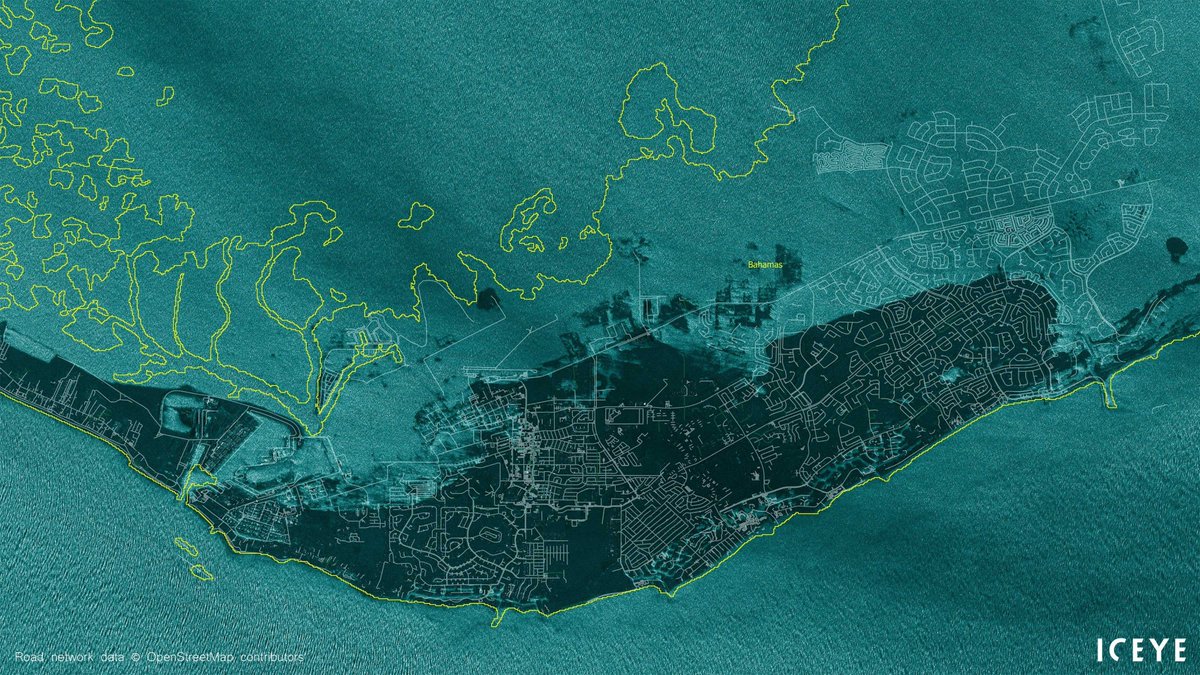 Hurricane Dorian has affected Bahamas heavily on Monday, with vast areas hit with flooding, including the Grand Bahama International Airport, Freeport.
ICEYE AR satellite image from 11:44AM local time
Nautical chart upon Google satellite imgary with the GeoGarage platform
From Forbes by Alex Knapp
On Friday, Finland-based imaging satellite startup Iceye announced that it's now capable of producing radar images with a resolution of less than one meter.
This is a major milestone for the company, which launched its first satellite in January 2018, and also highlights the growing sophistication of the small satellite industry, particularly in the area of remote sensing.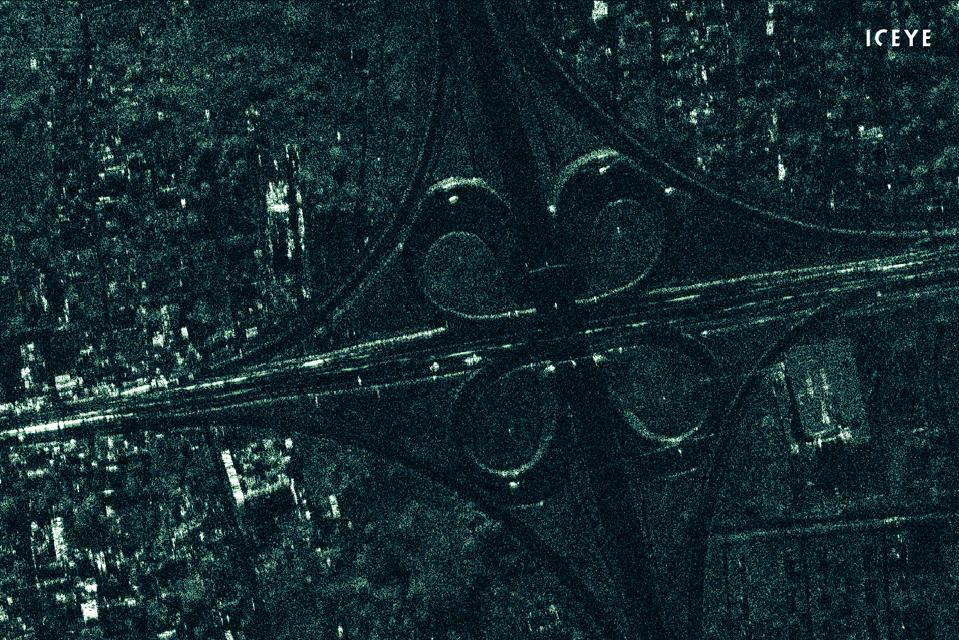 SAR image from Iceye showing a highway intersection in Mozambique.
This is done with their own constellation of micro satellites equipped the unique synthetic-aperture radar instruments developed and made in-house by the company.

ICEYE SAR satellite constellation imaging is not limited by weather conditions or by the need for sunlight.
Iceye, which now operates three satellites, doesn't take images with a camera.
Instead, it uses synthetic aperture radar (SAR), a technique that uses satellite flight paths to simulate a large radar antenna.
The resulting images provide data of interest to a wide variety of customers, ranging from oil and gas companies to emergency responders.
The information is especially useful because it can be gathered no matter the weather—the process of gathering SAR images ignores clouds, which often obscure traditional satellite visuals.
For Iceye, the ability to get those SAR images to resolutions of less than a meter is "one more milestone achievement, effectively pushing through the boundaries of capabilities you might not have thought you could reach with a small satellite," says Pekka Laurila, the company's cofounder and chief strategy officer.
Iceye is one of several satellite imaging companies founded earlier this decade that took advantage of the miniaturization of technology to create satellites that are much smaller than traditional imaging satellites.
Its satellites are about 9 feet long and 150 pounds, compared to larger communications satellites that can be the size of a small car.
Comparison of two satellite images of the same Nigerian port, one with the Sentinel-2 imaging satellite and one with Iceye's SAR.
ICEYE
Although those larger satellites, which are typically in sun synchronous orbit, can typically achieve higher resolutions than smaller satellites, the latter have the advantage of being able to be deployed more quickly and in lower orbits, meaning that parts of the planet can be revisited on a more regular basis—sometimes as often as twice a day.
As Friday's announcement shows, smaller satellites are catching up on image quality as well.
And because they're less expensive and can be deployed more quickly, they're easier to scale to the market.
"What's new about small satellites is you can be extremely reactive, you can maintain exactly the number of satellites that there's demand for at any given point," says Laurila.
In 2018, revenues for companies providing data from remote sensing satellites, which includes imaging satellites as well as satellites that are capable of tracking other surface activities such as ship movements or weather patterns, exceeded $2 billion, according to a report from Bryce Space and Technology.
Investors are paying attention to this market, too. Iceye has raised about $53 million in capital and grant money to date.
Virginia-based Hawkeye 360, which tracks radio signals for maritime, defense and other applications,
announced it had raised
a $70 million series B round earlier this week.
San Francisco-based Planet is estimated to be a unicorn, with over $770 million raised and a valuation of $2.2 billion, according to Pitchbook.
Although Laurila says the company is likely to pursue another round of venture capital in order to accelerate growth, he says that there's already enough market demand to enable Iceye to build a sustainable business model and "generate recurring revenue."
The company has a wide range of customers, and it has entered into a number of partnerships, including a recently announced one with the European Space Agency.
"There's an established and existing market of users that really demand radar imagery," he says.
Links :