North Sea Infrastructure
The future development of a North Sea energy system up to approx. 2050 will require a rollout, coordinated at European level, of interlinked offshore interconnectors, i.e. a so-called interconnection hub, combined with large-scale wind power.
Any surplus wind power could be converted into other forms of energy, or stored.
Situating this interconnection hub on a modularly constructed island in a relatively shallow part of the North Sea would result in significant cost savings.
These are the starting points for a proposed efficient, affordable and reliable energy system on the North Sea, which will contribute to European objectives being met.
This vision does not preclude the option of providing renewably generated power from the wind farms to nearby oil and gas platforms to reduce Europe's CO2 emissions.
From Ars Technica by William Steel
The harnessing of energy has never been without projects of monolithic scale.
From the Hoover Dam to the Three Gorges—the world's largest power station—engineers the world over have recognised that with size comes advantages.
The trend is clear within the wind power industry too, where the tallest wind turbines now tower up to 220m, with rotors spinning through an
area greater than that of the London Eye
, generating electricity for wind farms that can power whole cities.
While the
forecast for offshore wind farms of the future
is for ever-larger projects featuring ever-larger wind turbines, an unprecedented plan from electricity grid operators in the Netherlands, Germany, and Denmark aims to rewrite the rulebook on offshore wind development.
A proposed North Sea power link island, as conceived by TenneT
with a map of the North Sea, with the location of the Dogger Bank
and the possible interconnectors highlighted
The proposal is relatively straight-forward: build an artificial island in the middle of the North Sea to serve as a cost-saving base of operations for thousands of wind turbines, while at the same time doubling up as a hub that connects the electricity grids of countries bordering the North Sea, including the UK.
In time, more islands may be built too; daisy chained via underwater cables to create a super-sized array of wind farms tapping some of best wind resources in the world.
"Don't be mistaken, this is really a very large, very ambitious project—there's nothing like it anywhere in the world. We're taking offshore wind to the next level," Jeroen Brouwers, spokesperson for the organisation that first proposed the plan, Dutch-German transmission system operator (TSO)
TenneT
, tells Ars Technica.
"As we see it, each island could facilitate approximately 30 gigawatts (GW) of offshore wind energy; but the concept is modular, so we could establish multiple interconnected islands, potentially supporting up to 70 to 100GW."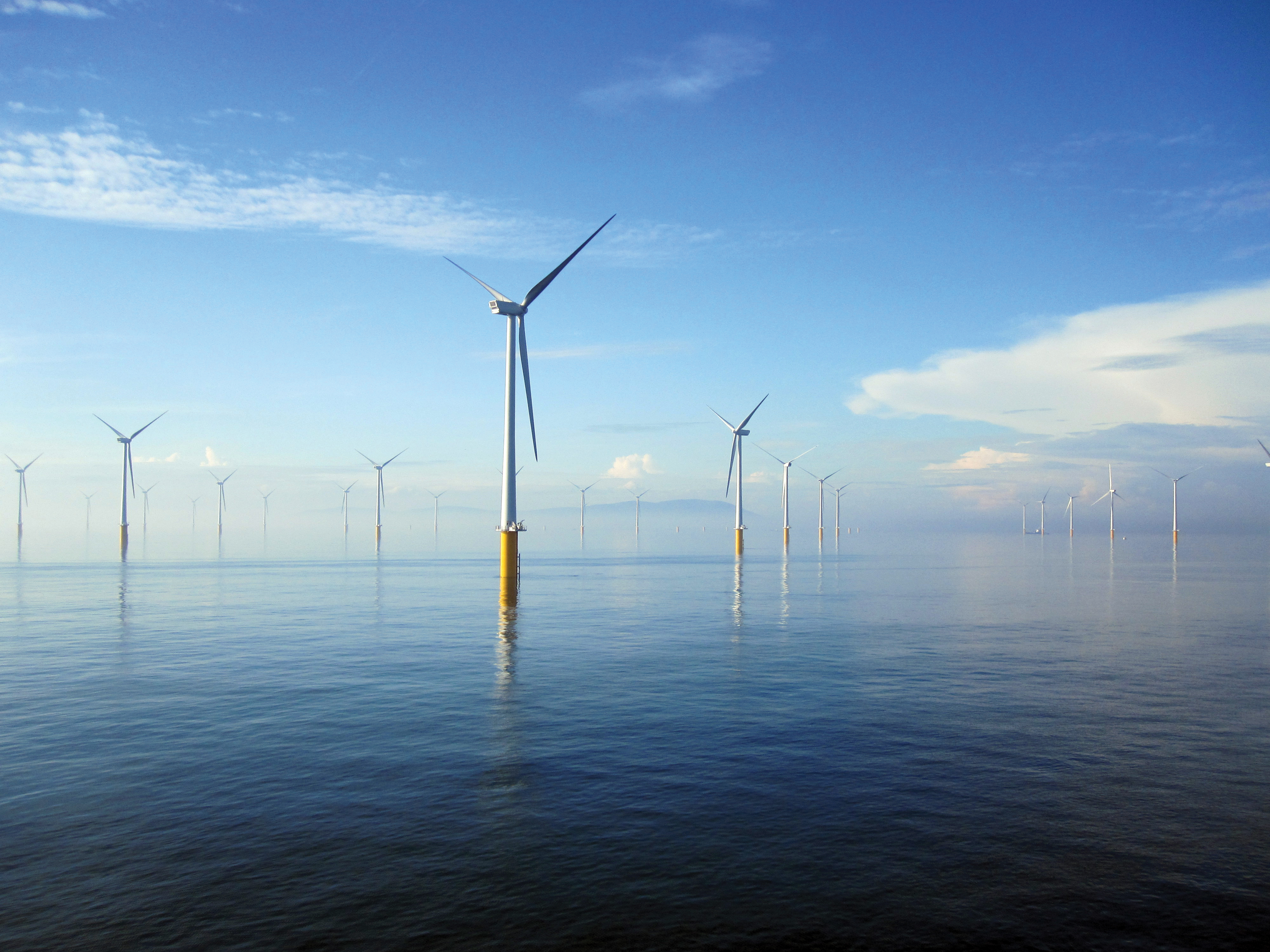 The London Array
To add some context to those figures, consider that the world's largest offshore wind farm in operation today, the
London Array
, has a max capacity of 630MW (0.63GW), and that all the wind turbines installed in European waters to date amount to a
little over 12.6GW
.
The Danish TSO Energinet says 70GW could supply power for some 80 million Europeans.
Undoubtedly ambitious, the North Sea Wind Power Hub—as the project is titled—is nevertheless being taken seriously by key stakeholders.
The project was centre of attention at the seminal
North Seas Energy Forum
held in Brussels at the end of March.
There, the consortium behind the project (Dutch-German TSO TenneT, alongside the Danish TSO Energinet) took the opportunity to sign a memorandum of understanding (MoU) that will drive the project forward over the coming decades.
Dagmara Koska, a member of the cabinet of the EU vice-president in charge of the Energy Union (Maroš Šefčovič), tells Ars Technica: "We're incredibly supportive of the project and welcome the MoU. The agreement demonstrates commitment to a very exciting prospect; one that stands to create a lot of synergies to benefit the growth of renewables energy in northern Europe."
On the intentions of the Wind Power Hub, Koska says: "From our perspective, the project fully reflects the spirit of the North Seas Energy Cooperation—the political agreement
signed last year
to facilitate deployment of offshore renewable energy alongside interconnection capacity across the region. As Maroš Šefčovič said at the signing, it's an ingenious solution."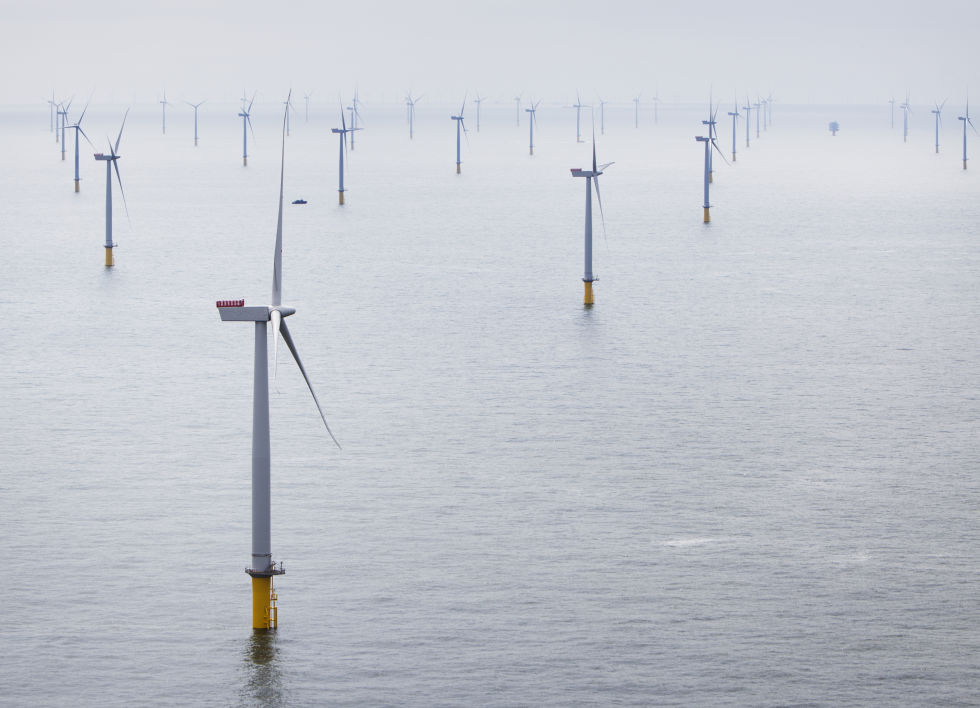 The London Array wind farm is the largest in operation with 175 wind turbines generating enough power for close to half a million UK homes annually.
A paradigm shift
The North Sea Wind Power Hub represents a fundamentally new approach to the development of offshore wind; one that tackles multiple challenges faced by the wind industry head on and capitalises on economies of scale in a bid to deliver access to the wind resources of the North Sea at reduced costs.
Something of a case of necessity being the mother of invention, Brouwers explains that the Wind Power Hub concept is a response to a looming problem faced by the wind industry: "At the moment, offshore wind is focused on sites relatively close to shore where development costs are lower. The problem is that there's not space for the 150GW of offshore wind power that the EU has called for. There are other industrial and economic interests in those near-shore regions—fishing, shipping lanes, military areas and so on.
"This pushes things farther out to sea, but the costs can rapidly rise as you move to deeper waters. The solution? Create near-shore costs, or even lower, out at sea."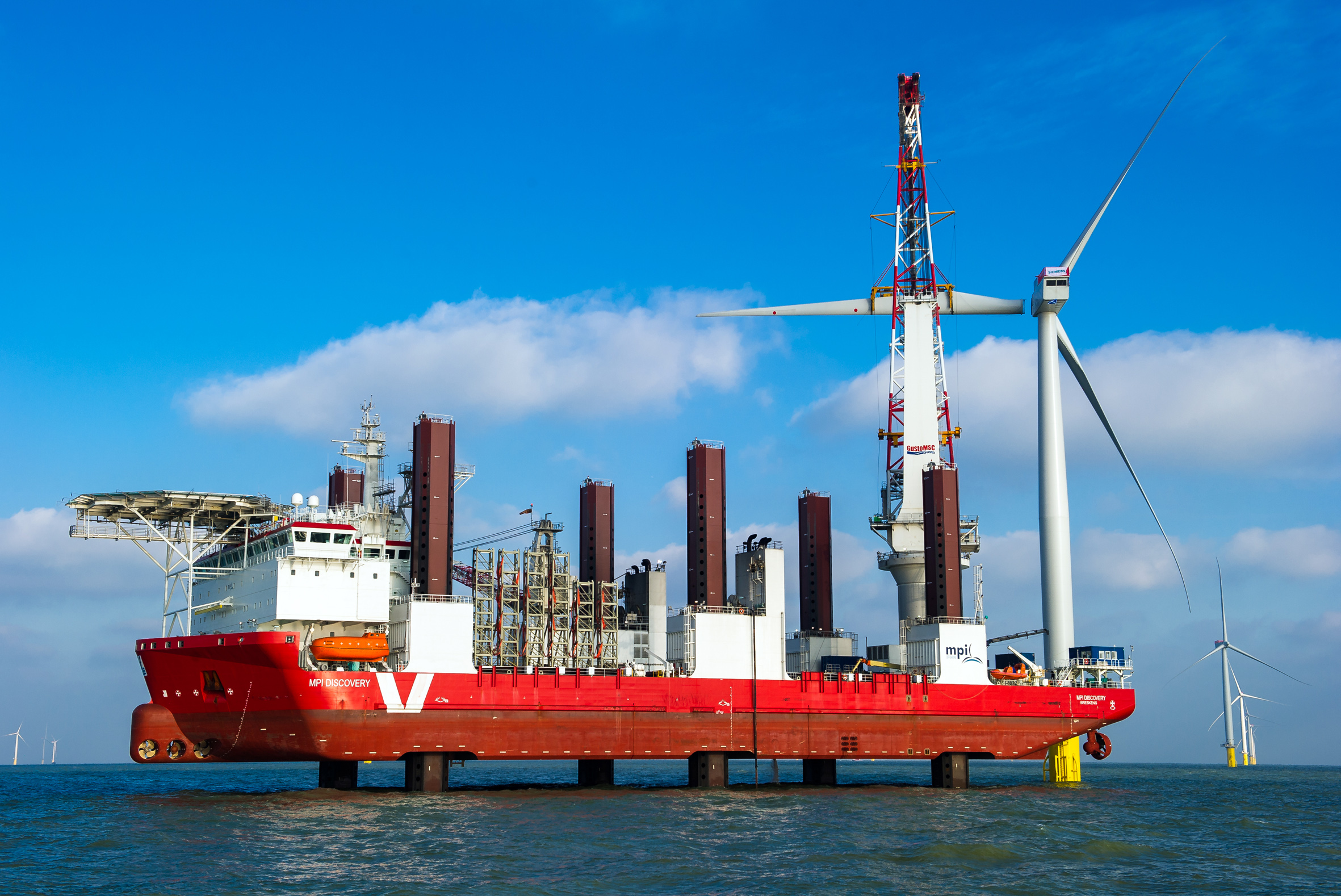 Construction of offshore wind farms is a highly complex logistical and engineering operation
So how would the Wind Power Hub deliver on this objective?
Well, the wind farms envisioned by the project wouldn't be dissimilar from those we see today, but their proximity and connection to artificial "power link islands" represents a substantial departure from the conventional model for offshore wind.
"The idea is that islands as large as six square kilometres would feature a harbour, a small airstrip, transmission infrastructure, and all equipment necessary to maintain the surrounding wind farms, alongside accommodation and workshops for staff," Brouwers says.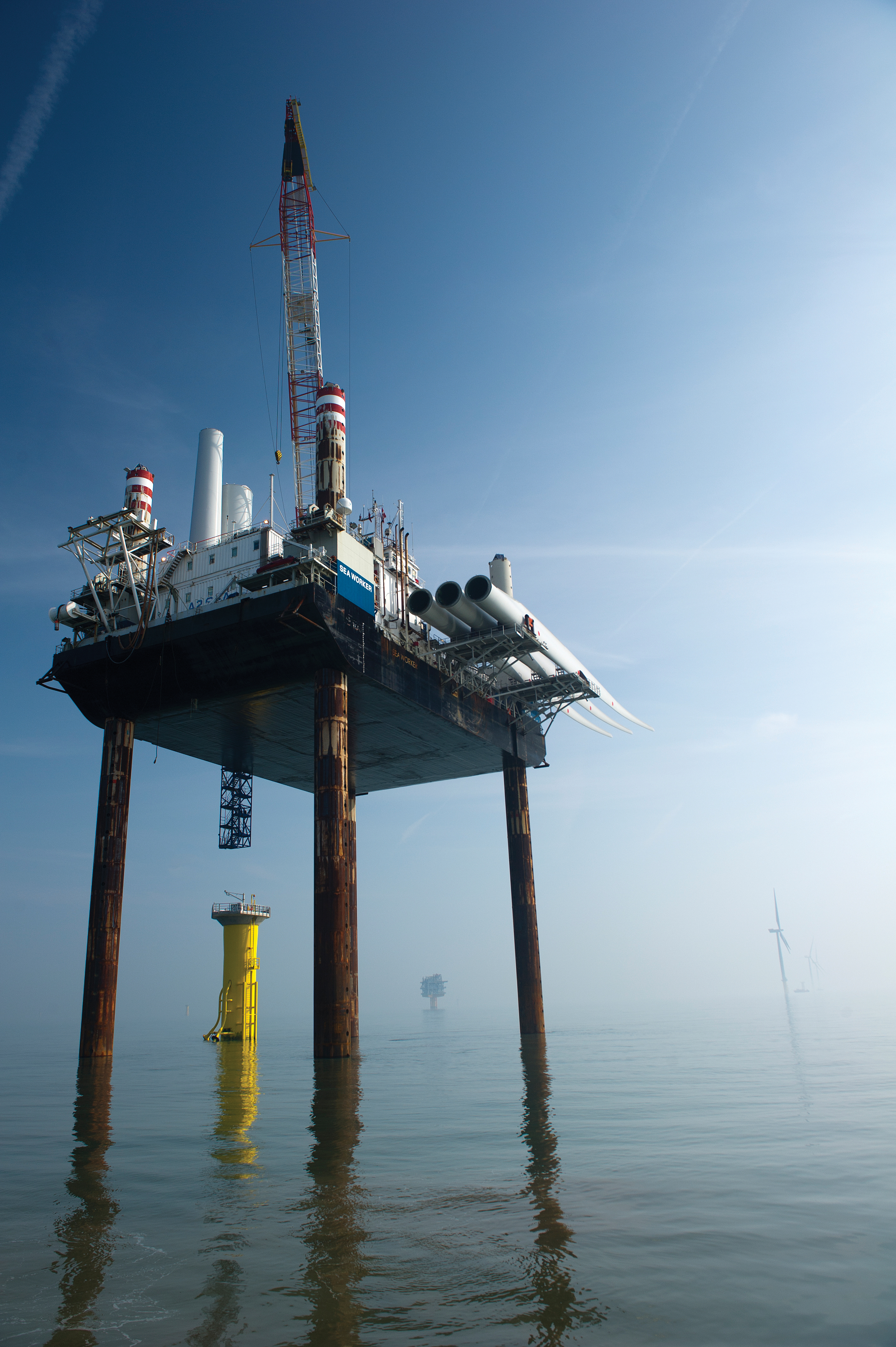 London Array construction
These novel features would open up a lot of possibilities for wind power developers and operators.
With a base of operations out at sea—complemented with storage of components, assembly lines, and other logistical assets—the installation of wind turbines would be more convenient, efficient, and ultimately cheaper than is achieved by today's methods which rely on specialised ships journeying out from ports.
Savings on installation would be coupled with reduced expenditure over the twenty-year lifetime of wind turbines, too.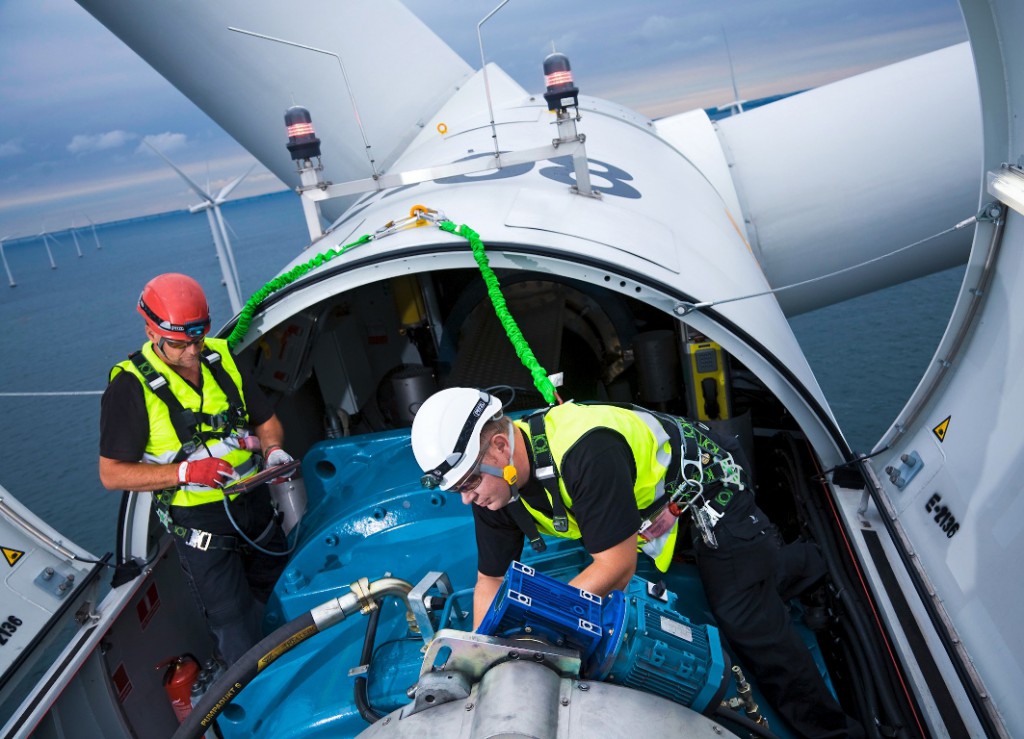 Operations and maintenance of offshore wind turbines—a crucial, albeit expensive, affair that stands to be transformed with a base of operations located out at sea.
Onshore wind farms require a lot of support.
But in harsh marine environments, that need is paramount.
Operations and maintenance, or O&M, is key to ensuring turbines avoid downtime and remain productive. By convention (and presently also by necessity) offshore O&M run out of ports; it's logistically complex and pricey, easily representing some
20%
of a wind turbine's levellised cost of energy (
LCOE
), and
increasing
with distance from shore.
O&M is a permanent fixture on the wind industry's list of areas within which it aims to lower expenditure, and highlighted as such by the International Renewable Energy Agency, which
reports
: "It is clear that reducing O&M costs for offshore wind farms remains a key challenge and one that will help improve the economics of offshore wind."
"In contrast to what we see today," says Brouwers, "operating from an island on the doorstep of the wind farms would be a game-changer in terms of reducing costs and simplification of O&M activities."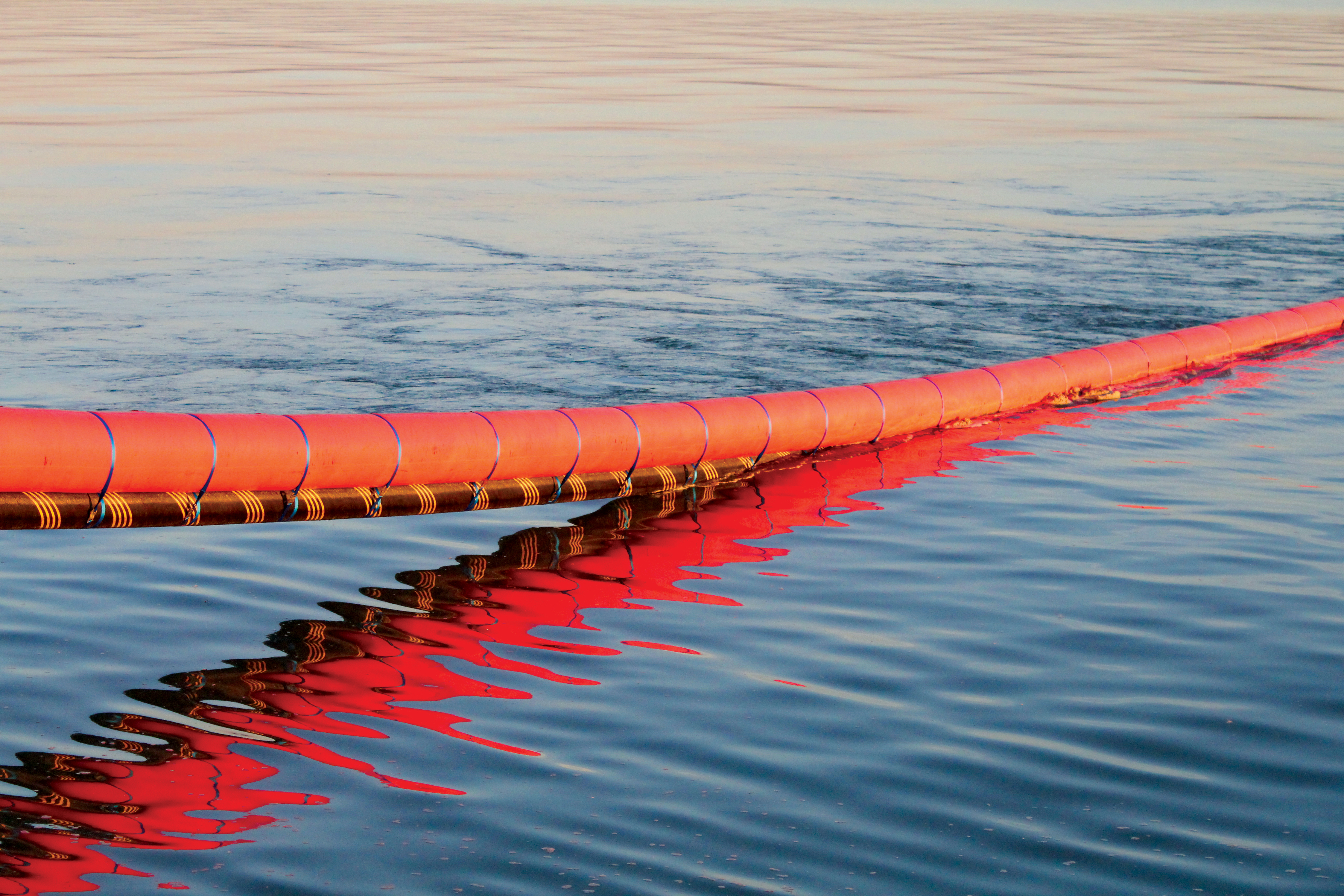 Subsea DC cables would not only export power from the wind farms, but will serve as interconnectors between countries bordering the North Sea.
High Voltage Direct Current
Alongside savings on installation and reductions on O&M, a third major cost saving feature of the Wind Power Hub concerns grid connections—the electrical infrastructure that links wind farms with electricity grids.
Typically, grid connection is a significant cost component in offshore wind, representing between
15 to 30%
of the capital costs for an offshore wind farm, with costs creeping higher the farther from shore you go.
Like O&M, grid connection is a cost component that holds potential for improvement.
With the Wind Power Hub, instead of alternate current (AC) cables taking electricity from a wind farm to grids onshore—the typical arrangement we see today—the output of multiple wind farms would be directed to a power link island.
There, electricity would be aggregated, conditioned for transmission, and then dispatched to onshore grids of the North Sea countries.
It's a setup that would reduce the amount of export cables running to individual wind farms, and enable cost-effective use of high-voltage direct current (DC) transmission that boasts the added benefit of reduced losses compared to AC transmission.
International electricity interconnections are the set of lines and substations that allow the exchange of energy between neighbouring countries and generate a number of advantages in connected countries.
North Sea Super Grid: The key to sustainable energy in Europe
As significant as the North Sea Wind Power Hub would be terms of clean energy production and cost reduction of offshore wind power, the broader proposition for the concept goes beyond island-building and supporting wind farms.
It would provide a solution to one of the central challenges in transitioning to a sustainable future.
As Brouwers says: "When we talk about the transition towards 100% sustainable energy production, it's simply not possible from a national point of view. We need to consider things on a European level, and we need the infrastructure to transport the renewable electricity to where it is needed."
The inherent difficulty with renewable energy is its intermittency: power generation relies on variable resources like the Sun and wind that we cannot control.
It's an immutable characteristic of renewables, and one that creates problems for grids trying to balance supply and demand, and ensure efficient use of generated electricity.
At least part of the solution is interconnectors—cables that function as long distance energy conduits across and between electricity grids.
Interconnectors allow for electricity generated in one region to be transmitted to another, and allow countries to import and export electricity.
The UK, for example, has interconnectors with France (2GW), the Netherlands (1GW), Northern Ireland (500MW), and the Republic of Ireland (500MW).
"Without interconnectors we're not able to balance supply and demand and that's crucial for the energy transition. It's absolutely key," explains the EU Energy Union's Koska.
"We have cables between some North Sea countries already, but considering the amount of renewables coming online in the region, it's not enough if we are to optimise use of resources available."
The imperative and current efforts to establish a European super grid are part of another story for another day, but the significance of interconnectors is neatly outlined in the YouTube video above from the Spanish TSO Red Eléctrica.
In this matter of interconnectors and energy distribution, the Wind Power Hub would serve an extraordinarily valuable purpose; one Koska describes as "a clear response to needs of the European grid, and the goals set by the European Union that would contribute to a crucial part of the energy transition."
As noted earlier, undersea cables would transmit electricity from islands to countries bordering the North Sea, but the same DC cables would also function as interconnectors between those nations.
Something similar is already under development in the Baltic Sea, where the Combined Grid Solution
will connect
Danish and German electrical grids via the Kriegers Flak wind farm.
The Wind Power Hub applies a similar logic, albeit connecting via islands and not wind farms, and on a much grander scale.
The Netherlands, Denmark, Germany, the UK, Norway and Belgium are all potential players in this new North Sea grid.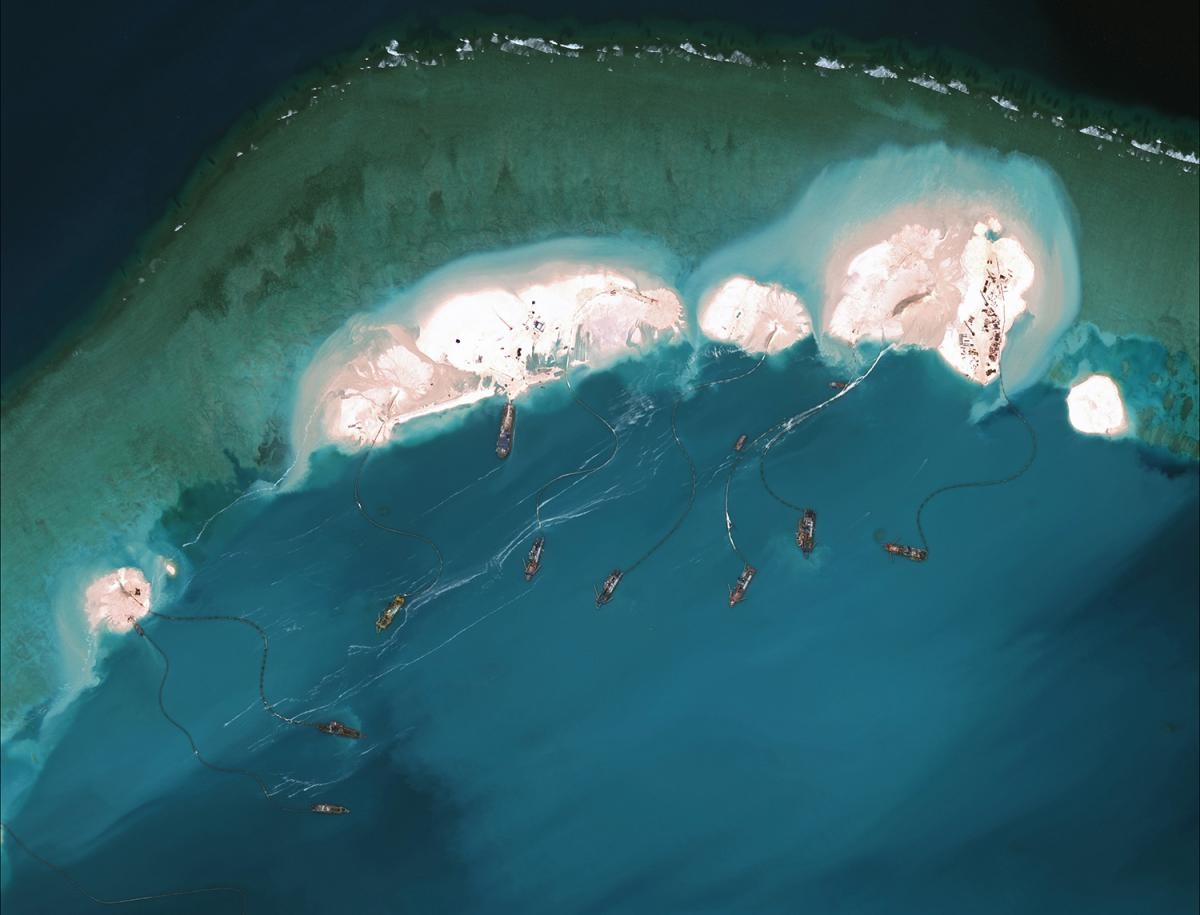 Construction of Mischief island by China has resulted in some 1,379 acres of land.
Specialized ships involved in the construction process can be seen in this image.
The dark lines seen connected to ships are floating pipes that pump sediment to be deposited.
photo : CSIS Asia Maritime Transparency Initiative /Digital Globe
Building islands
Construction of islands is nothing new.
Prominent examples of the practice come from
China
and
Dubai
.
Although motivated by radically different intentions (in the former instance, to establish a military presence in waters of the South China Sea; in the latter, to support luxurious hotels and residences) both nations have demonstrated the validity of creating artificial islands to varying specifications.
In the simplest of terms, island-building involves dumping a huge amount of rock and sediment on the seabed until an island emerges.
In reality, a little more finesse and a significant amount of engineering skill goes into the process.
Acumen here means that islands may be built to survive waves, storms, and erosion, as well ensure that the newly minted land can physically support whatever is destined to be built on the island.
Expertise will be especially critical for islands of the North Sea Wind Hub where the northerly climate and rough waters of the North Sea offer up considerable challenges.
Still, with the Netherlands party to the project, there will be no shortage of world-class engineers on hand to deliver solutions.
The Dutch have a long history in land reclamation and have been at the helm of some of the most prominent examples of island building around the world, including those of Dubai.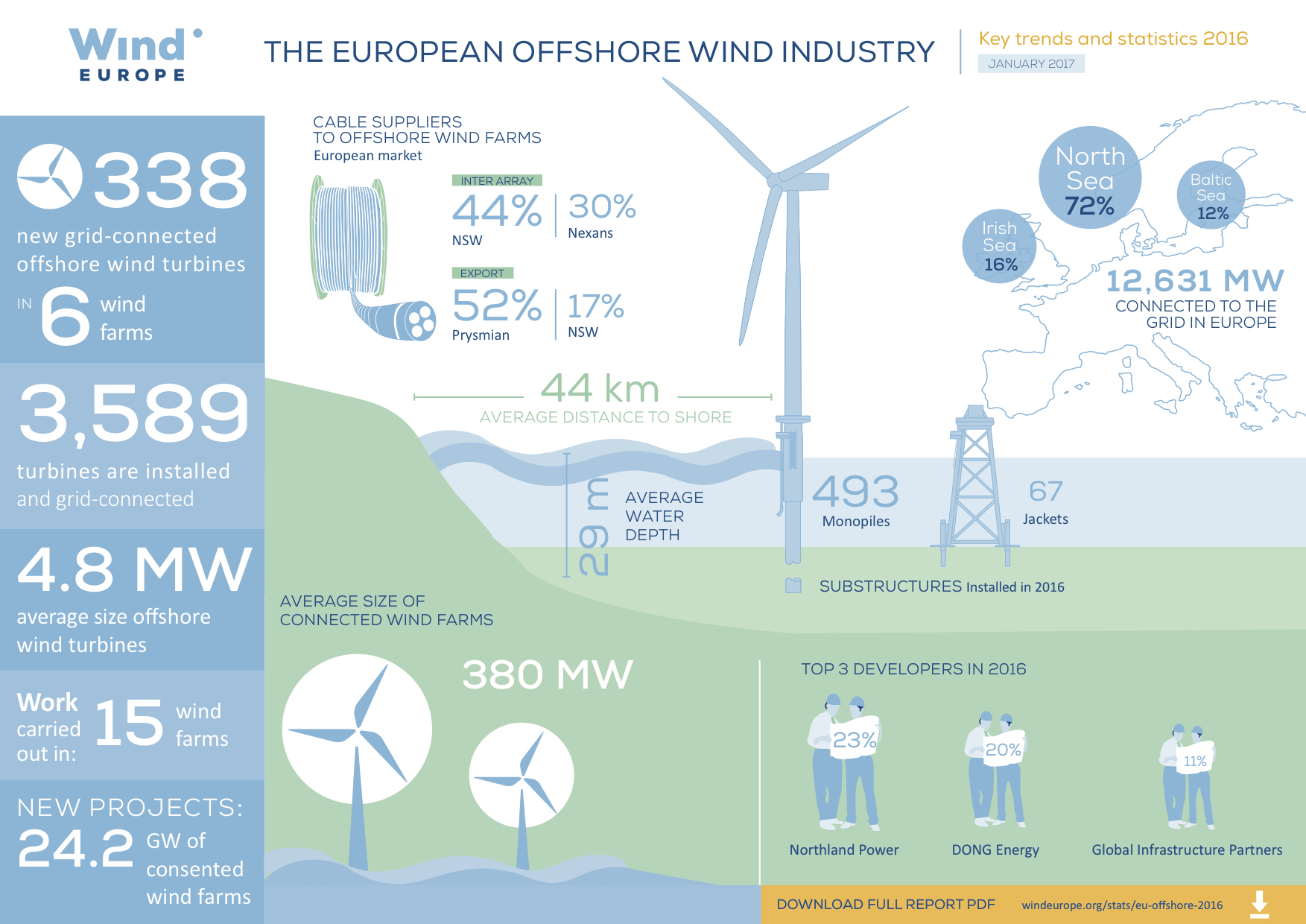 A European wind power infographic produced by WindEurope in 2016.
The task ahead
The North Sea Wind Power Hub is a vast, multinational project that won't just pop up overnight. Brouwers notes that the consortium imagines a first island could be realised by 2035.
Project literature frames the project as one providing a vision for joint European collaboration out to 2050.
"It's a long-term project, but it's important to begin now and that the industry knows what on the horizon," says Brouwers.
For its part, numerous bodies within the European wind industry have acknowledged and expressed optimism about the project.
Andrew Ho, senior offshore wind analyst of the wind power trade association
Wind Europe
, tells Ars Technica: "Setting out a long term ambition for offshore wind provides a great signal to the wind sector. It's not governments that are behind the target yet, it's TSOs laying out the vision—but it's still important to know that they see a big role for offshore wind in the future of European energy.
"The reality is we need a lot more clean energy if we're going to decarbonise and really commit to the actions of
COP21
. For that, we need the technologies that can deliver vast amounts of clean power with relatively stable output—and that's what offshore wind gets you.The wind industry would certainly be ready to deliver the volume of offshore wind envisioned by the Wind Power Hub."
Ho emphasised that the wind industry's activities over the forthcoming decade will lay the groundwork for the Wind Power Hub's success: "The project would give us a pathway from 2030 to 2050, but we're missing policy targets for 2023 to 2030. To explore the project's full potential we need to support development through the next decade to ensure we're fully cost competitive with other sources of energy in the period leading up to 2030."
As the industry works towards reducing costs, the consortium will busy itself with more practical matters. Brouwers explains: "The next steps involve feasibility studies. We're also underway in collaborating with environmental groups about the construction of the islands and in talks with infrastructure companies beyond the energy sector, of the sort that would provide critical insight on the project. There's certainly a lot of work ahead of us."
The North Sea Wind Power Hub is an unquestionably mammoth project.
But in so being it aptly reflects the enormity of challenges we face in tackling climate change.
Many would contend that we already have the technologies necessary for transitioning to a sustainable energy system.
The Wind Power Hub project reminds us that boldly pursuing the extraordinary, and resolving to commit to collaborative solutions, are traits that will serve us well in application of those technologies.
Links :