National Geographic Explorer-in-Residence Enric Sala dives deep into the waters of one of the most pristine places on Earth — the Pitcairn Islands — only to discover its delicate ecosystem is not as unspoiled as it may seem.
From TimesRecordsNews
Nadine Christian
is considered the first novelist from her island home's 223 years of civilized existence.
"Remembering Love" by all accounts is a fine piece of work.
However, in fairness to Christian anything good that happens within her remote spec of volcanic rock called
Pitcairn Island
will always be prefaced by its notorious past.
Historians and lovers of true adventure on the high seas hear the words "Pitcairn Island" and instinctively think of Lt.
William Bligh
,
Fletcher Christian
and
Mutiny on the Bounty
in 1789.
From the mutiny, thoughts unconsciously turn to bleak isolation of the insurgents' abysmal resting place — Pitcairn Island.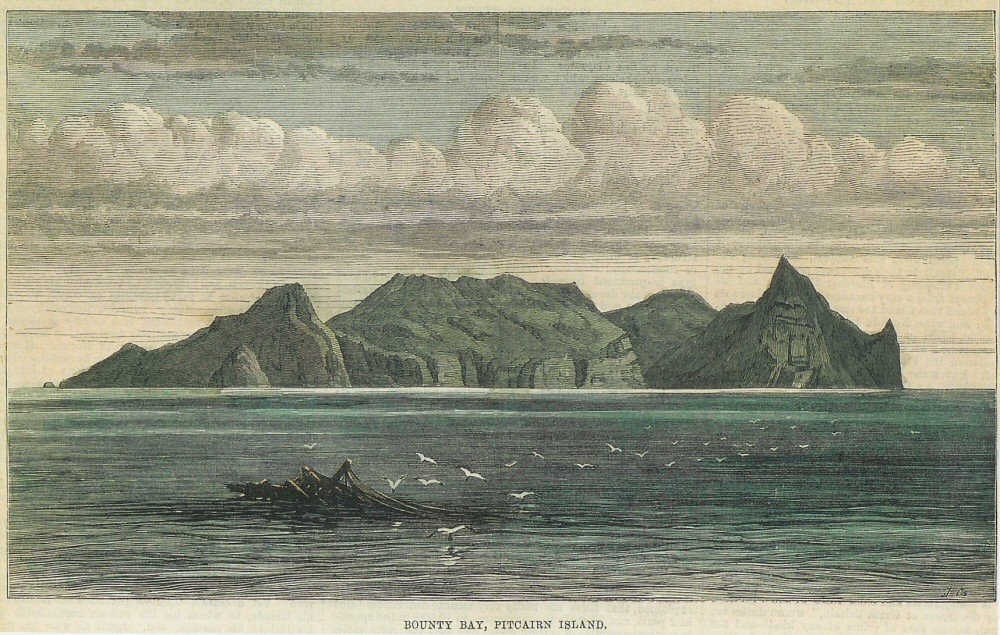 An early drawing of Pitcairn Island – from the collection of Maurice Allward.
Pitcairn is a small, but distinctive, island in the heart of the southern South Pacific.
It is more than 3,300 nautical miles from New Zealand and 1,400 nautical miles from Tahiti, and with a population of about 60, it represents one of the most remote and inaccessible jurisdictions on Earth. Still, its tropical beauty and haunting features and sad reminders of the past like "
Christian's Cave
" continue to make for an appealing adventure.
You cannot fly into Pitcairn because its 2.5 square miles of land mass are mostly mountainous
.
From neighboring New Zealand, it is 10 days by yacht.
Because of strong ocean currents and jagged volcanic minefields, a yacht or small ship cannot land there.
Islanders send long boats out to meet visitors and supply ships.
Bénard, Robert, b. 1734. "Carte et vues de l'Isle Pitcairn." Copperplate map (and views), with added color, 10 × 25 cm. on sheet 25 × 30 cm. From John Hawkesworth's Relation de voyages entrepris par ordre . . . et successivement exécutés par le commodore Byron, le capitaine Carteret, le capitaine Wallis et le capitaine Cook . . . (Paris, 1774). [Historic Maps Collection]
We continued our course westward till the evening of Thursday the 2d of July [1767], when we discovered land to the northward of us. Upon approaching it the next day, it appeared like a great rock rising out of the sea: it was not more than five miles in circumference, and seemed to be uninhabited; it was, however, covered with trees, and we saw a small stream of fresh water running down one side of it. I would have landed upon it, but the surf, which at this season broke upon it with great violence, rendered it impossible. . . . [I]t having been discovered by a young gentleman, son to Major Pitcairn of the marines, who was unfortunately lost in the Aurora, we called it Pitcairn's Island. [Hawkesworth, vol. 1, p. 561]
The mutineers of the HMS Bounty would find this information about a remote, uninhabited (but inhabitable) island useful when they sought a place to hide from the British Admiralty in 1779.
extract from Chart containing the greater part of the South Sea to the South of the Line
published 10 June 1775, by R. Sayer & J. Bennett
However, in January 1790, no island could have been a more perfect haven than Pitcairn for the mutineers of the Bounty.
The island was misplaced on British charts, and it was here that Christian and eight other dissenters, plus 24 Tahitian men and women settled.
The ship was burned in what is known today as Bounty Bay and its remains are still visible.
After nearly two years of being isolated on the island, most of the mutineers, including Fletcher Christian were murdered.
Some accounts say Christian committed suicide, while others believe he somehow escaped Pitcairn and returned to England, hiding out for the remainder of his life.
John Adams
, the last survivor of the seized ship, insisted Christian was killed by the Tahitians.
The cave Christian lived in remains a focal point of the island.
It rises some 250 feet and provides a spectacular view of the vast blue Pacific.
It is not much more than a small indentation, but it is where Christian often sat, scanning the ocean hoping not to be discovered by a distant British ship.
All of the inhabitants of Pitcairn Island are descendants, or married to descendants, of the original mutineers including Nadine Christian.
She is the wife of a descendant of Fletcher Christian and the author of "Remembering Love," an excellent first novel.
Two years ago I wrote about
Caroline Alexander's fine book, "The Bounty."
Through the wonder of the Internet, the review was picked up by resident Sue O'Keefe who has since become an occasional pen pal, and through her, I met
Nadine Christian
.
The book has a strong focal point — a young girl returning to her Pitcairn Island home to rediscover her roots, linking pieces of her past together and, yes, finding love.
The story is woven with skillful dialogue, easy transition and credible island scenes that are the essence of Pitcairn's beauty, mystery and magnetism.
Its pages, worth any book lover's time, represent seeds of a promising dramatist.
Christian's style has a way of carrying one off to the South Seas without exorbitant fare or throttling red tape.
Nadine went to Pitcairn from New Zealand in 2002.
She met and married into the Christian family, and as a result, explains, "I live with my husband, five children, four goats, two cats and 30 chickens."
She is 40 and filled with energy to write novels, perhaps based loosely on Pitcairn's past.
"I love it here," Christian said.
"I enjoy the beauty, the stillness, the hard work and total unpredictability of each new day. It isn't a 9-to-5 existence. It's more like 24/7. It can be a bit claustrophobic at times, but the Internet and phone system opens you up to the world.
It's like any small community. People niggle at times, but it's never serious. I could have an argument with John Smith today, and tomorrow he may hear I'm out of milk and he'll bring me a carton to tide me over. Yes, we do have our differences of opinion now and then, but in the end, we depend on helping each other."
There was no happy ending for the majority of the 18 original mutineers.
Some were murdered. Some returned to England and hanged for their crime.
Some were pardoned, but forever lived in the shadows of a shameful past.
For Nadine Christian, however, happy and inspiring endings now and then can make for a fine calling card.
Links :