"World famous for its Moai statues, Easter Island
will now be known as a global leader in ocean conservation"
From MNN by Russell McLendon
From the U.S. to Chile to New Zealand, new marine sanctuaries are making a big splash around the world — and not a moment too soon.
Here's a deeper look at a few of them.
Earth is on the brink of a sea change.
Its
oceans
are still mostly wild, without the obvious human footprint often seen on land, but they're also increasingly plagued by man-made dangers such as
climate change
,
overfishing
and
plastic
.
Yet despite our inertia on many terrestrial issues like air pollution or deforestation, we're actually building some momentum for saving the seas.
It's just a drop in the bucket so far, but the recent pace of ocean protection is promising nonetheless.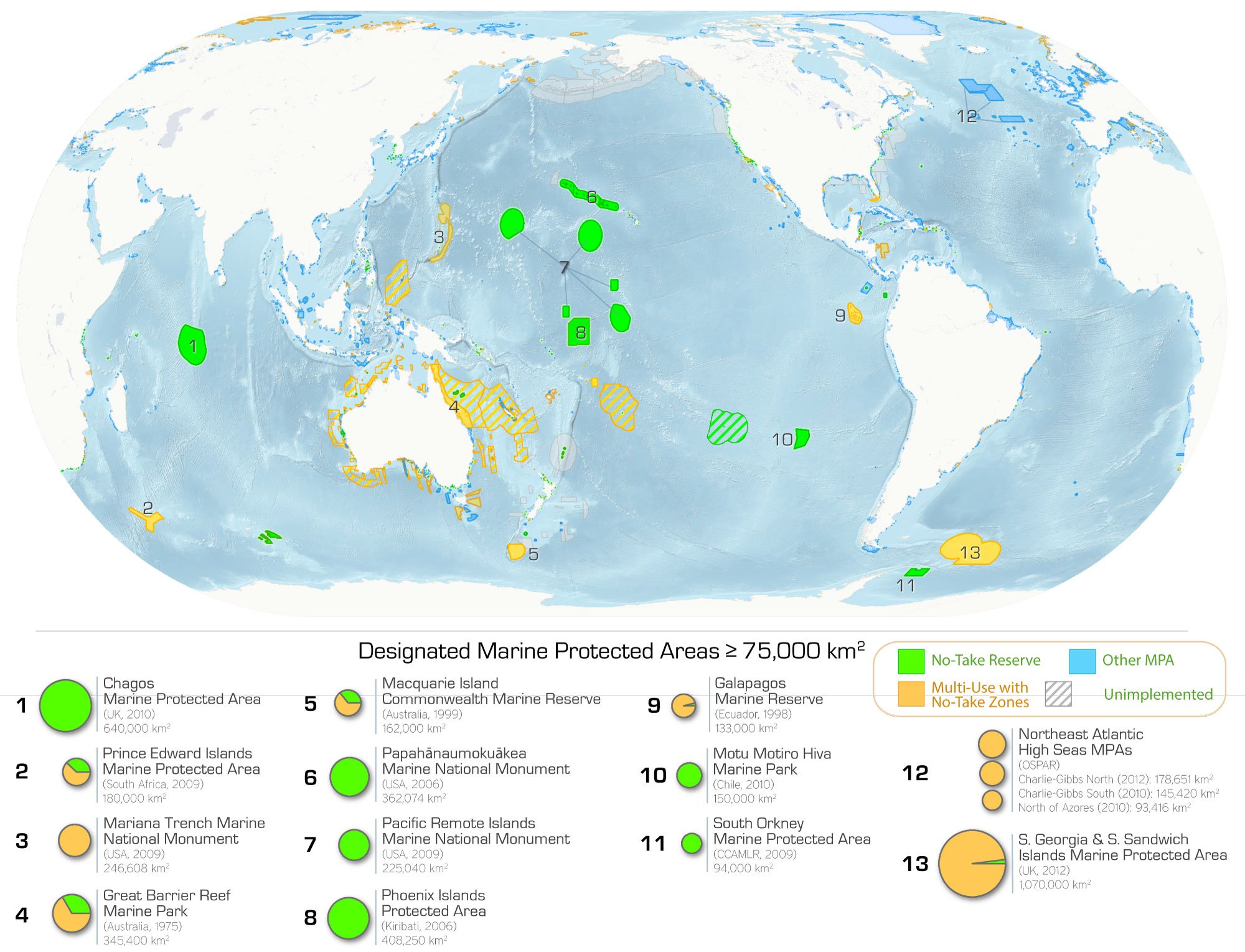 The past few years have brought a surge of new marine sanctuaries, including sprawling reserves near
New Caledonia
and
Hawaii
that each cover about 500,000 square miles.
The nations of Gabon, Kiribati and Palau have all made waves with huge new refuges off their coasts, and the U.K. recently approved a 322,000 square-mile reserve around the
Pitcairn Islands
. Conservationists are now working to string together an array of protected areas to create the 30,000-island
Pacific Oceanscape
.
And the hits keep coming.
This week, the U.S. and Chile kicked off the second annual Our Oceans conference by announcing plans for several more marine sanctuaries of varying scales.
That follows last month's move by New Zealand, which introduced an ocean reserve that's more than double the country's land mass.
In honor of this trend — and in hopes it means tides are turning toward healthier aquatic habitats — here's a closer look at some of the latest areas being saved:
Ancient moai statues loom over the coast of Easter Island, which has been plagued by illegal fishing. (Photo: Shutterstock)
Chile
The largest of the new marine parks spans more than 243,000 square miles (630,000 square kilometers) around Easter Island, located about 2,300 miles off the coast of Chile.
The area has been rife with illegal fishing lately, according to local anglers and environmental advocates, so a main goal of this preserve is to banish industrial trawlers while still allowing local, smaller-scale fishing near shore.
Unveiled by Chilean President Michelle Bachelet this week at Our Oceans, the preserve will be the "third-largest fully protected area of ocean in the world,"
according to the Pew Charitable Trusts
.
Its waters are home to 142 native species, 27 of which are threatened or endangered.
The park was proposed by Easter Island's indigenous Rapa Nui people, whose representatives
reportedly clapped and sang
after the announcement, although the plan is still pending their approval.
"World famous for its Moai statues, Easter Island will now be known as a global leader in ocean conservation," says Pew vice president Joshua S. Reichert, who leads the nonprofit group's environmental work.
"This announcement is an important step toward establishing the world's first generation of great parks in the sea."
The islets of Motu Nui, Motu Iki and Motu Kao Kao rise
from the Pacific Ocean off the coast of Easter Island.
In addition to Easter Island, Bachelet also announced a marine reserve at the Islas de los Desventurados ("Unfortunate Islands"), located about 500 miles off Chile's coast.
The volcanic islands are uninhabited by people, aside from one Chilean Navy unit, but they're an
important habitat for seabirds
.
The two parks combined will cover more than 1 million square km (386,000 square miles), Chilean officials say.
Mallows Bay from above (left) and Wisconsin's lakefront from below (right).
(Photos: Don Shomette/Walter B. Allen/NOAA)
United States
The U.S. proposed two new parks on the conference's first day, although President Obama and Secretary of State John Kerry hinted at even bigger news in the offing.
For now, they've floated a pair of preserves in Maryland and Wisconsin, which would be the first new U.S. marine sanctuaries in 15 years.
They're not huge, and may bend the technical definition of "marine," but both are teeming with historic shipwrecks as well as wildlife. Both were also nominated by the American public, part of a policy shift meant to boost engagement with federal conservation efforts.
The two planned marine sanctuary sites, along Lake Michigan (left) and in Maryland (right). NOAA
In Wisconsin, the
proposed sanctuary
spans 875 square miles (2,266 square km) of the Lake Michigan coastline, an area that contains 39 known shipwrecks, including 15 listed on the National Register of Historic Places.
Archival and archaeological evidence suggests the area may also hold undiscovered shipwrecks, according to the U.S. National Oceanic and Atmospheric Administration (NOAA), which notes the proposal "received tremendous support from the community."
Low tide reveals the hull of a sunken ship at Mallows Bay, Maryland. (Photo: Don Shomette/NOAA)
In Maryland, the
Mallows Bay-Potomac River
site covers 14 square miles of the tidal Potomac River, a valuable estuary located about 40 miles south of the nation's capital.
Its shipwreck collection features nearly 200 vessels that range from the Revolutionary War to modern day, including the largest "ghost fleet" of wooden steamships built during World War I.
It's also "a largely undeveloped landscape and waterscape identified as one of the most ecologically valuable in Maryland," NOAA points out, "as the ship remains provide important habitat for fish and wildlife, including rare, threatened and endangered species."
At least one other publicly nominated sanctuary is still under review by NOAA, and as Kerry teased this week, "we also have plans in the works ... for still another significant one in the Atlantic."
Obama repeated that hint, telling Our Oceans attendees that "in the coming months, I will look for even more opportunities to protect our waters."
In the meantime, the U.S. also unveiled a new global initiative, called "Sea Scout," to help identify and prosecute illegal fishing around the world.
"There is literally too much money chasing too few fish," Kerry told the conference.
Deep-sea urchins grow from the seabed at an underwater volcano in New Zealand's Kermadec Arc. (Photo: NOAA)
New Zealand
Many of the biggest marine parks created in recent years are in the South Pacific, but there's always room for more.
In late September, New Zealand Prime Minister John Key revealed plans to create one of the world's largest, stretching across 620,000 square km (240,000 square miles)
around the Kermadec Islands
.
Located about 1,000 km (620 miles) northeast of New Zealand, the Kermadecs are considered a gem of biodiversity as well as geology.
The island arc hosts several dozen varieties of whales and dolphins, 150 types of fish, and three of the planet's seven sea turtle species.
It also includes the longest-known chain of underwater volcanoes and the second-deepest ocean trench on Earth.
Covering an area twice the size of New Zealand's landmass, the sanctuary would reportedly ban all fishing as well as any oil, gas or mineral development.
"The Kermadecs is a world-class, unspoiled marine environment and New Zealand is proud to protect it for future generations," Key told the U.N. general assembly in New York.
"Creating protected areas will support not only our own fisheries, but those of our Pacific neighbours, adding to New Zealand's efforts to help grow Pacific economies through the responsible management of their ocean resources."
***
It's worth noting that marine reserves can't save the oceans alone, especially from global threats like warming and acidification.
Even their effectiveness varies from place to place, depending on the capabilities of local law enforcement.
But when managed well, they can buffer key biodiversity hotspots, giving wildlife more space while replacing poachers with
better-paying eco-tourists
.
And amazing vacations are just the tip of the iceberg.
As many world leaders now realize, ocean health is an economic priority as well as an ecological one.
"Our economies, our livelihoods and our food all depend on our oceans," Obama said in a
video message
this week, a theme echoed by Easter Island Mayor Pedro Edmunds Paoa.
"The ocean is the basis of our culture and our livelihood," Paoa said in a statement.
"The Rapa Nui community is immensely proud of this marine park, which will protect our waters for generations to come."
Links :
Fusion : Easter Island marine reserve
WhiteHouse : Fact sheet preserving and protecting oceans and americas waterways