Sea surface temperature anomalies showing the telltale sign of an El Nino in the tropical Pacific.
From Mashable by Andrew Freedman
El Niño conditions are intensifying in the tropical Pacific Ocean, potentially leading to a record event that would help control rainfall in East Africa and possibly bring desperately needed drought relief to California, while temporarily cutting off rainfall to parts of the Indonesian rainforest.
A record strong event would also virtually guarantee that 2015 will beat 2014 as the warmest year this planet has seen since records began in the late 19th century.
In recent weeks, the water temperatures have grown warmer, propelled by a reversal of seasonal trade winds and the sloshing of mild ocean waters from west to east across the Pacific.
The atmosphere has shown telltale signs of positive feedback that are reinforcing the El Niño, including the formation of
several tropical cyclones
spinning in the central and northwestern Pacific Basins.
Taking these observations into account, a
new forecast
released Thursday by the Climate Prediction Center (CPC) in Maryland calls for a strong El Niño event to occur between now and the coming northern hemisphere winter, which is when El Niño conditions tend to peak, as well as when they have their greatest influence on global weather patterns.
Sea surface temperature anomalies, showing the milder ocean waters near the equator with time.
According to a more detailed forecast from the CPC and the International Research Institute for Climate and Society (IRI) at Columbia University, there is a 96% chance of continued El Niño conditions from September through November, with a 94% chance of such conditions lasting through January.
The CPC outlook can be viewed as conservative when it comes to the predicted intensity of the El Niño event, considering that many individual El Niño experts, armchair meteorologists on Twitter, and individual computer model runs are predicting a potentially record strong event, exceeding the previous record-holder of 1997-98. El Niño data extends back to 1870.
The CPC takes such models into account when making its forecasts.
However, Michelle L'Heureux, a climate forecaster at CPC, told
Mashable
that
the hype surrounding the potentially unprecedented intensity of the El Niño may be just that, hype.
"Even one or two westerly wind bursts does not necessarily always "make" an El Niño," she wrote in an email.
"Last year is a perfect example of that... a few westerly wind bursts in early 2014 and then they died out. It is the
series
of westerly wind bursts (or cumulative average over many months) that we forecasters pay attention to," she added.
Huge atmospheric response to pumped up El Niño
In a
blog post
, L'Heureux wrote that focusing on weekly average sea surface temperatures can be distracting, and is largely meaningless.
Right now, the weekly sea surface temperature departures from average are comparable to the record 1997-98 El Niño, she wrote.
"While a short-term (daily or weekly) number might be striking, it shouldn't be used as an indicator of El Niño strength unless it is carefully placed into a larger context," she continued.
L'Heureux noted that none of the major forecasting centers responsible for monitoring El Niño are predicting a record event at this time, including CPC.
Conscious coupling between the air and ocean
In order for El Niño events to occur and strengthen, an intricate dance must take place between the ocean and atmosphere, and some aspects of these interactions are not well understood.
So far this spring and summer, however, the atmosphere has been reinforcing the ocean conditions, and vice versa, with a temporary reversal of the east-to-west trade winds observed near the equator, because of a phenomenon known as a westerly wind burst.
Such wind bursts are crucial to creating and reinforcing strong El Niño events, since they drive pulses of mild sea surface temperatures eastward toward South America, according to
recent research
.
The strength of an ongoing wind burst, may be a sign of a particularly strong event to come.
"Right now we slightly favor a strong El Niño because we are seeing more bursts and we are further along in the year," L'Heureux wrote in her Climate.gov blog post.
"This causes us to be more confident in the staying power of this El Niño."
The bottom line: To get a significant El Niño event going (and keep it going), the atmosphere and ocean need to communicate like a healthy couple does — one in which one listens and responds to the other while bringing something new to the table.
There is a reason why meteorologists refer to the process of creating and maintaining an El Niño as reliant on "coupling" between the ocean and the atmosphere.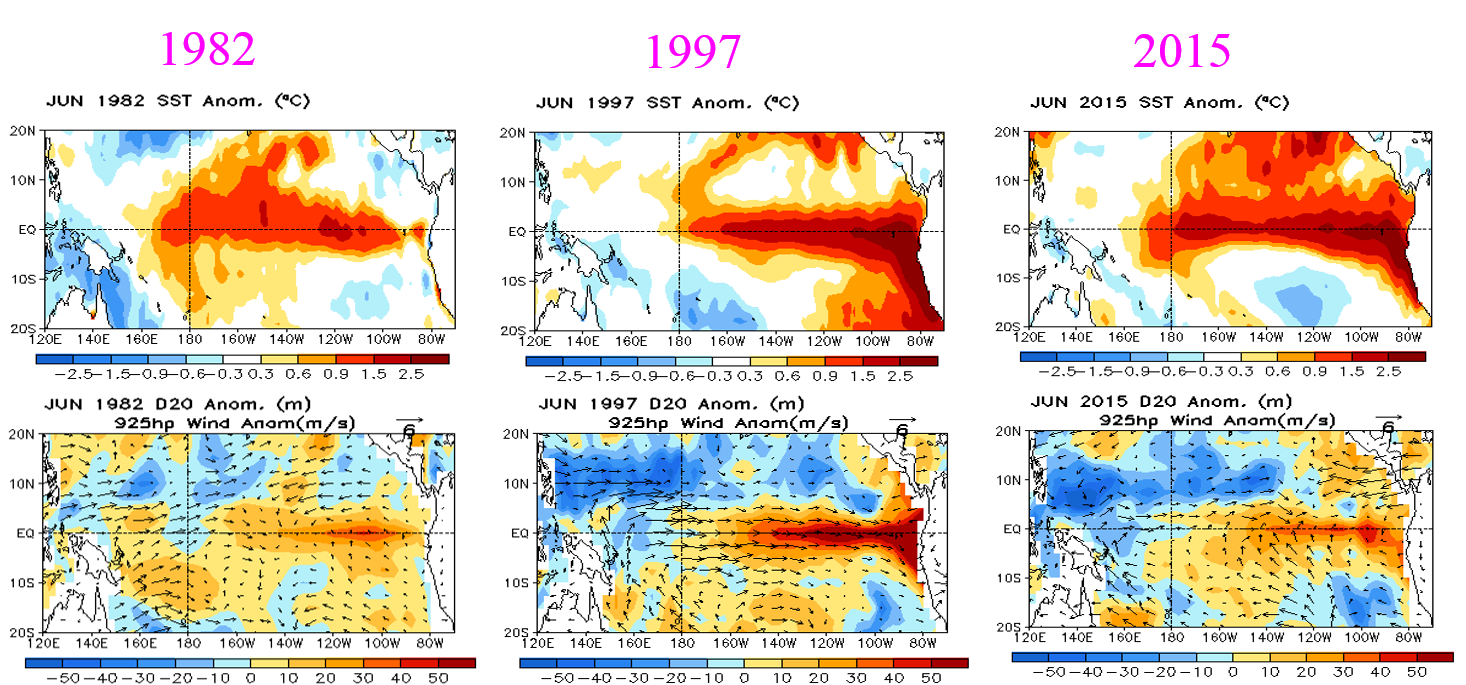 Comparing the strong #ElNino years of 1982,97 w/this year in Jun. 2015
Why you need to pay attention to El Niño
There are two main reasons why El Niño is a big deal — including its intensity.
First and foremost, the climate cycle is the most consequential natural climate phenomenon on the time scale of individual seasons to a couple of years, since it has ripple effects in areas far removed from the tropical Pacific.
El Niño events typically occur once every three to seven years, and predicting them in advance can protect lives as well as save businesses and governments money.
Second, El Niño events usually boost global average surface temperatures, elevating the probability that a particular year will set a record for the warmest year. So far, 2015 has been running hotter than 2014 did, and last year was the warmest year recorded since reliable instrumental records began in the late 19th century.
An intense El Niño would
virtually assure
that 2015 will break last year's record, since it acts as an added factor on top of long-term, manmade global warming.
Typical El Nino winter weather pattern.

From Australia to California, El Niño brings alters weather extremes
Typically, El Niño events tend to shift rainfall away from northeastern Australia, with unusually dry conditions spreading south to encompass much of the Queensland coastline.
In the past, strong El Niño events, including one in 1982-83 and another in 1997-98, were accompanied by major droughts in parts of Australia, Indonesia and Papua New Guinea, although drought can also occur there in the absence of El Niño.
A major drought has been ongoing in Java, for example, even though conditions during the past year were only defined as resembling El Niño, without satisfying the formal scientific criteria.
Drier than average conditions are also likely to occur in Indonesia, according to IRI forecasts. Rainfall patterns that are crucial to agricultural production can also shift in eastern Africa as a result of El Niño and Indian Ocean temperatures.
In the U.S., El Niño usually exerts most of its influence during the fall and winter, with increased precipitation along the West Coast in particular.
This would be good news for drought-plagued California and other Western states, but a wetter than average winter is far from certain at this point.
The tropical W Pacific has been very active recently, and this video shows the development of Typhoons Nangka, Chan-hom, and Linfa over the past few days through the Himawari-8 infrared, water vapor, and visible satellite imagery.
Linfa is the westernmost system, and is shown making landfall in China. Chan-hom is the next system to the east, and is currently approaching the coast of China.
Nangka is the easternmost system to the W of Guam.
One likely connection to El Niño that is already manifesting itself is a below average Atlantic hurricane season, since El Niño events tend to increase upper level winds across the tropical North Atlantic, tearing nascent storms apart before they can intensify.
At the same time, El Niño conditions can favor more tropical cyclones in the eastern and central Pacific Ocean.
Currently, there are
three tropical cyclones spinning
their way toward China and Japan, one storm moving toward Hawaii, and two new storms predicted to develop in coming days off the west coast of Mexico.
L'Heureux says that El Niño alters the air circulation over the globe, and increases the likelihood of certain weather conditions.
"This can be a huge advantage to those who want to hedge bets or
plan
for certain outcomes. The fact that our probabilities are [greater than] 90% means that folks can start making those bets and preparing for potential impacts."