From Marimec by Gavin Lipsith
Technical failures have been identified as the immediate cause of 7.9% of maritime accidents analysed in a study spanning more than 600 incidents over 15 years.
The
study
by the Seafarers International Research Centre (SIRC) at Cardiff University looked at 693 accident investigation reports from the UK, Australia, the US, New Zealand, Germany and Denmark between 2002 and 2016.
Numbers of accident investigation reports by country of origin
It placed inadequate risk management as the leading cause of accidents, representing the immediate cause in 17% of cases and a contributory cause in 27.1%.
Technology featured prominently in accident reports, with technical failures the sixth most frequent immediate cause.
But ineffective use of technology was a bigger concern, noted as either an immediate or contributory cause in 115 cases (16.6%) compared to just 80 cases (11.5%) for technical failures.
As an example of a technical failure, the report cited the engineroom fire on board anchor handling tug/supply vessel
Maersk Master in 2008
.
The water mist system did not start automatically (because of inappropriate placement of smoke and heat detectors) and could not be engaged immediately by using the control panel by the engineroom entrance.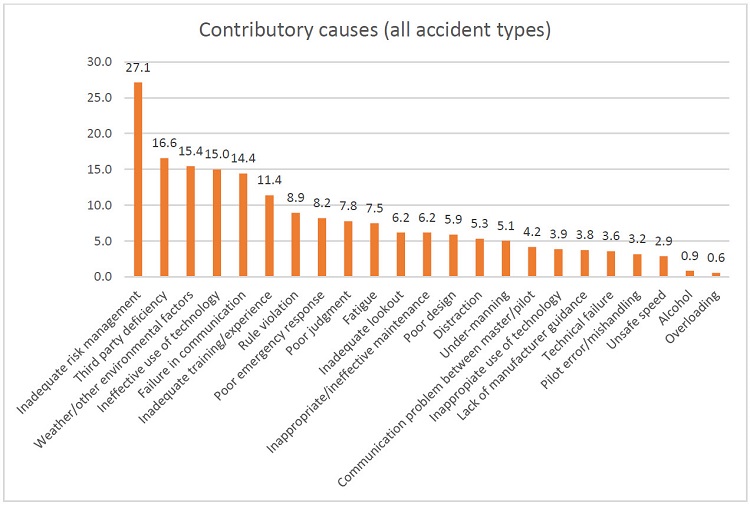 Credit: The causes of maritime accidents in the period 2002-2016
by Acejo, I., Sampson, H., Turgo, N., Ellis, N., Tang, L. (November 2018)
The report differentiates between ineffective use, when technology has not been used to its full potential, and inappropriate use, when it had been misused.
In accidents involving collisions, ineffective and inappropriate use of technology combined were the leading contributory cause, present in 31% of cases.
An inappropriate use of technology was highlighted as a cause of the collision between general cargo vessels
Francisca and RMS Bremen in 2014.
The officers on watch on both vessels failed to verify GPS positions, which were in fact false as the result of a technical fault, by means of another system (such as radar) or by sight.
Other noteworthy causes include inadequate training or experience (a factor in 16.3% of cases),
inappropriate or ineffective maintenance
(12.1%), poor design (10.9%) and lack of manufacturer guidance (4.2%).
Links :