Probably the biggest environmental disaster to affect the Brazilian coast continues to unfold, with the silence of the international community.
Countless gallons of crude oil spilled off Brazil's coast.
No one knows who did it, how or when.
Brazilian Navy: for sure the oil is not from Brazil.
Commander says the oil spill is coming from Atlantic Ocean and the source likely 500 to 600 kilometers off Brazilian coastline.
From EcoWatch by Deutsche Welle
Brazil's main environmental agency said the source of a sprawling oil spill along the northeast coast remains unknown, but that the crude oil was not produced in the country.
The spill stretches over 1,500 kilometers (932 miles) of Brazil's northeast coast, affecting 46 cities and around one hundred of the country's nicest beaches since being first detected on Sept. 2.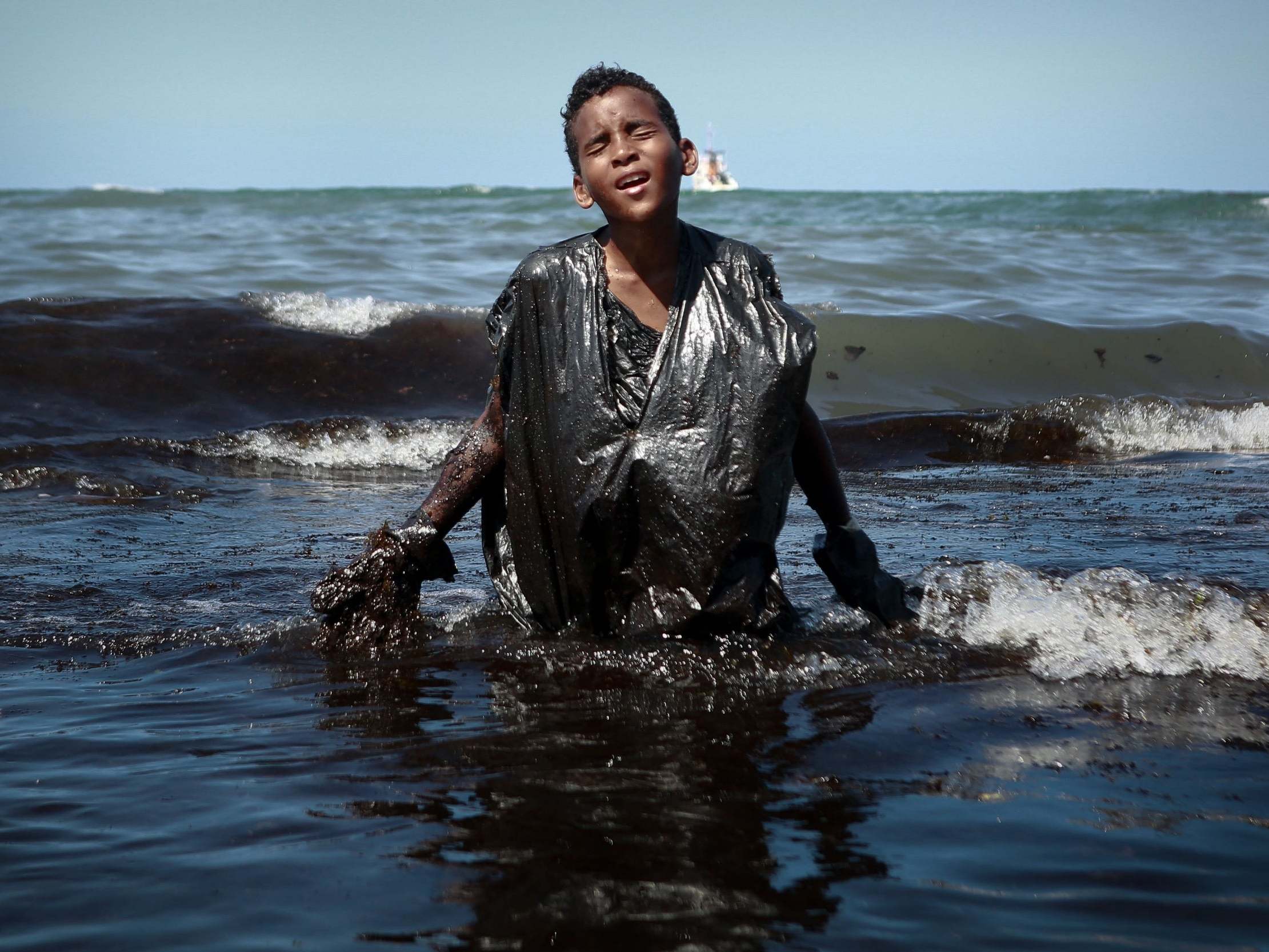 Boy comes out of the sea full of oil in Cabo de Santo Agostinho, Pernambuco
Photo: Leo Malafaia / AFP
Brazilian television has shown slicks at sea and oil puddles along shores, as well as turtles covered in black tar.
Other
marine life
has also been found dead.
The Brazilian Institute of the Environment and Renewable Natural Resources, Ibama, said state oil company Petrobras analyzed the spill and determined it came from a single source.
However, it said, a molecular analysis of the crude showed that it was not produced in Brazil, the world's 9th largest crude producer at 3.43 million barrels a day.
Petrobras reported that "the oil found is not produced by Brazil.
Ibama requested support from Petrobras to work on beach cleaning.
In the coming days, the company will make available a contingent of about 100 people," the environmental institute announced in a statement.
see
Sentinel Vision portal
200: Number of different locations with crude oil in ocean and/or on beach. (confirmed locations. Probably more not recorded yet)
77: Number of cities that have seen oil on beaches.
9: Number of states effected.
Extent of Damage
The tests were done at the Petrobras Research Center (Cenpes) in Rio de Janeiro.
So far, 105 crude
oil spills
have been detected.
Since the beginning of September, Ibama, together with the Federal District Fire Department, Brazil's navy and Petrobras, have been investigating the causes.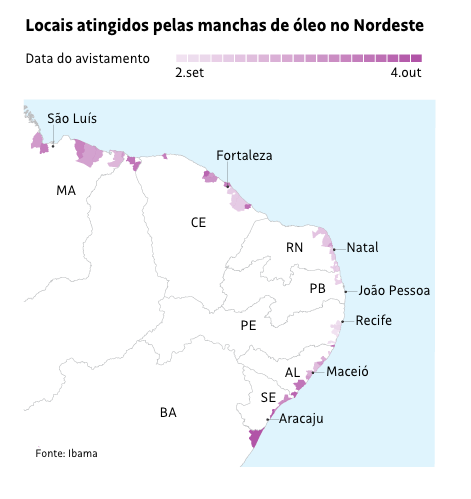 Ninety-nine locations in 46 municipalities in 8 states have been affected, including Maranhão, Piauí, Ceará, Rio Grande do Norte, Paraíba, Pernambuco, Alagoas and Sergipe. In the Northeast, only the state of Bahia has not been affected yet.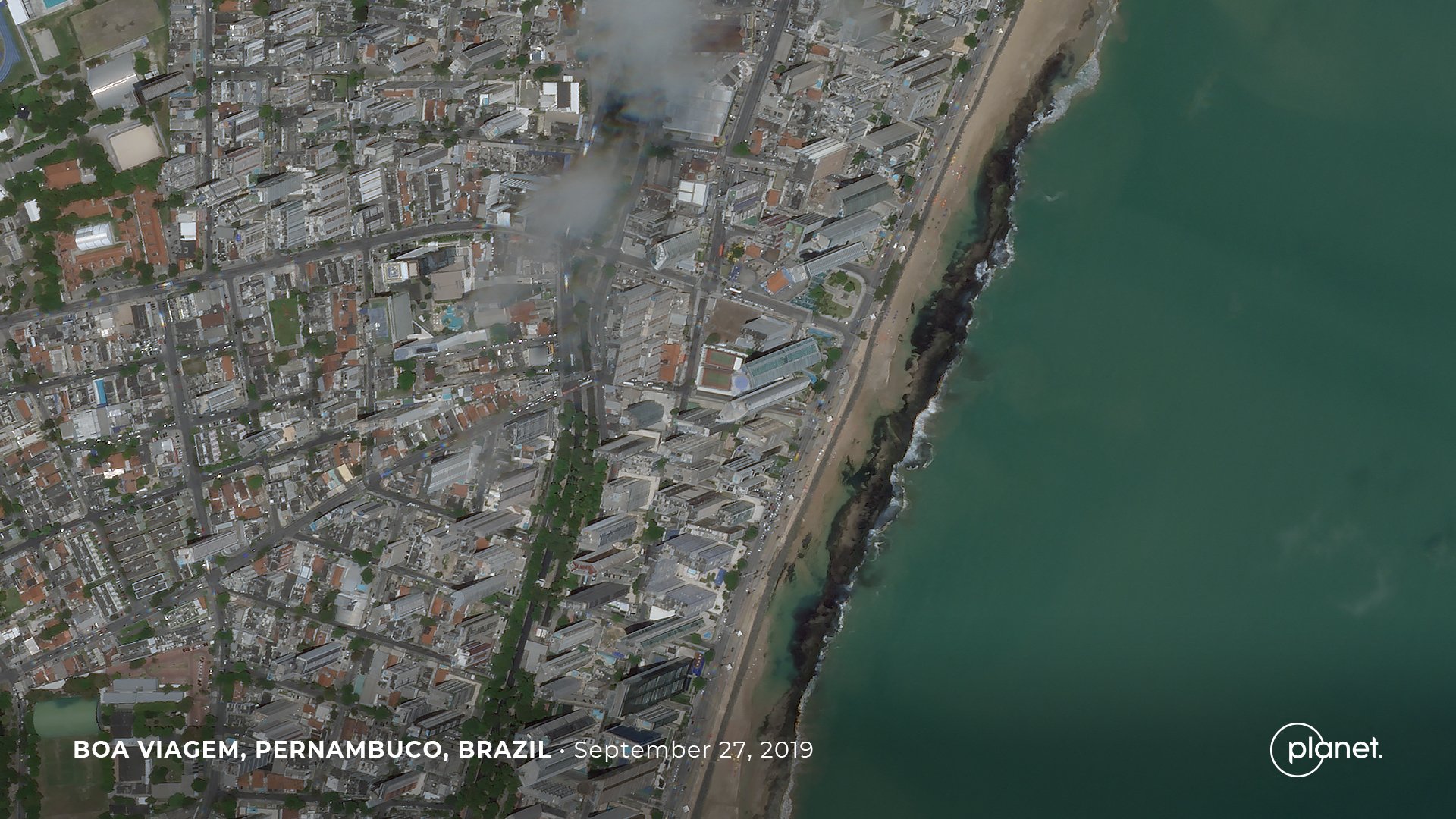 Imagery captured by Planet SkySats on September 27th.
Authorities were still conducting cleaning procedures on the Potiguar coast earlier this week.
Links :