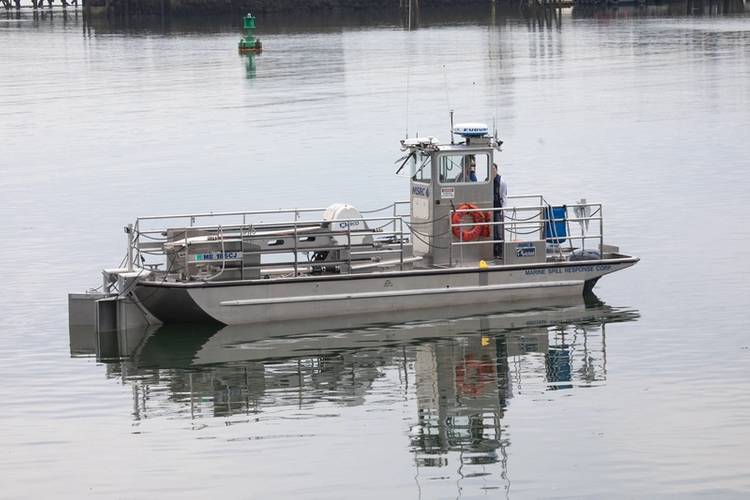 The world's first autonomous spill response vessel
From Maritime Professional
As a part of its cooperative agreement with the U.S. Department of Transportation Maritime Administration (MARAD), Boston-based Sea Machines Robotics announces that it has successfully demonstrated its autonomous systems in action on board a Kvichak Marco skimmer boat during events held along the Portland harbor earlier today.
Sea Machines' technology opens a new era of capability for the marine industry, and today the company demonstrated its ability to increase the safety, productivity and predictability of response for marine oil-spill operations.
The on-water demonstrations took place aboard the world's first autonomous spill response vessel – a Vigor/Kvichak Marine Industries-built skimmer boat, owned by Marine Spill Response Corp. (MSRC) – before a live audience of MARAD, government, naval, international, environmental and industry representatives.
To make the on-water exercises possible, Sea Machines will install its SM300 autonomous-command system aboard a Marine Spill Response Corp. (MSRC)-owned Marco skimming vessel and will train MSRC personnel to operate the system.
The boat carries a Marco filter belt skimmer to recover oil from the surface of the water.
Sea Machines Robotics photo
From a shoreside location at Portland Yacht Services, a Sea Machines operator commanded the SM300-equipped skimmer boat to perform the following capabilities:
Remote autonomous control from an onshore location or secondary vessel,
ENC-based mission planning,
Autonomous waypoint tracking,
Autonomous grid line tracking,
Collaborative autonomy for multi-vessel operations, and
Wireless, remote payload control to deploy on-board boom, skimmer belt and other response equipment.
Additionally, Sea Machines discussed how to operate the skimmer in an unmanned autonomous mode, which enables operators to respond to spill events 24/7 depending on recovery conditions, even when crews are restricted.
These configurations also reduce or eliminate exposure of crewmembers to challenging sea and weather, toxic fumes and other safety hazards.
Sea Machines autonomous marine technology can be installed aboard existing or new commercial workboats and vessels, adding capabilities that increase productivity, predictability, efficiency and safety.
All SM300-enabled workboats can benefit from the system's dynamic obstacle avoidance capabilities, which can be automatically activated during planned missions.
Sea Machines products recognize common obstacles – such as other watercraft, buoys, marine life and more – and will autonomously and safely reroute an operator's vessel to mitigate a potentially costly and harmful incident.
Once the danger of collision passes, the system reroutes the workboat back on track to complete the mission.
This safety feature can be disabled in advance or in the moment by an on-board or remote operator, if needed.
"Our operation of the world's first autonomous, remote-commanded spill-response vessel is yet another significant industry first for Sea Machines," said Michael G. Johnson, founder and CEO, Sea Machines.
"But even more important is the fact that we've proven that our technology can be applied to the marine spill response industry – as well as other marine sectors – to protect the health and lives of mariners responding to spills. We are proud to support MSRC's mission of response preparedness and to work alongside MARAD for these important demonstrations."
"MSRC is excited to work with Sea Machines on this new technology. The safety of our personnel is the most important consideration in any response. Autonomous technology enhances safe operations," said John Swift, vice president, MSRC.
"This is the future of the maritime industry. It's safer, it's faster, it's more cost-effective," said Richard Balzano, deputy administrator, MARAD.
"This technology is here and it will make you a believer. We are here because we want to help the maritime industry evolve. It's about safety, the environment and reducing risk on the water."
Sea Machines' SM Series of products, which includes the SM300 and SM200, provides marine operators a new era of task-driven, computer-guided vessel control, bringing advanced autonomy within reach for small- and large-scale operations.
SM products can be installed aboard existing or new-build commercial vessels with return on investment typically seen within a year. Sea Machines is also a leading developer of advanced perception and navigation assistance technology for a range of vessel types, including container ships.
The company is currently testing its perception and situational awareness technology aboard one of A.P. Moller-Maersk's new-build ice-class container ships.
In August 2018, Sea Machines demonstrated the capabilities of its SM300 product aboard the world's first autonomous-command, remote-controlled fireboat, owned by TUCO Marine, during the Maritime Kulturdage event, in Korsør, Denmark.
Links :