From DigitalShip by Brad Grady
While satcom revenues continue to rise, the potential entry into the satellite sector of a range of new players is likely to have a significant impact on the market for vessel connectivity in the near future
SpaceX
,
OneWeb
,
mPower
,
GEO
vs.
MEO
vs.
LEO
,
Ku
vs.
Ka band
– if you've been, 'in the market' for any satellite connectivity service over the past few months you have, no doubt, run across at least a few of these terms, or players.
It's a tremendous, and tumultuous, period for the satellite sector right now, with new satellites bringing new capacity, new antenna form factors hoping to open up new markets, and business models changing the relationships between different parts of the value chain.
With over $2.2 Billion in retail revenues over the next ten years, players across the value-chain are looking to see how they can get a (bigger) piece of this particular pie.
Marine sat domes
As the maritime industry faces its own set of challenges – vessel oversupply , uncertain global economic trade, changing fuel prices, etc. – the satellite sector is facing an identity crisis.
Changing media consumption habits on shore are causing a steady shift away from the cash-cow of video services, towards lower margin data services businesses.
More satellite capacity is getting launched each year, betting on a 'build it and they will come' business model.
Combined with the one-two punch of lower margin satellite capacity business and oversupply in the market, satellite operators are looking at how they can continue to sustain revenue growth.
In just the next few years, by 2020, the amount of
satellite capacity
available in space will nearly double to almost 5.7 Tbps.
By 2027, that figure is expected to be 37 Tbps.
A lot of this capacity will come from Lower Earth Orbit (LEO), where Iridium currently operates, requiring significant changes to the onboard infrastructure.
Antennas capable of quickly tracking and switching amongst upwards of thousands of satellites are still yet to be fully developed, much less at price-points that are appealing to end-users.
Even more uncertain are the business models which will create sustainable revenue streams to support the operation of these new constellations.
While not all of this capacity will be applicable or available to the maritime industry, these new satellite designs in both LEO and geo-stationary orbit (GEO) are changing how satellite networks are built and operated.
This is redefining the role of the satellite operator and service provider, blurring the lines between the two in places.
While each model has its advantages, the clear outcome of all this additional supply of satellite capacity is a better price per Mbps for customers.
Now is a very good time to be a buyer of satellite capacity.
Although consumer broadband, and other terrestrial markets will be the largest pieces of the pie for the satellite sector, maritime connectivity remains on everyone's radar.
However, the core challenge remains – some customers simply cannot or will not significantly increase the amount of bandwidth they need, which means new customers and applications must be found.
Markets by sector
Just how do all of these changes in space, on the ground and across the value-chain, impact the outlook for the maritime market?
Using data from
NSR's Maritime SATCOM Markets, 6th Edition report
, below are some of the key findings outlining what's driving change in these markets.
Merchant Maritime:
The largest market for maritime connectivity when measured by vessels and revenues, this remains the core opportunity for satellite connectivity providers.
Although macro-economic challenges continue to pressure end-user budgets, clear benefits are emerging on the overall net-positives of higher levels of connectivity on the ship.
With more than 32,000 ships expected to gain broadband connectivity over the next ten years, the market continues to show upward signs of growth.
At over $1.2B in revenues in 2017, merchant maritime represents the largest market for satellite connectivity.
Yet, the future is not just connecting vessels.
Increasingly, revenue streams beyond pure connectivity are being explored by service providers – everything from managed IT infrastructure on board to tailored crew welfare solutions.
With raw connectivity services looking more and more alike, and more of the technical operations of these networks being absorbed by the satellite operator, these value-added services will become the differentiating factor.
Already, service providers are investing in a range of offerings through a combination of organic development and acquisitions.
Focused on a range of value-added applications, none come quite to the top of conversation like cyber security, especially in merchant maritime.
Following in the footsteps of Maersk and most recently COSCO, managed security offerings are a focus of conversation points for service providers and end-users alike.
What has yet to be determined, and what the market will decide as these offerings mature, is what security offerings are 'bundled-in', and which ones are part of a tailored security-centric value-added offering.
Overall, the merchant sector is poised for strong growth.
Driven by falling capacity prices, a migration from
MSS
to
VSAT
, and the digitalisation of shipboard operations service providers and satellite operators continue to focus in on connecting merchant maritime operations.
Commercial Passenger:
On the back of the recent bandwidth battles of last year – 300 Mbps to an MSC ship in June 2017 to 3.2 Gbps to a Carnival ship by May 2018 commercial passenger satellite connectivity markets are all about the bits.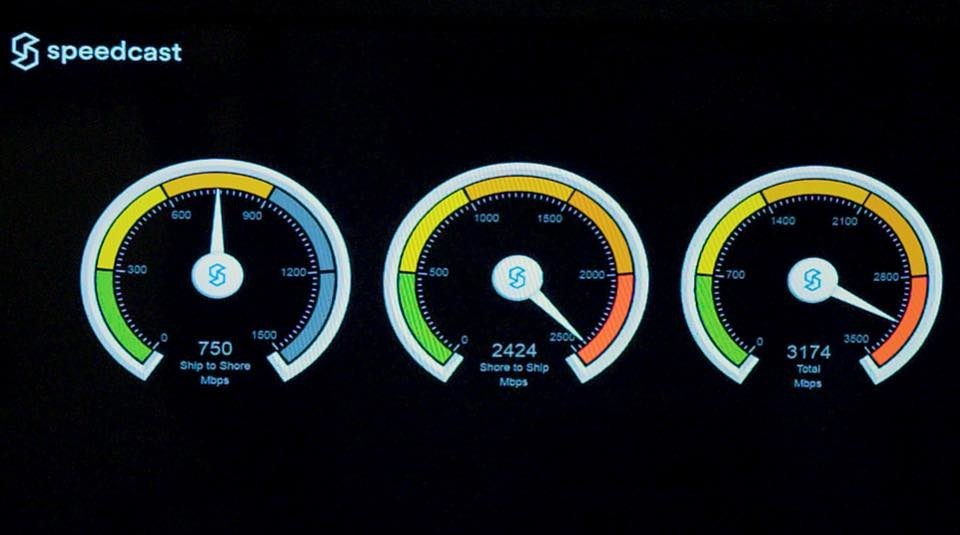 Live screen shot of dials onboard the Carnival Horizon as the bandwidth reached 3.174 Gbps.
With the core segment of ocean-going cruise ships already well penetrated, service providers are spending their efforts on increasing throughput rather than connecting the unconnected.
As such, the battle of the Mbps between service providers and satellite operators, and between different orbits is shaping up to be at its hottest in this sector.
With O3b's MEO connectivity option a proven entity, the next wave of LEOs are aiming to significantly increase the throughput available to passengers on tomorrow's cruise ships.
Not to be standing still, 'traditional' GEO options using newer satellites with higher throughput are setting benchmarks.
The 3.2 Gbps benchmark to a Carnival ship was set using a GEO satellite.
All told, commercial passenger markets will demand 590 Gbps of satellite connectivity by 2027, or almost 8 out of every 10 Gbps of demand in the maritime satcom sector.
Why all this demand?
Take a look at any family on holiday, and 'disconnected' isn't part of the equation.
From posting to social media, to video streaming, to checking e-mails, multiple devices per family is a fact of life.
Layer that on top of the typical number of guests per ship, and you have demand levels that are stretching the capabilities of satellite connectivity.
The upside of all of this demand?
Capacity prices continue to fall, enabling cruise operators to take advantage of the bandwidth explosion.
While still spending more and more each year on connectivity, the levels of connectivity per ship are increasing exponentially.
Offshore Markets:
More than just Offshore Support Vessels, the offshore sector has taken perhaps the largest hit over the last few years.
Driven by the huge increases in onshore oil & gas activities, the offshore segment is in a period of reorganization and recovery.
With only 1.2 per cent revenue growth projected over the next ten years, the segment will still be a significant percentage of revenue yet will not be a source of significant growth for service providers.
More so than other maritime segments, the benefits of improving the collection, processing, and action of data-centric operations are clear.
Oil & Gas end-users have invested, or will invest significant amounts of money improving the data collection abilities of their remote assets, adding sensors throughout the lifecycle of O&G operations, which must in turn be converted into actionable insights.
That movement of data will be driving 17 Gbps of demand for satellite connectivity by 2027.
With that increase in demand, O&G players are looking to increase their operational efficiencies to allow more offshore resources to compete at the lower crude oil prices expected over the next ten years.
However, demand from increasing data gathering across these operations is only going to go so far.
Cost pressures continue to be felt across the value-chain, reaching into the satellite service provider layer.
Cheaper capacity will help balance the internal margins of service providers, but just as with other areas of the maritime satcom markets, looking for other sources of revenues will be key to maintaining growth.
Cyber security, crew welfare, managing M2M data, and systems integration are only a few of the emerging value-added services from service providers.
Alongside their traditional role of creating highly redundant, robust connectivity networks for this sector where a few minutes of connectivity downtime can result in significant amounts of lost revenue for end-users, the value-added services are increasingly what will distinguish service providers.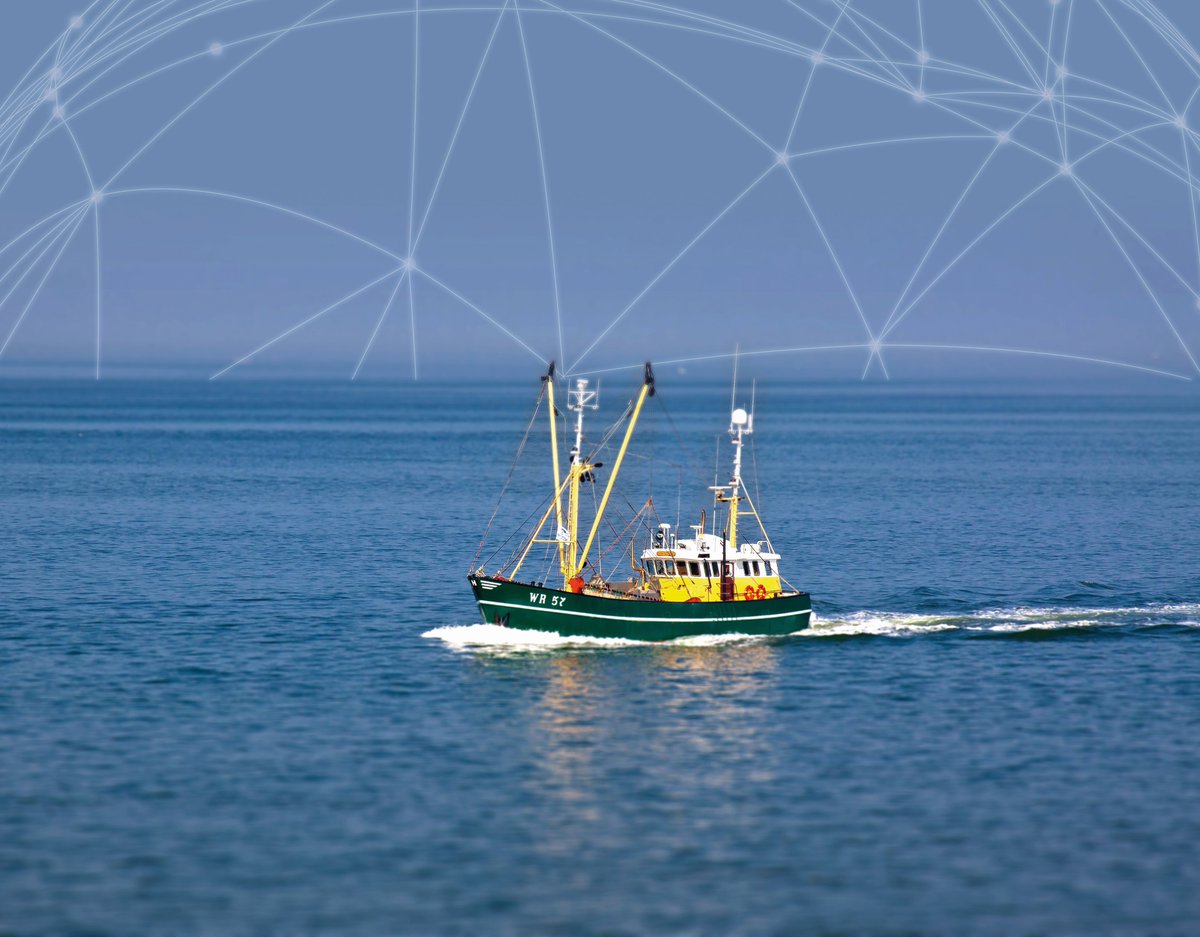 Fishing:
With a large addressable market, the satellite communications sector has yet to truly create a winning combination of price/connectivity to crack open the fishing market.
As the current market is largely focused on either the very high-end commercial vessels, or the lowest end vessels subject to regulatory reporting and monitoring requirements, the satcom sector has not developed a successful migration path.
With some 6,500 new broadband vessels expected over the next ten years, and an impressive 97 per cent of vessels not adopting broadband connectivity, there is a clear market opportunity.
Flat panel antennas and lower cost of capacity are key ingredients along that path, and developing a compelling set of services and applications to meet the need of the fishing industry will be an area that service providers must invest in.
However, narrowband connectivity will remain the largest driver of satellite connectivity revenues in the fishing sector.
As the world continues to focus on sustainable fishing practices, catch monitoring, vessel positions, and other regulatory requirements will continue to expand the lower end of the market for satellite communications, with the hope that these vessels, once connected, can be up-sold to higher levels of connectivity.
Overall, until the cost of equipment for broadband connectivity falls significantly, the majority of the fishing market will remain out of reach for service providers looking to enable broadband connectivity.
Advances in flat panel antennas will impact demand in the leisure market
Leisure:
Tied directly to disposable income and other macro-economic factors, the outlook for the leisure satcom sector is improving.
With only 12 per cent of vessels adopting broadband connectivity by 2027, generating $275M revenues, it will remain a niche segment of the overall market – but at a time where highly diversified service providers are winning out it is one of the latest markets to see consolidation.
With a demanding customer base, highly seasonal demand patterns, and the ever-increasing requirements for connectivity in the market, service providers need access to a large amount of capacity in a few specific regions at a few specific times.
Combine that with a complex onboard network that is customised per vessel and you have a mix of requirements that necessitates a significantly high amount of customer-service focus to be successful in the market.
Kymeta flat panel solution
More than just building the satellite side of the connectivity puzzle, new flat panel antennas are looking to target this segment first.
Hoping to appeal to the design requirements of the leisure yachting sector, look to this market to be the first adopters of antennas from the likes of
Kymeta
or
Phasor
.
Overall, at $114M in cumulative equipment revenues over the next ten years, there remains a sizeable opportunity for new technologies to enter and be adopted in the market.
Editor Martyn Wingrove uses foresight to imagine a long-term future of maritime communications without satellites
Bottom Line
Now is a transformational period in maritime
satcom connectivity
, as more capacity comes online, business models continue to evolve, and digitization across the entire maritime industry accelerates.
More capacity and new antennas will drive new growth opportunities and open new revenue streams for the satellite communications sector in terms of customers and applications.
Links :