USV for water quality monitoring, bathymetric survey...
From Bloomberg by Blake Schmidt
Oceanalpha wants to build the world's first autonomous cargo ship.
In the vast, freezing Ross Sea, China's "Snow Dragon" icebreaker needed to find a safe anchorage before it could begin its mission to set up China's fifth Antarctic research station.
The solution was to deploy one of Zhang Yunfei's freezer-tested boat drones to map the ocean floor.
For Zhang, it was the latest in a string of government contracts — from surveying Tibetan lakes to testing river pollution — that have helped him turn a university project into China's largest unmanned surface vessel company, one that has fired the interest of some of China's biggest venture capitalists.
In a pending round of funding,
Oceanalpha Co. Ltd
. may be valued at $780 million — about 40 times revenue — despite never having turned a profit.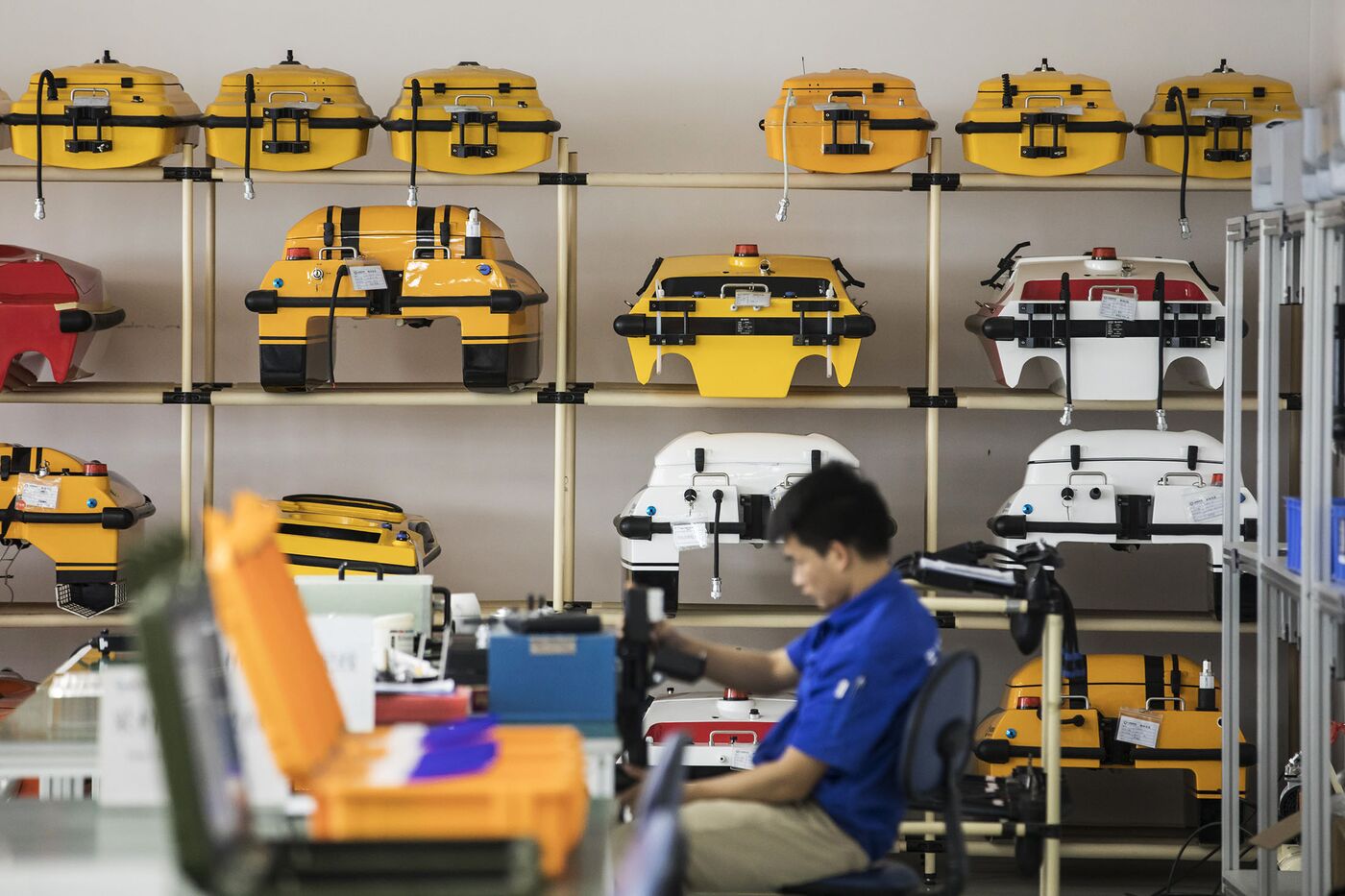 Drones on a rack at Oceanalpha's facility in Zhuhai.
Photographer: Qilai Shen/Bloomberg
"If you look at Chinese traditional culture, we're not as close to the ocean as Western countries.
But now we're getting closer," Zhang, 34, said at his offices in Zhuhai, a seaside city next to Macau.
"We want to change the relationship that human beings have with the sea."
Outside, workers are building the company's new $40 million waterfront headquarters on land leased at a steep discount from the government, fashioned like a giant 10-story catamaran, including topographical pools for testing.
Alongside a private dock are prototypes of various sizes, from boats that can fit several people to motorized life savers for rescue missions.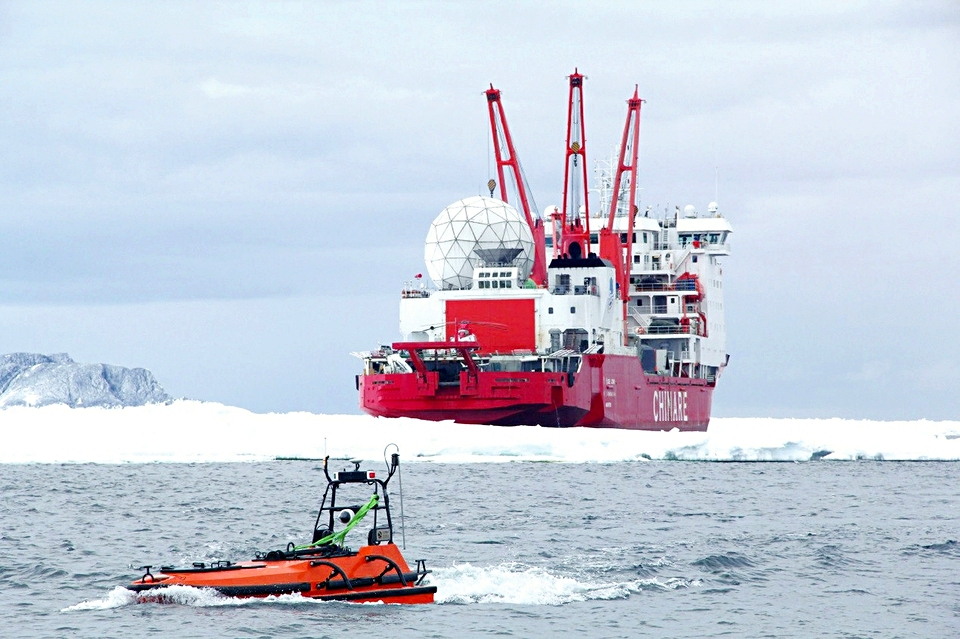 Oceanalpha's drone with the "Snow Dragon" icebreaker in Antarctica.
Source: Oceanalpha
While Shenzhen-based
DJI
led the charge in the competitive consumer market for aerial drones and China has used unmanned submersibles to probe the depths of the South China Sea, Oceanalpha is one of a handful of companies around the globe specializing in ocean-going drones that operate on the surface.
"Zhang found a unique niche," said Derrick Xiong, a co-founder of EHang Inc., which is developing aerial drones for swarms, deliveries and air taxis in nearby Guangzhou.
Oceanalpha's advantage is being in China, where capital is readily available and leader Xi Jinping is promoting both technology to move up the manufacturing value chain and maritime industries to enhance the nation's overseas interests.
As its trading empire has grown, so has China's interest in the oceans, with the construction of a modern navy, trading ports and an armada of merchant vessels.
It's a turnaround from what China's textbooks call the "century of humiliation," when the nation's weakness at sea allowed a period of foreign interventions beginning with the Opium Wars.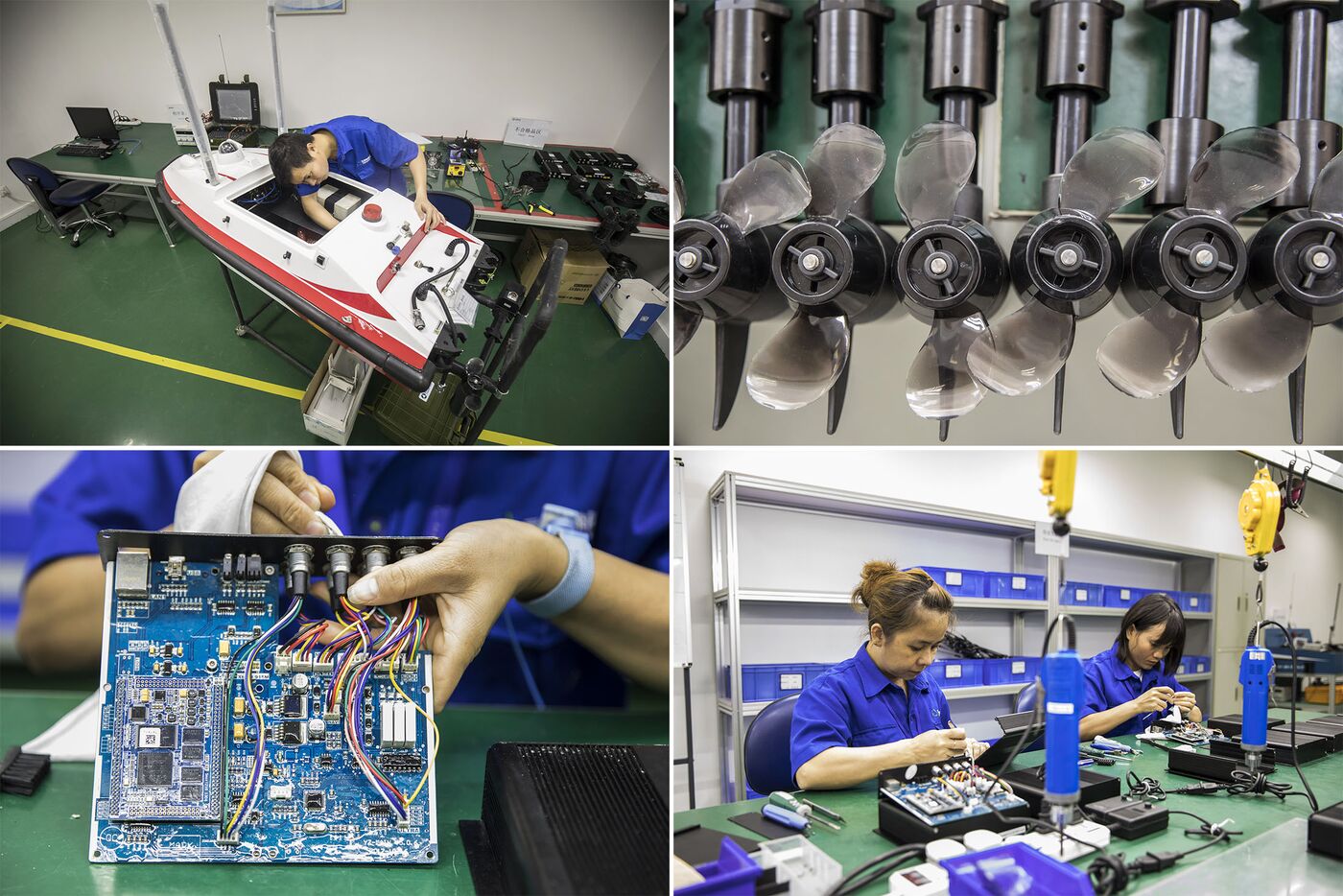 Top: A technician builds a vessel at the company's facility.​​
Bottom: Workers assemble main control modules.
Photographer: Qilai Shen/Bloomberg
Zhang says venture capitalists began hounding him ever since his start-up won the China Innovation & Entrepreneurship competition in 2013.
Zhen Fund and GGV Capital are both investors.
Now, after nearly a decade focusing on research and development, Oceanalpha is expanding from water sampling and hydrological surveys into search and rescue, surveillance and other segments.
The company may seek a public listing after 2020.
The big prize is cargo.
Zhang has a new partnership with Wuhan University of Technology, China's Classification Society and Zhuhai municipal government that will use artificial intelligence to direct autonomous container vessels.
"There will be a huge revolution in the maritime industry within three years," Zhang said.
"Cargo ships will be autonomous before cars."
The project, called Cloudrift — a reference to the Chinese legend of the monkey king, who could summon a cloud on which he traveled — is racing against rivals to build an unmanned cargo ship this year.
Norway has created a test area for pilotless vessels in the Trondheim Fjord in a joint effort by the Norwegian University of Science Technology and companies including Rolls Royce.
Cloudrift's ship would be battery powered and use China's BeiDou satellite navigation system.
The 50-meter vessel would have a loading capacity of 500 metric tons and a range of 500 nautical miles per charge.
The company is building a test site of its own among islands about 50 kilometers from Zhuhai and the group is investing $10 million in cargo technology and $50 million in USV field-test development.
Zhang is in the right place.
Zhuhai was one of the fastest-growing commercial ports in China last year and the Pearl River Delta, now calling itself the Greater Bay Area as it turns high-tech, is one of China's two giant logistics regions for container ships, along with the area around Shanghai.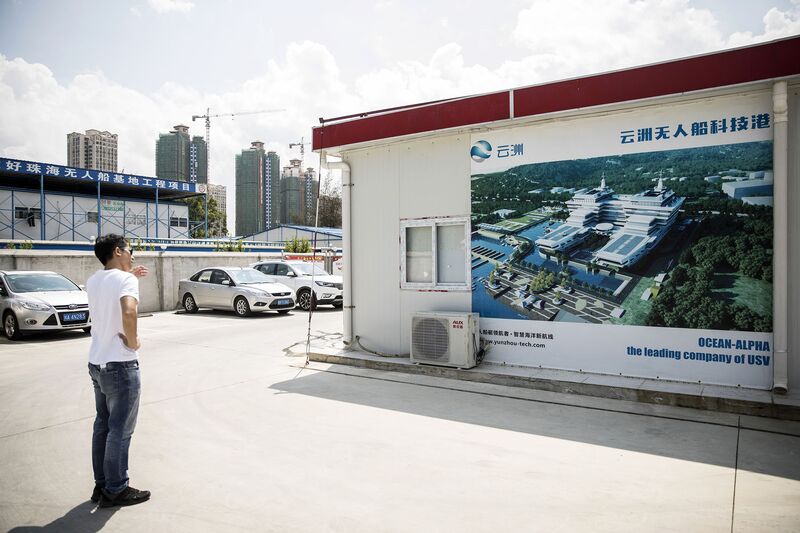 A poster featuring the new Oceanalpha headquarters in Zhuhai.
Photographer: Qilai Shen/Bloomberg
Raised largely in Shenzhen by parents who worked at state-owned Chinese IT companies, Zhang's path into boat drones began across the bay at Hong Kong University of Science and Technology, whose alumni include Frank Wang, founder of DJI and the first drone billionaire.
Zhang and two PhD schoolmates, Cheng Liang and Wang Mingyu, convinced a chemistry professor to sell them sensors, which they mounted on a prototype to test the local seawater.
The three went on to found Oceanalpha, which now employs 260 people.
Wang later left to join DJI.
Cheng is general manager at Oceanalpha.

Technicians test Oceanalpha drones on a pond at the company's office in Zhuhai.
Photographer: Qilai Shen/Bloomberg
With the results of the university project, Zhang went on the road in 2009 for 10 months, showing local environmental agencies in nearly a dozen provinces how the vessels could help them collect water samples.
He scored deals and started making boats that could suck water samples up through the hull and detect illegal pipelines spewing effluent into rivers.
"That trip gave us the confidence that the market needs this kind of technology," he said over sugary coffee with milk and platefuls of toffee candies.
Water sampling and hydrological surveying for government agencies and local authorities gave Oceanalpha cashflow to support research and explore other opportunities, including surveillance.
In the factory paint shop, where workers put the finishing touches to different colored drones, a camouflaged version will help China's Coast Guard monitor port security.
A recent tie-up with industry giant Teledyne Technologies Inc. will also explore strategic opportunities, Zhang said.
The Thousand Oaks, California-based company didn't respond to a request for comment.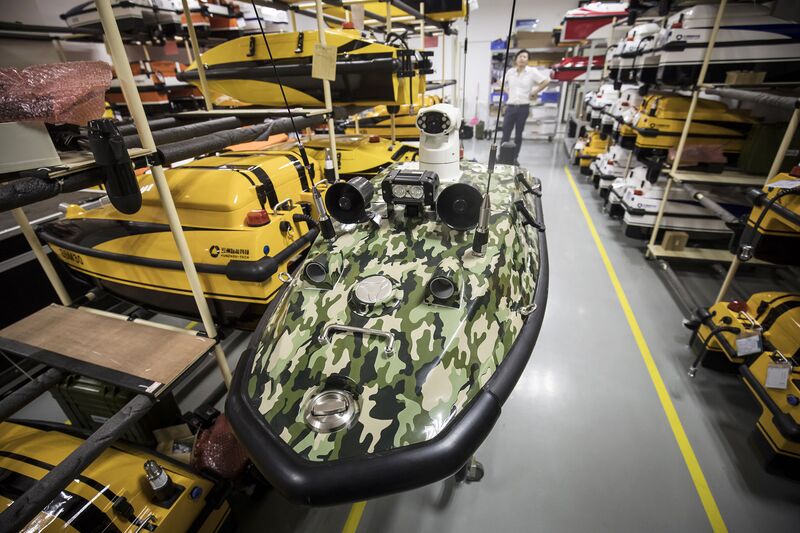 A camouflaged boat drone at Oceanalpha's facility.
Photographer: Qilai Shen/Bloomberg
But its Zhang's ties with Chinese government agencies that remain the impetus behind the company, in which the Zhuhai government holds a small stake.
A wall of awards in his office shows photographs of Zhang with high-level Party officials.
In one, he hands a model drone to Premier Li Keqiang in front of Russian Prime Minister Dmitry Medvedev.
Li heads China's Made in 2025 initiative, which targets 10 areas for innovation, including maritime engineering.
The program's subsidies have become a point of tension in U.S.-China trade talks.
One day Zhang hopes to have a picture with Xi, who may lead the country beyond 2023 after China recently scrapped presidential term limits.
"Perhaps you'll see it next time you visit," he said.

Links :