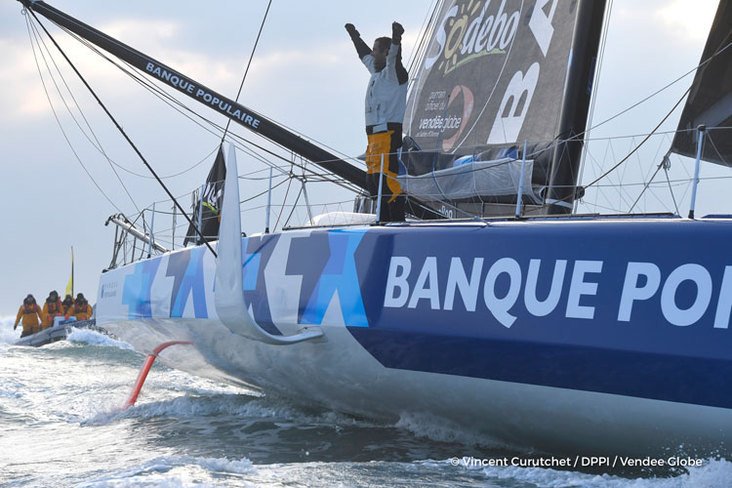 Armel Le Cléac'h smashes Vendée Globe race record in spectacular style
74 days 3 hours 35 min 46 sec... this is what it took Armel to win this Vendée Globe.
In reality, it took Armel 10 years to win this race after finishing twice at the second place in the last editions.
From CNN
After two and a half months at sea, Armel Le Cleac'h has finally achieved his dream in one of the world's toughest yacht races -- and in record-breaking fashion.
Twice a runner-up in the grueling Vendee Globe event, the French skipper celebrated his first victory Thursday as he crossed the finish line off the coast of western France.
He completed the solo round-the-world race in a new fastest time of 74 days, three hours, 35 minutes and 46 seconds.
It was almost four days quicker than the previous record set by compatriot Francois Gabart in the 2012-13 edition.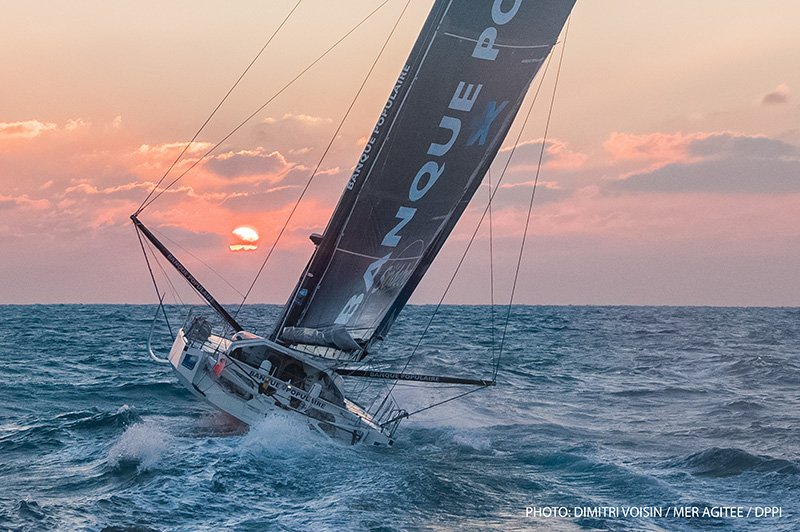 In the morning of the arrival
That time Le Cleac'h was just two hours back in second place -- the smallest losing margin since the race, held every four years, started in 1988.
He was also runner-up in 2008-09.
Crossing arrival line
"This is a dream come true," said the 39-year-old, who covered 24,499.52 nautical miles at an average speed of 13.77 knots during the race.
"Today is a perfect day. My team have been amazing they're the dream team, and this is their day too."
Historical records
(Infographie : Olivier Bernard)
Race organizers predicted that second-placed British sailor Alex Thomson would cross the line 12 hours after Cleac'h, who finished at 1537 GMT (1037 ET).
"I'm very happy for Alex, it's a great second place," Le Cleac'h added. "It has been very difficult with him behind me, he gave me a really hard time in this Vendee Globe."
Le Cleac'h, sailing his 60-foot vessel Banque Populaire, was met by an estimated 350,000 fans in freezing conditions at Les Sables d'Olonne.
France has now won all eight editions of the race.
Thomson, who finished third in 2013, looked to be threatening a late comeback after sailing 536.8 nautical miles in 24 hours -- reclaiming the record he held between 2003-2012 for distance covered in that time span.
Hugo Boss damaged startboard foil
(photo : Pierre-Henri Beguin)
He led the race in the opening weeks, and set two records in reaching South Africa's Cape of Good Hope, but a damaged starboard foil dented Thomson's chances of breaking the French monopoly of the title.
Often referred to as "the Everest of the Seas," only half the entrants usually complete the course.
Of the 138 sailors to start the previous seven races, just 71 finished -- while three competitors died.
This time, 11 of the 29 sailors who began the voyage in Les Sables d'Olonne on November 6 have pulled out.
The man in last place, Sebastien Destremau, was almost 10,000 nautical miles behind Le Cleac'h and had yet to pass the notorious Cape Horn off the coast of Chile.
This year's race also features 66-year-old US skipper and lifelong acute asthma sufferer Rich Wilson, who is almost three times the age of youngest competitor Alan Roura.
He was in 14th place when Le Cleac'h finished.
Links :